Florida Deputy Killed on Duty Was Just One Shift Away From Retirement
A Florida deputy who was killed while on duty was just one shift away from retirement, his sheriff has said.
Brian LaVigne, 54, died on Monday afternoon after Travis Garrett, 28, rammed a vehicle into his marked police car while trying to flee from other officers, Hillsborough County Sheriff's Office said.
Sheriff Chad Chronister said that LaVigne, who had been on the force for more than 20 years, was just about to retire.
In a statement, Chronister said: "Master Corporal Brian LaVigne was a part of the Hillsborough County Sheriff's Office family since 1990, and he was just one shift away from retirement. We will never forget Master Corporal LaVigne for laying down his life in the line of duty or the response of his squad members who did everything they could to ensure that the individual responsible for his death was apprehended."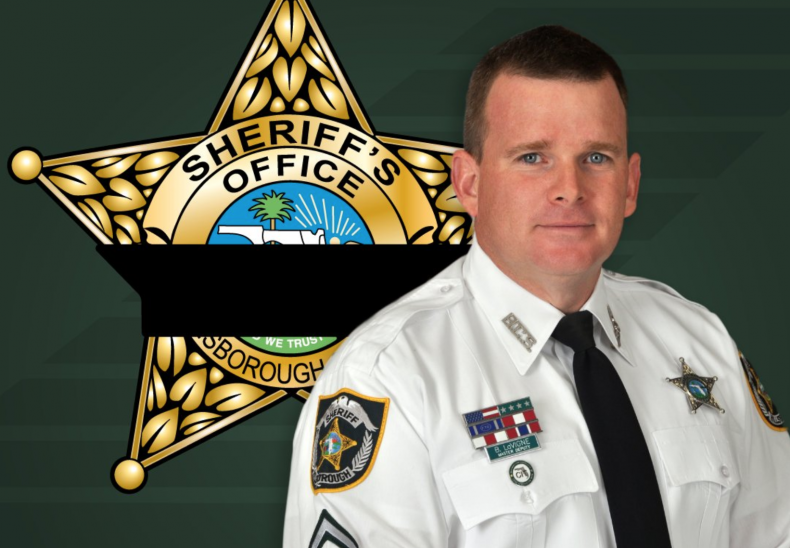 LaVigne is survived by his wife, and two adult children, one of whom is also an HCSO deputy, the force said.
On Tuesday, Chronister announced that Garrett is facing several charges including first degree murder.
Meanwhile, HCSO has launched an investigation into the incident, which began at around 3.42 p.m. on Jan. 11 when deputies received a 911 call from management at Paddock Club Apartments at 921 Paddock Club Drive in Brandon.
Police said officers were called to reports that a man was throwing things out of his apartment window and front door. The caller also told police that the man in question had threatened to harm staff in the past. The statement said that deputies arrived and spoke to him through the door but there was no cause for arrest at the time.
But at 5:03 p.m., HCSO received another call from a neighbor, who said the man was now nude and acting erratically. The apartment's management also called to report the disturbance, police said.
When deputies arrived this time, they were unable to establish a dialogue with the man, identified as Travis Garrett. Police said Garrett then became aggressive, striking one of the deputies, Michael Durig, Jr. several times.
Deputy Adam Pautz tried to intervene by using his stun gun but this failed, before Durig deployed his own stun gun twice—also without success.
Garrett then fled the scene in his car with the two deputies in pursuit. Pautz tried to block the man, police said, but the suspect escaped by crashing through one of the apartment complex's gated entrances.
According to a police statement on the pursuit, Garrett then drove onto Brandon Parkway and westbound onto Lumsden Road before his vehicle crashed into LaVigne, who was in his marked HCSO vehicle, at high speed.
Several witnesses said Garrett intentionally rammed his vehicle into the police car, the statement said.
LaVigne's fellow deputies tried to tend to his injuries while Hillsborough County Fire Rescue worked to extricate him from the crushed car for several minutes.
HCSO said: "Despite their courageous efforts and those on frontlines at Tampa General Hospital, Master Corporal LaVigne passed away while in the line of duty."
Chronister tweeted on Tuesday to say Garratt had been charged. He wrote: "Travis Zachary Gabriel Garrett, the suspect involved in the fatal crash that killed Master Corporal Brian LaVigne is charged with: 1st Degree Felony Murder, DUI Manslaughter, Vehicular Homicide, Battery on a LEO, Resist with violence, Felony Criminal Mischief, Aggravated Fleeing."
Tributes for the officer have been flooding in with Governor Ron DeSantis tweeting: "@FLCaseyDeSantis & I are saddened to learn of the passing of Master Corporal Brian LaVigne, who was killed in the line of duty. He served our state with distinction & the perpetrator must be brought to justice. Our prayers are with his family & the entire @HCSOSheriff family."
The death comes after police officer Brian Sicknick died from his injuries sustained during the Capitol Hill riots last week. Shocking footage also showed an officer being dragged down a set of steps outside the building before being beaten by the pole of an American flag.