Ex-NFL Player Says League 'Nonsense' Over COVID, Politics Led to Retirement
Retired NFL player Anthony Sherman said that his decision to step away from professional football after 10 years was driven by the league's COVID-19 policies and political stances.
Sherman made the comments during a recent appearance on the Coptales and Cocktails podcast when he was asked whether he missed playing in the NFL, Mediaite reported.
"I don't," he responded.
He added that his goal was to hit the 10-year mark, and then "the Lord showed me the door with all of the political stances the NFL was making, the COVID policies, all of this nonsense."
Sherman announced his decision to retire in March 2021 after his decade with the league, ESPN reported. In total, he played eight seasons with the Kansas City Chiefs as a fullback after playing two seasons with the Arizona Cardinals.
He was with the Chiefs during the team's Super Bowl win over the San Francisco 49ers in 2020, and was picked in 2018 to play in the Pro Bowl, according to ESPN.
Sherman said during his podcast appearance that after finishing his 10 years in the NFL, the emergence of the COVID-19 policy and political stance issues was like God's way of making the decision to leave easy for him.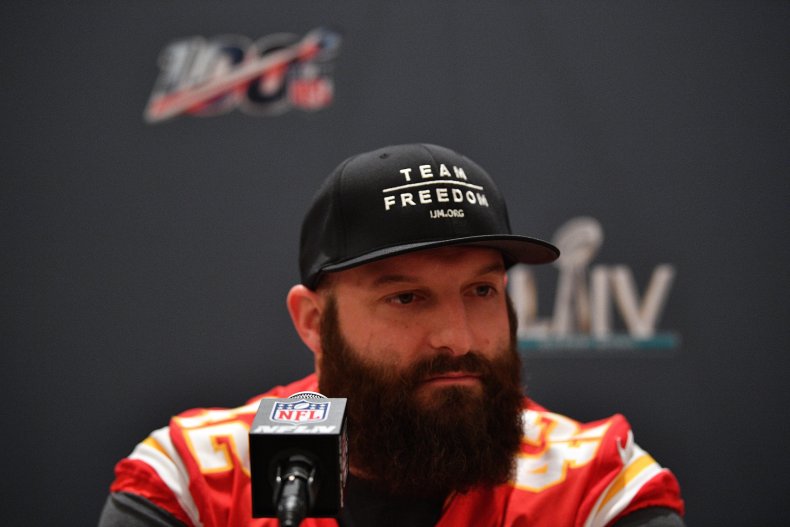 Sherman, who is pro-law enforcement, also described on the Coptales and Cocktails podcast his experience being in the league during a time when expressing positive views about the police wasn't very popular.
"I kind of had one of those like, this is who Sherman was, this who Sherman is. He's going to have his opinion, and he's not going to change his mind about it—any aspect of that," he said. "It was kind of one of those things where it was, I am who I am, and if you don't like it, then we don't have to talk. I've got my friends. I don't need many more."
He added that his political views did not impact his relationship with coaches and fellow teammates.
Sherman has commented publicly on some of the NFL's COVID-related measures. In July 2021, he took to Twitter to protest the NFL's decision to have players wear colored wrist bands to designate their COVID-19 vaccination status.
"Funny, I thought we all agreed on the evils of segregation back in the 60s. Here we are again - only this time it's based on personal health choices instead of skin color," the tweet read.
"The league clearly values being woke, not awake. What a shame. And what a sham," he added in another tweet shortly after.
Sherman was criticized for the comparison. Public relations executive Danny Deraney, for example, replied with a tweet that read: "Yup. Racism and your health. Totally the same thing."
Sherman defended his comments in a lengthy Twitter thread in which he said that it was "clear my words have been twisted and spun to mean something I did not say nor intend."
"I NEVER said that segregating players based on vaccination status was AS BAD as racism and the segregation of the 60s," one tweet read.
He went on to describe the experiences of NFL players who chose to remain unvaccinated and, as a consequence, were barred from eating with teammates, leaving their hotels during travel and were required to wear masks at all times, among other rules.
Newsweek has reached out to the NFL for comment, as well as through Sherman's official website for further comment.
Update 3/31/22, 12 p.m. ET: This story was updated with additional information and background.