Ex-NY Governor Claims Giuliani Privately Asked Him to Cancel 2001 Mayoral Election So He Could Remain in Office Post-9/11
Former New York Governor George Pataki claims in a new book that Rudy Giuliani asked him privately to cancel New York City's 2001 mayoral election so he could stay mayor after the 9/11 attacks.
In Beyond the Great Divide: How A Nation Became A Neighborhood, an upcoming book of memoirs expected to be released April 14, Pataki said that Giuliani wanted to have his mayoral term extended following the New York terrorist attack on September 11, 2001, according to an excerpt obtained by The New York Post.
Pataki details in the book an interaction he had with Giuliani after they attended a press conference at Manhattan's Pier 92 on September 24, 2001 with then-Japanese Prime Minister Junichiro Koizumi. Following the event, Pataki said Giuliani asked him to a "private meeting."
"Governor, you have extraordinary powers to extend my term in office," Giuliani said, according to Pataki. The former New York governor recalls that his "heart sank" because he had previously supported repealing term limits in the state so Giuliani could continue on to a third term. But I later decided it was a "bad idea both as a matter of principle and politically," he wrote.
Get your unlimited Newsweek trial >
Pataki said he thought to himself, "Are you really, right now, after a terror attack on our state, our city, asking me to just cancel the entire election? I am a conservative. We respect the law. For God's sake, you're a prosecutor! You know the law."
"Governor, you have the power to change the city charter to allow for me, as mayor in this time of crisis, to have an extended term," Giuliani went on to say, according to Pataki.
"I don't think I can do that, Rudy. It's not a good idea for you or the city, and I think it's beyond even my emergency legal authority to do this," Pataki responded, according to the excerpt.
He recalls that Giuliani then attempted to dispute his remarks, saying Denny Young, his counsel, "thinks you do have the ability."
Get your unlimited Newsweek trial >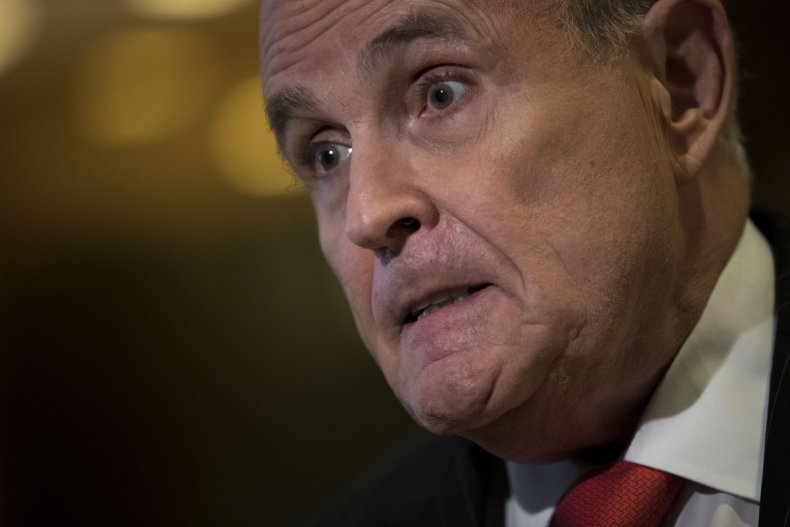 After Giuliani continued to keep pressing Pataki for the next few weeks without success, he arranged another meeting with the then-governor, where he reportedly said, "George, you are right. I don't think you should cancel the election."
"While some may look at Rudy Giuliani as a power-hungry politician, the reality is that he wanted to keep leading and helping with the recovery efforts. He believed staying in office was best for the city. I was sure it wasn't," Pataki wrote. "Regardless of Rudy's motivation, regardless of his raw emotions in the situation, he abandoned some of the most basic conservative principles—follow the law and relinquish power when your term is over, even in times of crisis."
Although Giuliani was once a highly respected mayor of New York, the now-attorney, who works for President Donald Trump, has repeatedly come under fire in recent months from Democrats and critics of the president for his erratic behaviors, involvement in the Ukraine scandal and strange media appearances.
Earlier this month, Giuliani told Fox Business host Trish Regan that Democrats wanted to "literally kill" him over a new Ukraine conspiracy theory that involved a "big Democratic scam."
During the same interview, he also claimed that Hunter Biden, former Vice President Joe Biden's son, was involved in a "corruption affair." However, he did not present any evidence to support either claim.
Newsweek reached out to Giuliani for comment.
Ex-NY Governor Claims Giuliani Privately Asked Him to Cancel 2001 Mayoral Election So He Could Remain in Office Post-9/11 | U.S.