Ex-Principal Charged Over Disturbing Video With Special Needs Student
A school community is in shock after footage surfaced of a former principal physically attacking one of his students.
The video, released Thursday by the Fresno Unified School District, shows an altercation from June 7 at Wolters Elementary School in Fresno, California. That morning, 50-year-old then-principal Brian Vollhardt joined a small group of students having their breakfast, Superintendent Bob Nelson said in a press conference on Thursday.
The cafeteria camera captured a 10-year-old student confronting Vollhardt and pointing a finger in his face. In an arrest warrant affidavit, Vollhardt said the boy yelled and made fists, which he pressed against the adult.
That was when the principal forcefully shoved the child, knocking him to the ground.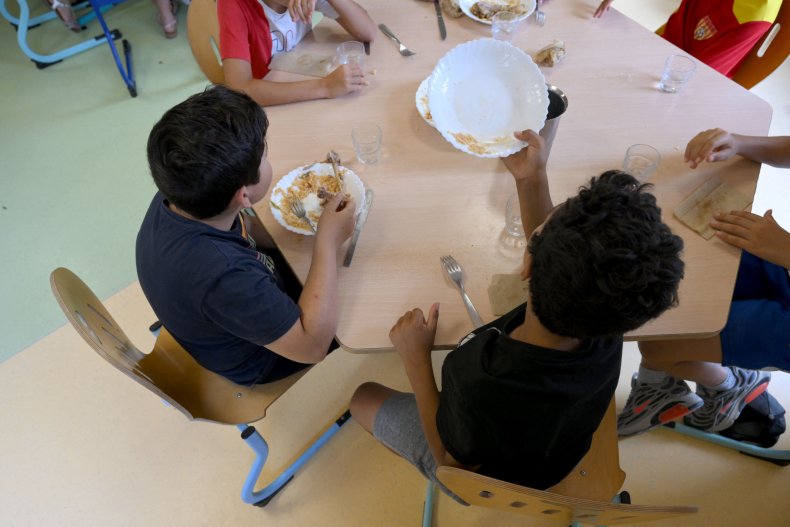 Ann Frank, the boy's guardian who considers him her son, told local news station KFSN-TV that Vollhardt had called her and said she should pick the child up, claiming the student had assaulted him. However, the boy told Frank that Vollhardt was the one who struck him.
"You cannot put force to these kids like that," said Frank. "My son is autistic. Any parents seeing this video, they know what I'm feeling right now. My son was pushed with force by this principal who was supposed to protect him."
Children and adolescents with disabilities are more than twice as likely to experience physical, sexual and emotional violence than those without disabilities, according to an international study of more than 16 million people in The Lancet Child & Adolescent Health. Young people with mental illness and cognitive or learning disabilities are especially likely to suffer violence.
Nelson said the student is physically okay and has been provided emotional support. On June 8, the district placed Vollhardt on administrative leave pending an investigation. Human resources also reported the incident to the Fresno Police Department and Child Protective Services (CPS).
Vollhardt resigned after the Fresno Unified School District launched a disciplinary process. Shortly thereafter, he was hired as vice principal at Tranquillity High School in the Golden Plains Unified School District, which claimed it was unaware of the attack when he was hired. As of Thursday, Golden Plains Superintendent Martín Macías announced that Vollhardt was placed on leave from his new job.
However, community members still had many questions for the schools and the police on Thursday. Fresno Police Chief Paco Balderrama, who held a press conference together with Nelson, said he only recently learned of the ex-principal's attack—even though it occurred three months ago.
The chief admitted to "system failures" that delayed the investigation coming to his attention. Once he learned of the case, he handed it to the district attorney's office. Vollhardt was charged with willful cruelty to a child on Wednesday.
Newsweek reached out to the Fresno Police Department for comment.