A former prosecutor who previously defended President Donald Trump's attorney general, William Barr, said on Wednesday that he was "flat-out wrong" and that he was "deeply disappointed."
"I had said for months that...Barr was a principled institutionalist," said Chuck Rosenberg, who previously served as the U.S. attorney for the Eastern District of Virginia as well as the Southern District of Texas, during a segment of MSNBC's Morning Joe. "I was flat-out wrong," he continued. "I had it wrong. I have been deeply disappointed by what I've seen."
Rosenberg said the "first thing" that really "shook" him was when he saw Barr's "mischaracterization" of special counsel Robert Mueller's final report on Russian interference in the 2016 presidential election. "Once that lie is out there, it's really hard for the truth to catch up," said the former prosecutor, who also served in the Obama and Trump administrations as head of the Drug Enforcement Administration.
"We saw that with the Mueller report," Rosenberg said, noting that people "still don't understand" what was found in the investigation.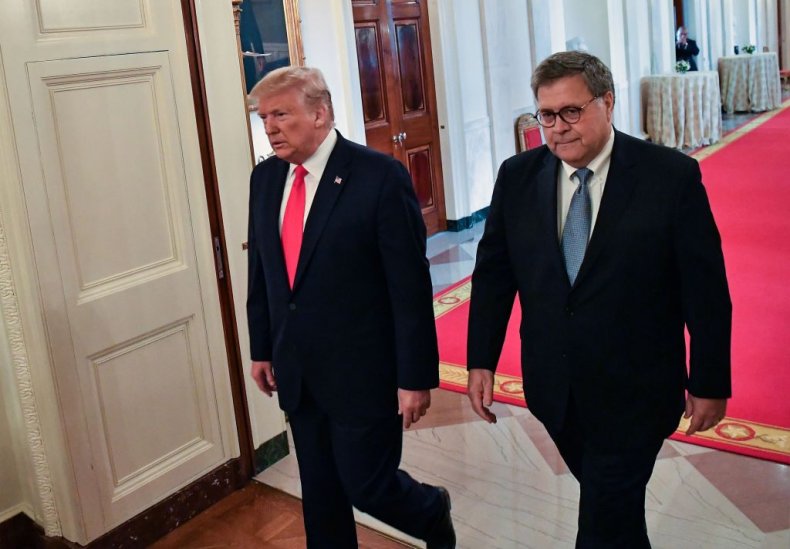 Democrats, and some conservatives, were highly critical of the attorney general's handling of the release of Mueller's report. Even members of Mueller's investigatory team expressed their frustration with Barr's actions, and the former special counsel himself urged Barr to move more rapidly to release significant portions of the document to avoid the spread of misinformation.
After Mueller concluded his 22-month-long investigation into 2016 election interference and whether Trump's campaign conspired with Russia, Barr released a letter summarizing the document's findings back in March. After the full report was released, nearly a month later, many criticized the attorney general's characterization of the special counsel's findings.
Barr's initial summary letter quoted the part of Mueller's report that said, "[W]hile this report does not conclude that the President committed a crime, it also does not exonerate him." However, Barr concluded that the evidence outlined by Mueller was "not sufficient to establish that the President committed an obstruction-of-justice offense."
Many career prosecutors, both Republicans and Democrats, have argued that there are numerous instances of clear-cut obstruction of justice presented in Mueller's report. Some have said that if Trump was not president, he almost certainly would have been indicted for his actions.
Trump and his supporters have repeatedly claimed that Mueller's findings were a "total exoneration" and showed "no obstruction." However, that characterization is not supported by the wording in the document.