Ex-Russian President's Ominous Warning About Europe's Nuclear Power Plants
Former Russian President Dmitry Medvedev warned Friday that there could be "accidents" at nuclear power plants in the European Union, while also warning against what he alleged was Ukrainian shelling near the Zaporizhzhya nuclear power plant.
Medvedev, who currently serves as deputy chair of Russia's Security Council, wrote in a Telegram post that Kyiv and the West "seem to be ready to arrange a new Chernobyl."
"Rockets and shells are falling closer and closer to the Zaporizhzhya nuclear power plant reactor and to the storage facilities for radioactive isotopes. They say it's Russia," he wrote, adding that it's "obvious" that blaming Russia is "nonsense."
"What can I say.... We should not forget that the European Union also has nuclear power plants. And accidents are also possible there," Medvedev wrote.
The Zaporizhzhya plant is located in Russian-occupied territory in southeastern Ukraine but is still operated by Ukrainians. Russia and Ukraine have been trading accusations about carrying out dangerous shelling around the plant, which is the largest in Europe. But Medvedev's suggestion that there could be "accidents" at plants in the EU plays into fears that nuclear warfare could stem from the ongoing war in Ukraine.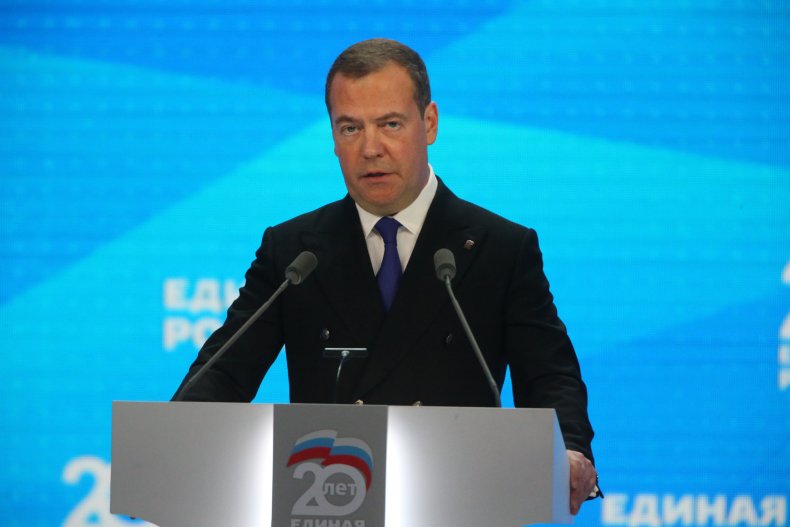 Ukraine's state nuclear power company, Energoatom, has accused Russia of opening fire in the area around the plant several times in recent days. In a Telegram post on Friday, Energoatom said the alleged shelling was causing a "serious risk for the safe operation of the station."
"The Ukrainian staff of the station continues to work and make every effort to ensure nuclear and radiation safety, as well as eliminate the consequences of damage," the post read. "The nuclear power plant is still occupied and controlled by the Russian military. Given that it is impossible to predict the actions of invaders, the threat to the station's physical security remains."
When the Zaporizhzhya plant was captured by Russian troops in early March, days after Russia invaded the country on February 24, Ukrainian responders reportedly had to put out a fire that temporarily broke out at the site.
The foreign ministers of G7 countries have called on Russia to relinquish control of the plant and give it back to Ukraine.
"Ukrainian staff operating the Zaporizhzhya Nuclear Power Plant must be able to carry out their duties without threats or pressure," the ministers said in a joint statement issued Wednesday. "It is Russia's continued control of the plant that endangers the region."
Newsweek reached out to the European Union and defense ministries of Russia and Ukraine for comment.