Ex-State Rep. Anthony Kern, Who Was at Capitol Riot, Seen Counting Ballots in Arizona Audit
Former Republican Arizona state Representative Anthony Kern, who was present at the January 6 Capitol riot and advocated the baseless "Stop the Steal" movement, has been seen taking part in the hand recount of Maricopa County's 2.1 million ballots from the 2020 election.
On Friday, Arizona Republic reporter Ryan Randazzo took and posted a photo of Kern counting ballots inside the Veterans Memorial Coliseum in Phoenix for the Maricopa County election audit.
Kern lost his 2020 race for re-election, but his race isn't being recounted. The Arizona recount only covers the races for president and the U.S. Senate. Both were won by Democrats.
Kern's participation has raised eyebrows because while serving as a state representative, he signed a "joint resolution" with fellow Republican state legislators trying to invalidate the state's election results.
The resolution urged the U.S. Congress to reject Arizona's electoral college votes "until a full forensic audit can be conducted." It was signed by 29 Republican state legislators, nearly half the state legislative GOP caucus.
The December 2020 resolution also said that the state's election results should be considered inconclusive. However, by the time the resolution was issued, all 15 state counties and state election officials had already certified the results.
Kern spoke at a December 19, 2020 "Stop the Steal" rally to help declare then-President Donald Trump as the election's winner. Trump lost by over 7 million popular votes and 74 electoral votes. The results were upheld numerous times in court and certified by all 50 states as legal and final after numerous recounts and audits.
Nevertheless, on January 6, Kern traveled to Washington D.C. to attend Trump's "Stop the Steal" rally as Congress conducted its final certification of the election results.
A photo from the same day appeared to show Kern wearing a coat and tie on the Capitol steps amid the insurrectionists. On that day, insurrections ransacked the Capitol while seeking to overturn the results of the 2020 election.
In January, Kern refused to turn over his mobile device so investigators could examine his emails and text messages related his travel to Washington, D.C. on that day.
Kerns said that his smartphone was a "personal device" and therefore not subject to public records laws. He also claimed that he attended the January 6 rally and protest outside the Capitol as a private citizen. However, he remained an active legislator until January 11, when the new Arizona state Legislature was sworn in.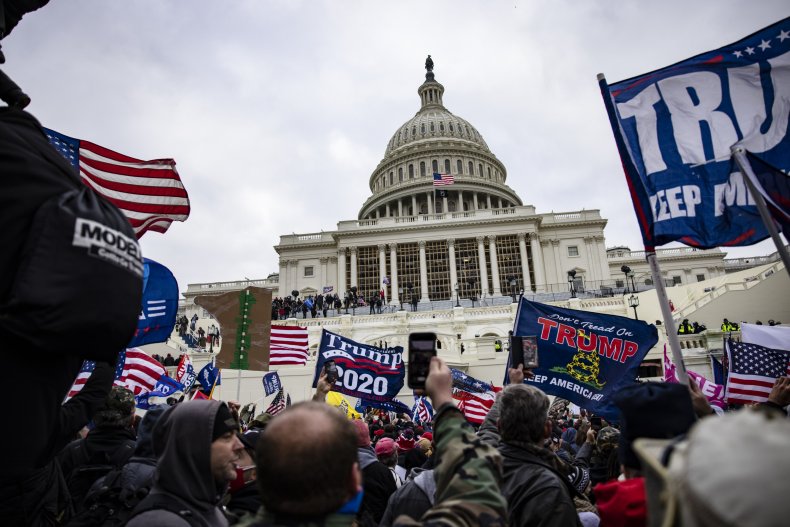 During Kern's time working as a code enforcement officer for the El Mirage Police Department, he was placed on the state's Brady list, a list of law enforcement officers with known credibility issues, The Daily Beast reported.
Democratic Arizona state Representative Athena Salman, a member of the state House's Government and Elections Committee, told the aforementioned publication that she considered Kern's participation in the audit "inappropriate."
"You've got this former lawmaker who lost his last election. You've got someone who was an elector for Donald Trump. You've got someone that's literally on the Brady list because they have a well-documented history of lying... This is one of the guys that they bring in and say, 'That's who we need looking at these ballots and determining whether or not these are quality votes'?"
The county's audit will not singlehandedly overturn the Biden presidency. Arizona's election results were previously upheld by the state's Republican governor, Republican secretary of state, and Republican state Supreme Court chief justice.
Over 60 court cases alleging election fraud filed by the Trump campaign and Republican officials were dismissed or withdrawn from courts due to lack of evidence.
Two former Trump Administration heads have also said that there's no evidence that the election was stolen. Both former Attorney General William Barr, the head of the Department of Justice and the Department of Homeland Security, and Chris Krebs, the former head of the Cybersecurity and Infrastructure Security Agency (CISA), the federal agency in charge of maintaining election security, said so.
Newsweek contacted the Arizona Republican Party for comment.