Ex-TMZ Employee Contacted Camille Vasquez Over Cut Video to Help 'Timeline'
A former employee for TMZ, an entertainment news source, testified during the Johnny Depp v. Amber Heard trial on Wednesday, stating that he contacted Depp's lawyer, Camille Vasquez, about a video being used as evidence in the trial.
Morgan Tremaine testified that TMZ received a video in 2016 of Depp slamming kitchen cabinets and cursing before realizing he was being filmed. The video was shared with the jury several weeks ago and used as evidence against Depp, but Tremaine stated that the video being shown in court appeared to be edited compared to the one that TMZ received in their email tips line.
Tremaine said that TMZ put a copyright on the video after verifying it, and it was published on the outlet's website within a few minutes. Tremaine said the video was not edited by TMZ and no other outlets posted it because it was a TMZ exclusive.
He then added that the video being played in the trial was much longer than the one they received at TMZ. According to his testimony, the video being used in court shared more in the beginning when Heard is allegedly setting up the camera she used to film Depp in the kitchen, and a bit more at the end, where Tremaine said "She's [Heard] seemingly snickering, and looks at the camera. That part was not present in what we received."
Tremaine testified that he reached out to Vasquez several days ago regarding the discrepancy, saying he wanted to help with the "timeline."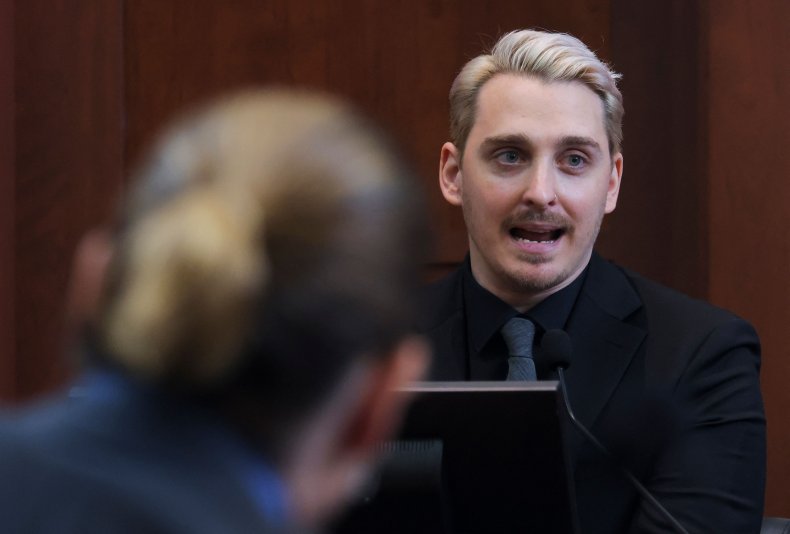 "I saw that there was a discrepancy with the video that was shown here and the video that I know I've received. I had no interest in testifying. I had reached out simply to maybe try and help with the timeline of things, or help with the case in any way just by virtue of understanding the timeline of the stories that were published," Tremaine testified, "but I had no idea I would be on the stand."
In cross-examination, Heard's lawyer Elaine Bredehoft argued that Tremaine was interested in getting his "15 minutes of fame." Tremaine smiled and said he "stands to gain nothing from this."
"I'm putting myself in the target of TMZ, a very litigious organization," he said. "And I'm not seeking any 15 minutes here." He then added to Bredehoft, "I can say the same about taking Amber Heard as a client for you."
Tremaine clarified that TMZ had attempted to file an emergency motion to stop him from testifying in the trial and potentially revealing an anonymous source on the grounds of "journalist's privilege."
In the application to the court, the owners of TMZ wrote that they promised their source of the video that they would not disclose any information about them, adding, "TMZ makes such promises of confidentiality from time to time so that it may publish information in the public interest, and it relies on the journalist's privilege protecting the identity of confidential sources to do so."
Depp and Heard are reaching the end of the $50 million defamation trial, and closing arguments are expected on Friday. Follow Newsweek's live blog for additional updates.
Newsweek has reached out to TMZ for additional comment.