Ex-Trump Adviser Alyssa Farah Explains Why She Would Never Vote for Him Again
Alyssa Farah, former White House Director of Strategic Communications under former President Donald Trump, has said that she won't be supporting Trump again, even if he decides to run again for president in 2024.
"If he's a Republican candidate in 2024, yes, I will not be supporting Donald Trump in 2024," Farah said on the Sunday evening instalment of the MSNBC's The Mehdi Hasan Show.
Farah said that she supported Republican Wyoming Representative Liz Cheney speaking out against Trump's baseless claim that widespread voter fraud caused his 2020 election loss to President Joe Biden. She also said the GOP's "complete loyalty" to Trump is "fundamentally un-conservative," "strategically unwise" and "also morally reprehensible."
Additionally, Farah voiced concern that the Republican Party's continued loyalty to Trump will cause the party to lose voters, particularly older people and women. She also claimed that supporting Trump will push away Republican legislators who are more interested in discussing legislative policy.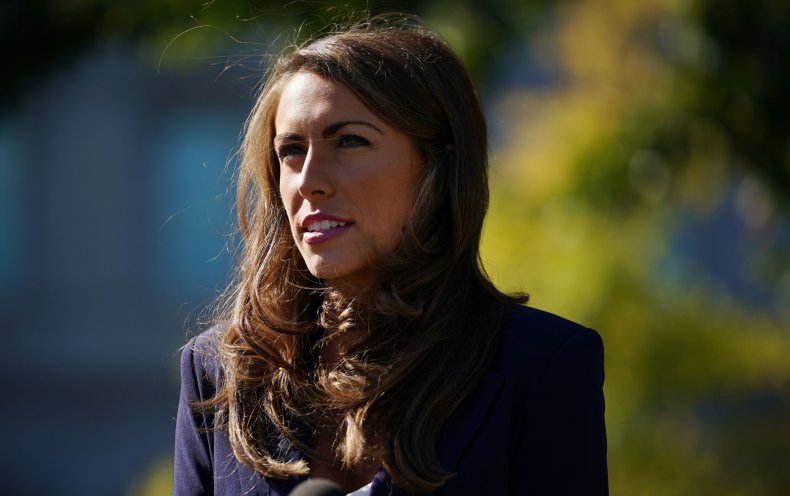 Hasan, the show's host, noted that Farah had previously called the January 6 insurrectionists "terrorists." In response, Farah stated, once again, her belief that Trump "played a role in inciting the violence on the Capitol" on that day.
She said that despite GOP efforts to downplay the riots, voters will remember the day's events. The issue will stay in people's minds, especially as Trump begins publicly campaigning for Republican midterm candidates, Farah warned.
"I believed in about 90 percent of [Trump's] agenda. I'm still a Republican. I still didn't vote for Joe Biden. Do I think it's probably better following January 6 that he's in office? Absolutely," Farah added.
Farah resigned from her White House position on December 3 after working for more than three years in his administration. During that time, she also worked as Vice President Mike Pence's press secretary and the Defense Department's press secretary.
Asked by Hasan why she continued to work for so long under Trump, Farah said that she pushed back against Trump's views and tried to influence his policies behind the scenes. She also praised Trump's record for reducing unemployment for people of color, as well as for negotiating the Abraham Accords—the September 2020 peace agreement between Israel, the United Arab Emirates and Bahrain.
Farah told Hasan that she thought Republican New York Representative Elise Stefanik was a good replacement for Cheney as chair of the Republican House Conference. Last week, House Republicans ousted Cheney from the chair position.
Hasan noted that while Stefanik has a "more moderate" voting record than Cheney, she also has repeated Trump's baseless claims of voter fraud in the 2020 elections. Farah praised Stefanik as "a highly educated serious policymaker," but called such voter fraud claims "absolutely ridiculous."
Newsweek contacted Trump representatives for comment.