Ex-Trump Official Anthony Scaramucci Warns of 'Crisis in Our Democracy' If Republicans Don't Remove President
Former Trump administration official Anthony Scaramucci argued that Republicans will inevitably stop supporting the president, warning that there would be a "crisis in our Democracy" if Donald Trump is not removed from office.
Scaramucci, who campaigned for Trump and served briefly as the president's communications director, has become one of his strongest critics in recent months. He argued in an interview with CNN on Monday that Trump's actions with Ukraine were illegal and certainly impeachable offenses. "We know that it's completely impeachable and completely illegal," he said
"We can argue about whether [Republicans] are gonna vote for it or not," the financier and political consultant told CNN's Alisyn Camerota. But Scaramucci argued it would a "crisis in our Democracy" if GOP lawmakers didn't support the impeachment and removal of the president. He said this would represent them deciding that they would "allow him to break the law."
"That'll be the first time in 243 years that one person is going to get put above the law, away from everybody else," the former Trump official argued. "So if they decide that they want to do that, that's going to be a disruption in the system."
However, Scaramucci predicted that Republicans would eventually end their support for Trump as national polls shift against the president. "I predict that as these things become more public those numbers [supporting impeachment] will go up into the high 50s, even the 60s." He argued that Republican senators would not stick with Trump, as they would fear losing the upper chamber of Congress.
"The facts are starting to come out," he said. "Once they move to a public hearings.… I really believe it will be irrefutable." Scaramucci asserted that he couldn't imagine that Republicans would actually "allow this level of lawlessness.
"The bad news is yet to come for the president. We're just getting started," he said.
Polling released by Gallup and Pew Research last month showed that a slim majority of American's supported the Democratic-led impeachment inquiry against Trump. However, both polls showed a stark divide along party lines, with few Republican voters supporting the probe. A Fox News poll published on Sunday showed that 49 percent of voters supported impeaching and removing the president, but that is actually a dip of 2 percent from a poll conducted by Fox News in October. An aggregate of national polls by Real Clear Politics currently shows an average of 48.1 percent of respondents support impeaching and removing Trump from office, while 44.9 percent oppose his removal.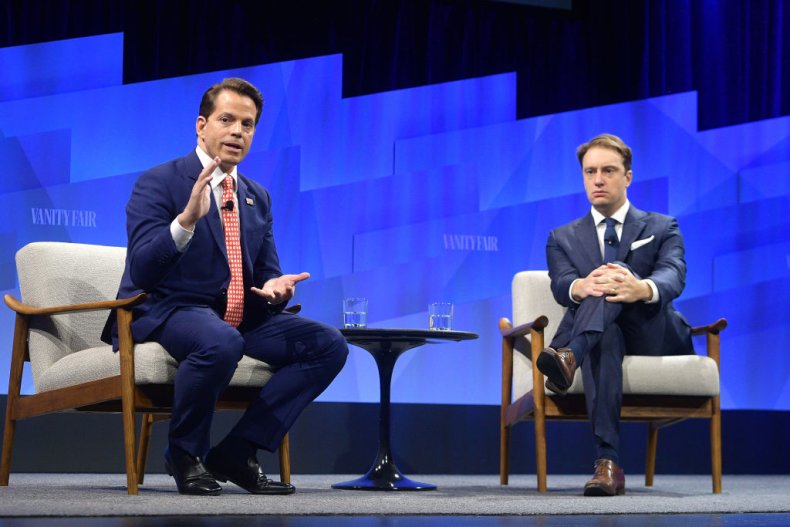 On Thursday, the House of Representatives formally voted in favor of rules to guide the impeachment inquiry moving forward. This resolution passed largely on partisan lines, with no Republicans voting in favor and two Democrats voting against. The lower chamber of Congress' lone independent, Representative Justin Amash of Michigan who was elected as a Republican but declared his independence in July, voted in favor of the resolution.
While several Republicans in Congress have criticized the president's actions towards Ukraine, none have publicly called for his impeachment. Currently, mosts analysts believe that the House, which is controlled by Democrats, will vote in favor of impeaching Trump—although it is unclear if any Republicans will support the move. It is viewed as highly unlikely that the president will be removed by the Republican-controlled Senate however, particularly because such a decision requires a two-thirds majority.