Former GOP Rep. Justin Amash Slams Republicans: 'History Will Not Look Kindly' on 'False Defenses' of Trump
Independent Representative Justin Amash called out his Republican colleagues ahead of Thursday's House vote on a resolution laying out the rules for the Democratic-led impeachment inquiry, warning them that "history will not look kindly" on their defenses of President Donald Trump.
Amash, who has been described as one of the most conservative members of the House, was elected as a Republican but formally declared himself an independent on July 4. The Michigan congressman parted ways with the vast majority of GOP lawmakers following the release of special counsel Robert Mueller's report regarding Trump's 2016 campaign and Russian election interference. Like many Democrats, he believed the report showed that the president had engaged in impeachable conduct.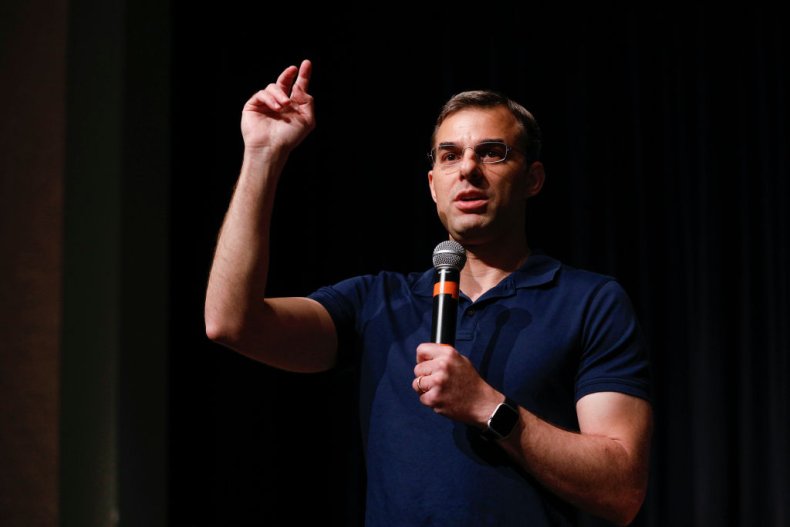 With the House Democrats' launch of a formal impeachment inquiry last month, Amash has been a lonely conservative voice in Congress supporting the investigation.
"This president will be in power for only a short time, but excusing his misbehavior will forever tarnish your name," he tweeted on Thursday. "To my Republican colleagues: Step outside your media and social bubble. History will not look kindly on disingenuous, frivolous, and false defenses of this man."
Despite the urging by Amash and Democrats, the impeachment rules vote in the House passed along partisan lines, with 232 in favor and 196 opposed. All GOP representatives voted against the resolution, except for three who abstained. Almost all Democrats voted in favor, except for two congressmen who chose not to vote on the resolution. Amash, the chamber's lone independent, voted "yes" along with Democrats.
Amash's chief of staff, Poppy Nelson, told Newsweek via email that Amash's "pre-vote tweet still stands" following the resolution's passage.
On Wednesday, Amash also tweeted his criticism of the president and his defenders. "We swear an oath to support and defend the Constitution, not an oath to support and defend Donald Trump's abuse of the office of the presidency," he wrote.
In declaring his independence from the Republican Party in July, Amash wrote in a Washington Post op-ed that in recent years he had "become disenchanted with party politics" and "frightened" by what he saw in it.
"I'm asking you to believe that we can do better than this two-party system.... If we continue to take America for granted, we will lose it," he warned.
Trump dismissed Amash's departure from the GOP at the time, saying it was "great news" for the Republican Party and referring to the conservative lawmaker as one of the "dumbest" and "most disloyal men in Congress."