Ex-Trump Official Frederico Klein May Get Plea Deal After Allegedly Fighting Cop in Capitol Riot
A former State Department official who served under former President Donald Trump will likely get a plea deal after allegedly attacking multiple Capitol officers on the January 6th insurrection.
Federico Guillermo "Freddie" Klein served as a mid-level aide at the State Department under former President Donald Trump before he was arrested and charged with six federal crimes in connection with the Capitol riot, according to court documents made public by the Justice Department.
On Monday, Assistant U.S. Attorney Jocelyn Patricia Bond said that the government plans "to extend a plea offer to Mr. Klein," adding that it's unclear whether or not he will accept it.
Stanley Edmund Woodward, Jr., who is Klein's lawyer, did not respond on the record. It remains unclear exactly what the prosecution stands to gain by offering the plea deal.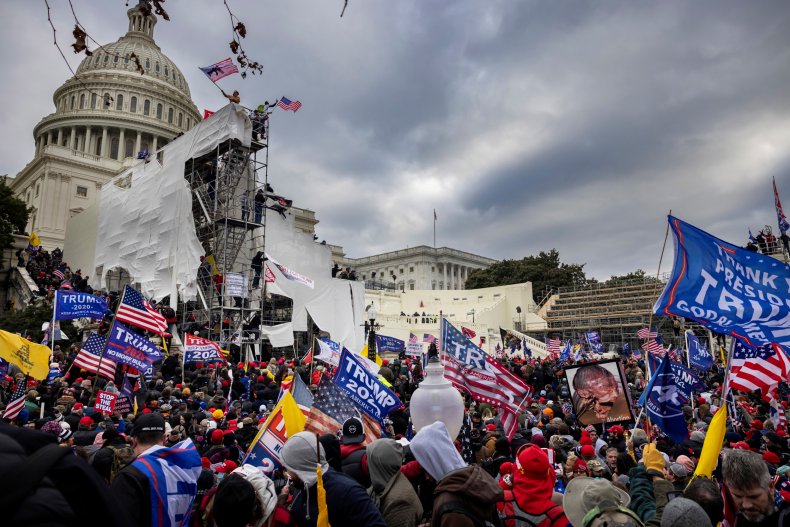 At the hearing, the prosecutor referenced bodycam footage of Klein at the Capitol.
U.S. District Judge John Bates described the footage: "He can be seen actively advancing himself to the very front of the tunnel on more than one occasion. And he demonstrated a clear and persistent willingness to use force against law enforcement to attempt to gain entry into the Capitol and to stop the certification of the election. That conduct is deeply troubling and reveals some propensity for violence, as well as a blatant disregard for the law."
Court documents quote Klein saying "we need fresh people" in the video. The evidence prompted U.S. Magistrate Judge Zia Faruqui to deem Klein dangerous enough to be "detained pending trial."
Faruqui also spoke about Klein's several oaths to protect America against "all enemies foreign and domestic," which he "brazenly" went against by storming the Capitol.
As recently as last summer, Klein, who was appointed by Trump, held a role as a special assistant in the Bureau of Western Hemisphere Affairs. Before that, he had worked on Trump's 2016 presidential campaign, as a "tech analyst."
After the riot, Klein was arrested in Virginia and charged with unlawful entry, violent and disorderly conduct, obstructing Congress and law enforcement, and assaulting an officer with a dangerous weapon, according to Samantha Shero, a spokesperson for the Bureau's Washington Field Office.
Klein was first identified as a frontline member of the violent Capitol siege mob through a poster disseminated by the FBI, which featured several photographs of participants taken by surveillance, law enforcement body cams, and other means.
More than one member of the public who saw the poster contacted the FBI to identify Klein, and connect them to his real name and social media pages, which lead to his arrest.
Newsweek has reached out to U.S. Attorney Jocelyn Patricia Bond's office for comment. This story will be updated with any response.