Ex-Trump Official Jeffrey Clark Blasts 'Highly Politicized' FBI Raid
Jeffrey Clark, an environmental lawyer in the Department of Justice (DOJ) under the administration of former President Donald Trump, has lashed out a "highly politicized" raid of his home by the FBI.
Clark's Virginia home was reportedly raided by federal agents on Wednesday. Clark denounced the raid, which he said lasted for three and a half hours and forced him to leave his house without wearing pants, during the Thursday night edition of Fox News' Tucker Carlson Tonight. The former DOJ lawyer also said it was not a "coincidence" that he was key figure during in the House January 6 select committee hearing that took place on Thursday.
"I think this is highly politicized," Clark told host Tucker Carlson. "And it's also part, Tucker—if you didn't know it, of a nationwide effort yesterday. There were multiple states where multiple people were roughly simultaneously raided for their electronic devices."
"Look, with the hearing that was pointed at me and targeting me today... it looks highly coincidental," he added. "And Tucker, I just don't believe in coincidences."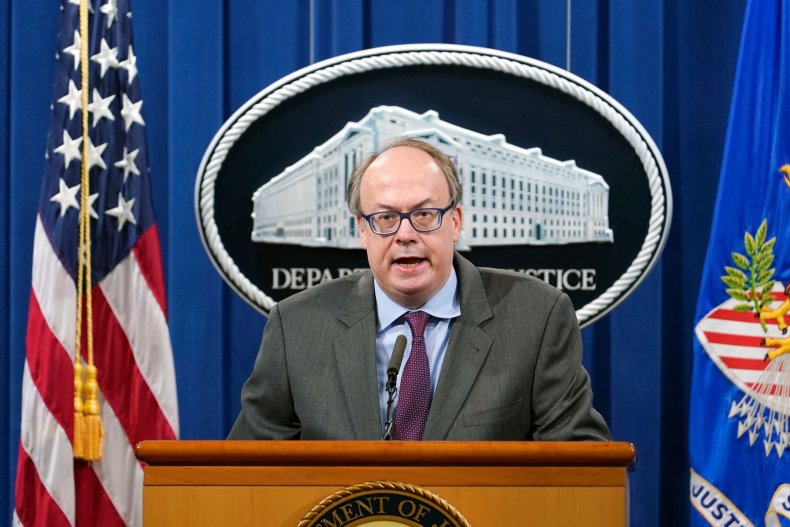 Clark went on to compare the raid of his home to tactics used by the Stasi, the notoriously repressive secret police force of East Germany.
"I just think we're living in an era that I don't recognize," he said. "And increasingly, Tucker, I don't recognize the country anymore with these kinds of Stasi-like things happening."
Clark, considered a loyal backer of Trump's false claims that the 2020 election was "stolen," was a central topic of discussion during Thursday's January 6 committee hearing due in part to suggestions that the former president floated the idea of installing Clark as acting U.S. attorney general in the waning days of his administration.
While Trump was allegedly eager for Clark to lead the DOJ, presumably in hopes that he would help him overturn President Joe Biden's election victory when others would not, the former president ultimately abandoned his plan when a number of top DOJ officials threatened to stage a mass resignation if he went through with it.
The Wednesday raid on Clark's home was confirmed to the Associated Press by a person who spoke on the condition of anonymity. The exact reason for the raid, or what the agents were searching for, was unclear.
Federal agents also reportedly served subpoenas on the chairmen of the Republican parties of Nevada and Georgia in recent days, while GOP officials in Michigan and Pennsylvania said they had been interviewed by the FBI.
Clark now works as a senior fellow at the Center for Renewing America, a conservative organization dedicated to combating critical race theory. The group's president Russ Vought, also a former Trump official, described the raid of Clark's home on Twitter.
"Yesterday more than a dozen DOJ law enforcement officials searched Jeff Clark's house in a pre dawn raid, put him in the streets in his pjs, and took his electronic devices," Vought tweeted. "All because Jeff saw fit to investigate voter fraud. This is not America, folks."
Newsweek reached out to the FBI and the House January 6 select committee.