Ex-Trump Official Sery Kim Sues Texas Tribune for Calling Her 'Racist' Over Immigrant Remarks
Republican Texas Congressional candidate and former Trump administration official Sery Kim has sued The Texas Tribune for calling her recent controversial remarks about Chinese immigrants "racist."
Kim filed the defamation lawsuit on Monday against the Tribune, a digital nonprofit news outlet, for publishing an article with the headline "GOP congressional candidate in Texas special election loses prominent supporters after racist comment about Chinese immigrants" on Saturday. The lawsuit is seeking over $10 million in damages.
The article focused on Kim losing endorsements from Republican California U.S. Reps. Young Kim and Michelle Steel, both Korean Americans, days after she reportedly made controversial remarks suggesting that the U.S. should reject Chinese immigrants while insisting that she was allowed to make the remarks because she is an immigrant from South Korea.
"This is the ugly side of politics ... Today it is designed to tear down lives and reputations rather than help get to the heart of serious issues to serve the people's interests and build them up," Kim said in a statement on Monday. "Today, I filed a $10 million lawsuit against the Texas Tribune for defamation. Calling me a 'racist' is how leftist media practices its brand of politically-correct discrimination against conservatives like myself."
"I am an Asian and an immigrant, and it is shocking the liberal media would identify me as anti-Asian and anti-immigrant," continued Kim. "The truth is that China is the biggest threat to our nation. The Chinese Communist Party steals our intellectual property, perpetuates [genocide], spies on Texans, and had a role in spreading coronavirus around the world ... The people of Texas' 6th Congressional District deserve to know the truth."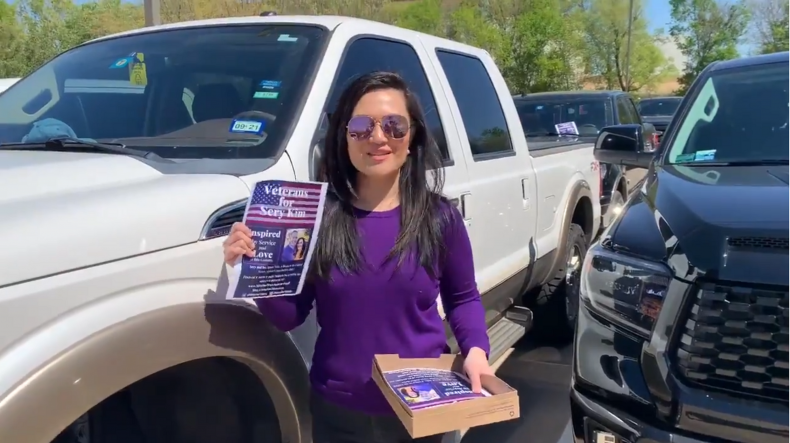 The lawsuit claims that the Tribune published its article "with actual malice," had "intentionally exposed Sery Kim to contempt and ridicule" and "irreparably damaged her reputation," leading to financial harm. It says that the paper attempted to "paint Sery Kim as a racist" by referring to Chinese immigrants in reference to a quote that did not directly refer to Chinese people or China.
"The Texas Tribune's direct quote from Sery Kim does not have any words relating to China, Chinese, Chinese immigrants or any nouns or pronouns or even adjectives other than 'them,'" the suit states.
The remarks that the Tribune attributes to Kim are nearly identical to those included in a Thursday article from The Dallas Morning News, the first major outlet to report on the controversial remarks made during a political forum last Wednesday.
"I don't want them here at all," Kim said at the forum while speaking about China and Chinese immigrants, according to The Dallas Morning News. "They steal our intellectual property, they give us coronavirus, they don't hold themselves accountable."
"And quite frankly, I can say that because I'm Korean," she added.
The lawsuit notes that the Tribune article was published three days after Kim's remarks were made and mentions articles from several other news outlets, including Newsweek, that did not directly refer to the comments as "racist." It also details several abusive emails that Kim received after the article was published.
Kim, who served in the Trump administration as an assistant administrator for the Small Business Administration, is one of 11 Republican candidates vying for the former seat of Rep. Ron Wright, who died in February after testing positive for COVID-19.
The Texas Tribune declined Newsweek's request for comment, citing policy against commenting on pending litigation.