Ex White House Official Says 'Not One' of the Democratic Candidates 'Are Any Good,' Predicts Biden 'Won't Last'
Ari Fleischer, who served as the White House press secretary under Former President George W. Bush, said on Thursday that he did not think any of the 2020 Democratic presidential hopefuls would be able to win against President Donald Trump.
"I think they don't have enough candidates. I think 24 Democrats is not enough because not one of them is any good," Fleischer assessed during a segment of Fox News' Outnumbered. He argued that current frontrunner Joe Biden would not stay in first place, saying he had been "artificially propelled" to that position due to his status as the former vice president.
"He won't last, someone [else] is going to breakthrough and emerge," the ex White House press secretary said. Continuing, Fleischer said "Biden, like a balloon, the air runs out of it ... it just deflates and goes away."
Fleischer's assessment came after the second round of Democratic primary debates, which were hosted by CNN in Detroit, Michigan. Over two nights, Tuesday and Wednesday, 20 candidates had the opportunity to debate and present their policy ideas to the American people. While some candidates went on the offensive, taking aim at other candidates, others – such as Biden – were forced to go on the defensive.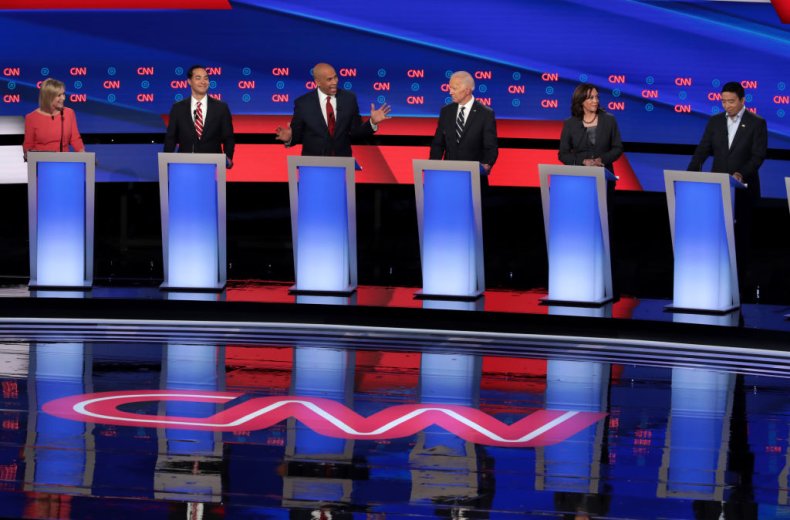 Although Fleischer may be a Republican critiquing the field of candidates, some Democrats have expressed misgivings as well. Representative Debbie Dengell, a Democrat from Michigan, responded with a quick "nope" when she was asked by CNN if any of the candidates had proven they could win her state in 2020.
Saying she was "disappointed," Dingell said the candidates "were very busy taking shots at each other." Pointing to the issue of healthcare, she said "they didn't talk about it in ways that working men or women understand or that they care about."
Michigan is seen by many analysts as a key state that Democrats need to win back in the 2020 presidential election. Although the state, which has 16 electoral votes, went blue in every presidential election since 1992, President Donald Trump pulled off a narrow victory in the state in 2016. However, recent polling suggests that many Michigan voters want to replace the president in 2020. Michigan polling agency EPIC-MRA released the results of a survey in June that showed 45 percent of residents wanted to replace Trump, with 32 percent wanting him to stay in office.
Nationwide polls paint a similar picture. In June, a Quinnipiac University poll showed Biden beating Trump 53 percent to 40 percent. Other leading 2020 candidates Senator Bernie Sanders of Vermont, Senator Elizabeth Warren of Massachusetts, Senator Kamala Harris of California, South Bend Mayor Pete Buttigieg of Indiana and Senator Cory Booker of New Jersey would all beat the president by several percentage points, according to nationwide voter responses to that survey.
Marc Lotter, the director of strategic communications for Trump's 2020 campaign, dismissed negative polling in an interview with CNN earlier this week, however. "I think any kind of head-to-head match-up at this point is rather meaningless," Lotter argued. "They're just getting started campaigning against each other, let alone campaigning against President Trump."