Excitement for a New iPhone Is Falling Every Year, Figures Show
Hype surrounding the new iPhone has been falling each year since the release of the iPhone 5 back in 2012.
According to search interest in the term "iPhone," Apple achieved its highest online interest in September 2012 (the launch of the iPhone 5). The appeal of the iPhone was steadily increasing each year between the release of the original iPhone in 2007 and 2012. But the release of the iPhone 5S failed to garner as much intrigue.
The figures, which are compiled by Statista and use information from Google Trends, gave a maximum of score of 100. Every other year is compared to 2012—e.g. a score of 50 shows half as much popularity. The worst year since the peak was 2015, when Apple released the iPhone 6S and iPhone 6S Plus (around 65 out of 100.)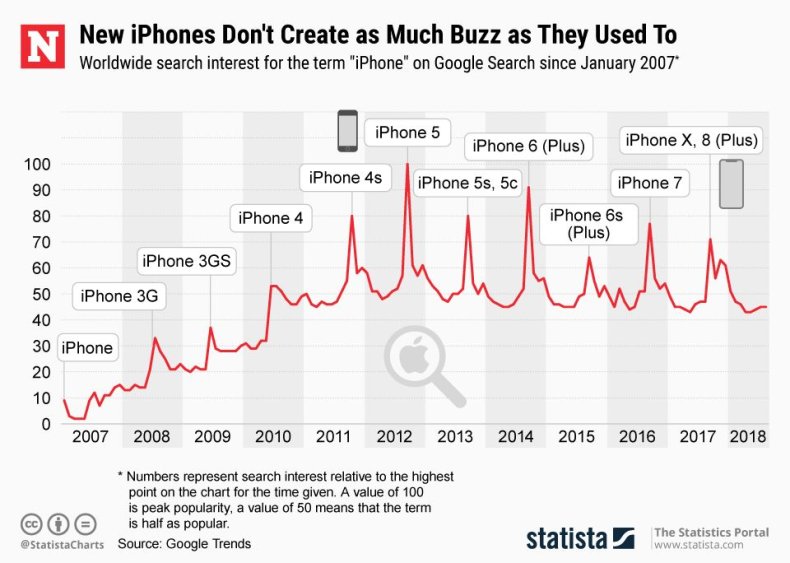 Interest rose slightly in 2016 for the iPhone 7—up to just under 80. The release of the iPhone 8, iPhone 8 Plus and iPhone X was the second least popular year for searches since 2010. The 2018 iPhone models are expected to be announced on September 12 and search results leading up have remained in line with the past seven years—just under a score of 50.
The lowest interest in iPhone since 2010 came in the middle of 2017, essentially right between the release of two iPhone models (the iPhone 7 and iPhone 8/X.)
Despite a decrease in Google traffic, Apple are still making huge sums of money from the iPhone. In the first quarter of 2018, Apple recorded its second most sales of iPhones in a quarter since the smartphone was launched—77.32 million—according to Statista. It fell just short of the first quarter in 2017, which saw Apple sell 78.29 million units. Profits, however, are believe to have increased because of the high price of the iPhone X.
Last month, Apple became the first company in history to reach a valuation of $1 trillion.
Buyers anxiously awaiting the new iPhone may have a decision to make, with Apple likely to release three different models:
An incremental upgrade of the iPhone X with a 5.8-inch, OLED screen.
The 6.1-inch, LCD budget iPhone X.
A 6.5-inch, OLED screen iPhone X Plus.
The budget model will reportedly be available in an array of colours including blue, orange, grey and white. There are also whispers that yellow and pink are "still on the table."
Forbes reported in June that the iPhone X Plus will ship with three rear-facing cameras. After Huawei introduced three rear-facing cameras on the P20 Pro, Apple will be looking for ways to climb back to the top of the smartphone camera rankings. It also faces stiff competition from the Google Pixel 3, however that is still expected to have just a single rear-facing camera.