Exclusive: Armenia, Azerbaijan Speak Out, Here's What They Want from U.S.
As their home countries wage a bloody battle with no signs so far of abetting, Newsweek spoke to the ambassadors to the United States from rivals Armenia and Azerbaijan, who both see the U.S. as having a potentially crucial role in resolving their conflict, though they fundamentally disagree on what that role should be.
But there's one thing they do agree on—things can never be the same.
The latest eruption of violence in the century-long conflict is less than a week old but has already left hundreds of casualties, including civilian deaths on both sides. The opposing armed forces are battling over the contested territory of Nagorno-Karabakh.
This 1,700-square-mile stretch of the South Caucasus region between Asia and Europe is internationally recognized as part of Azerbaijan, but is led by ethnic Armenians who also view the territory as part of their historic homeland, which is now under near-constant fire before the world's eyes.
As part of the Organisation for Economic Co-operation and Development's Minsk Group, the United States has joined fellow co-chairs France and Russia in an effort to halt the rapidly-escalating hostilities. So far, they've condemned the use of force and called for an immediate halt to the fighting.
But both Yerevan and Baku's top representatives in Washington say more needs to be done.
"Right now, what is necessary is an intervention of the highest levels, together with other mediators, Russia and France, to stop the violence," Armenian ambassador to the U.S. Varuzhan Nersesyan told Newsweek.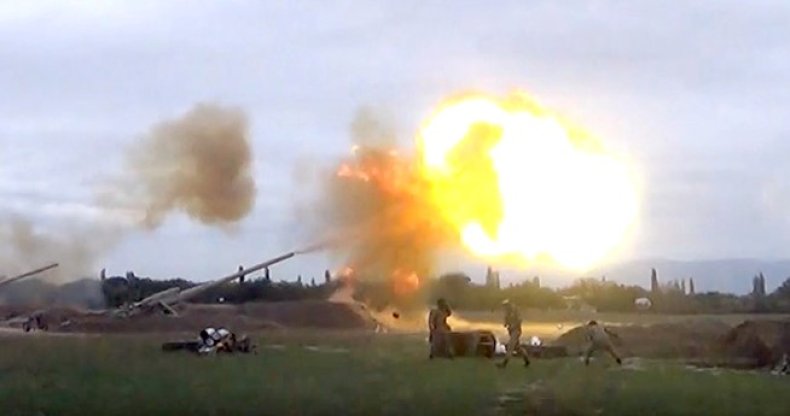 He accused Azerbaijan, along with its closest partner and historical Armenian foe, Turkey, of coordinating the latest assault in order to coincide with the U.S. elections, a moment of distraction for a country already gripped at home by civil unrest and the lingering socioeconomic effects of the COVID-19 pandemic.
Still, his wish is for the U.S. to step up in a significant way.
"Our expectation and hope is that the U.S. will intervene decisively to stop Turkey and Azerbaijan," Nersesyan told Newsweek, "and condemn their violence and create conditions for the resumption of negotiations. This is what we expect now."
Stationed just about a mile away from his Armenian counterpart in Washington, Azerbaijani ambassador Elin Suleymanov said he too expected the U.S. to act.
He recalls how his country actually led efforts to establish Washington's role as co-chair of the Minsk Group. This came, he argued, in spite of objections from Paris and Moscow, which Baku felt were too sympathetic toward Yerevan in the wake of their deadliest war amid the breakup of the Soviet Union in the late 1980s and early 1990s.
Today, Suleymanov casts a suspicious eye on Russia's role in supplying Armenia's military and reports of Iran facilitating such arms shipments.
As for the U.S., however, he called it an "honest broker" that would be expected to uphold the United Nations Security Council resolutions adopted in the wake of the previous conflict, all of which call for Armenian forces to withdraw from Nagorno-Karabakh, which is known to its local leaders as the Artsakh Republic.
"So what we hope the United States can do is to look for what could provide for sustainable peace and development in the region," Suleymanov told Newsweek.
And, to Azerbaijan, he says that means "only one thing": "The withdrawal of Armenian troops and an end of this occupation. Without that, any ceasefire, anything would be fragile."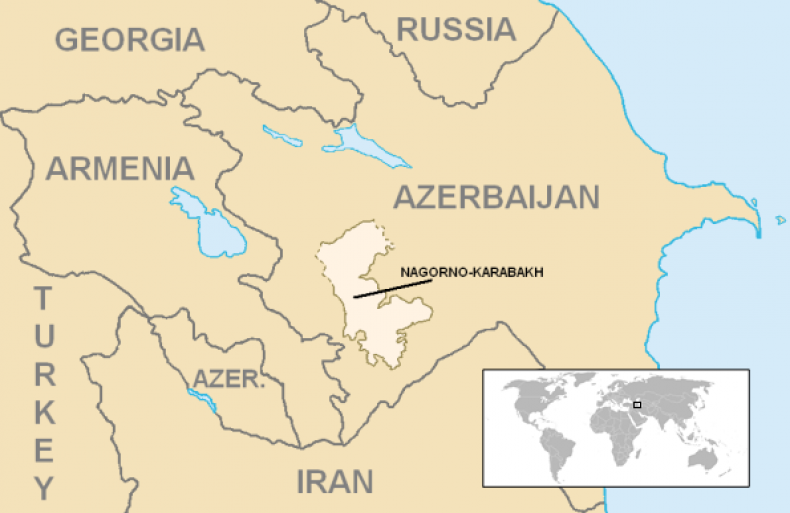 With the collapse of past agreements such as those made following flare-ups in 2016 and just months ago in July, Nersesyan also saw no way to return to the status quo. The latest round of fighting appeared to shake the very foundation for ceasefires that, fragile as they were, held for decades with only occasional interruptions. That is until this week, when Azerbaijan moved to assert its U.N.-approved sovereignty over Nagorno-Karabakh.
"There is no longer a way to continue the same way it was in the past," Nersesyan said. "This latest aggression demonstrated once again that there is no way that will revert the wheel of history back."
He claimed that there is no way Azerbaijan can or should control the contested region before a final decision was made on its status in line with the self-determination of its inhabitants.
"Azerbaijan, with this latest act, shows that Nagorno-Karabakh does not have a way back," Nersesyan said, "and cannot be whatsoever subjugated to Azerbaijan. This is what Azerbaijan wants."
He sees any peaceful resolution as needing to address this root cause of the conflict.
"The existential issue of the security of Nagorno-Karabakh should be on the table," Nersesyan said. "This is the way if the negotiations regime can go forward. So we're very much looking forward to working with the U.S. and other co-chairs on this matter."
Suleymanov has a different idea of how the Minsk Group and its co-chairs, including the U.S., should apply their guarantor status.
"It's very important that the United States actually insist as a co-chair of the Minsk group that the international law is upheld," the Azerbaijani diplomat told Newsweek, "and on the Armenian withdrawal from the occupied territories."
Suleymanov said the interests of both countries would be served by Armenia's withdrawal.
"That's actually not just in the interest of Azerbaijan, of course it is," he said. "But it is equally in the interest of Armenia, because that will ensure its own peaceful future."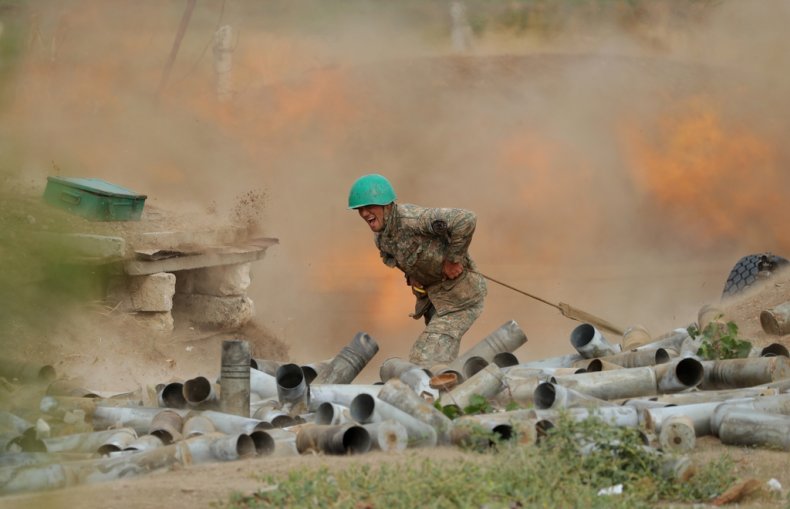 Though they seek peace, constant news of wartime carnage at home has taken a toll on two men acting on behalf of their countries from some 6,000 miles away.
"It's very emotional, of course," Nersesyan said. "It's difficult to watch my own country, Armenia, fight the combined forces of Turkey, Azerbaijan and jihadist militants."
Although he acknowledged the personal burden, he saw it as his duty to try to bring an end to the ongoing clashes.
"But of course, we have diplomats who are part of the job, we work with the U.S. government and fulfill our mission here to try to help out the situation to stop the violence," Nersesyan said.
Suleymanov, who rejects as "quite offensive" the widely reported notion that his country was importing Turkey-sponsored insurgents from Syria, also dreaded the brutality with which the two nations were sparring, as unsurprising as it may have been given the unsettled nature of their feud.
"This is really a bad situation," he told Newsweek, "but it was not unpredictable. This is what's been happening all along."
Now, before it gets even worse, he called on Washington "to be proactive in pursuing both peace and supporting local peaceful solutions."
The alternative, he warned, is further instability.
"The United States is an important part of the web of stability and security in the region," Suleymanov said. "So, the sort of disengagement from the United States, ignoring the region, abandoning it in some ways, creates this kind of a power vacuum, which is very dangerous."