Exclusive: China's Ambition to Be Health Superpower Has Boost from Pandemic
China seeks to vastly improve its domestic healthcare infrastructure by the end of the decade with an ambitious set of reforms. If successful, the plan could further fuel the global rise of the People's Republic in yet another crucial field and potentially have far-reaching effects on a world still reeling from the COVID-19 pandemic, according to a report obtained exclusively by Newsweek.
The 22-page report, produced by the congressionally mandated United States-China Economic and Security Review Commission, is entitled "China's Healthcare System: Addressing Capacity Shortfalls before and after COVID-19."
It details a range of successes and failures in the efforts of the Chinese government so far to enhance and expand healthcare at home. As COVID-19 gripped the globe since first being detected in China's Wuhan city in late 2019, this campaign has attracted new attention from the ruling Chinese Communist Party.
The report states that currently China's healthcare system is faced with "capacity shortfalls and challenged by a rise in chronic disease," leaving some regions, especially in the countryside and in the far west, with a scarcity of "even basic healthcare to many of its citizens."
But U.S.-China Commission economics and trade policy analyst Leyton Nelson, who authored the report, found that Chinese officials are prioritizing widespread reforms to address these issues, for both practical and political purposes.
"China's policymakers understand that for many, adequate and improving healthcare is a key component of the 'social contract' that keeps the CCP in power," the report said. "If successful, these efforts could significantly improve healthcare outcomes for millions of Chinese, ensuring a better, longer life. At the same time, it would bolster one of the CCP's key claims to legitimacy: that it can deliver ever-higher standards of living to China's population."
The effects could be felt worldwide.
"These efforts could also help Beijing attain its goal of making China a global leader in healthcare," the report said, "something that would not only commercially benefit Chinese healthcare firms but would also afford Beijing significant international influence."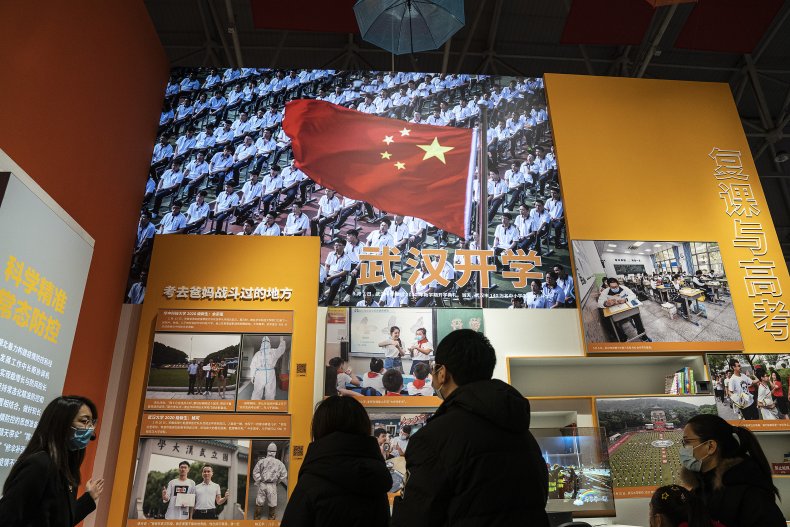 China has devoted considerable resources in recent decades toward rapid development in many sectors of society in the world's most populous nation, and healthcare is no exception. The U.S.-China Commission report notes, however, that, "while healthcare in China has made considerable strides in the past decade, it remains ill-equipped to deal with the country's aging population and rising incidence of chronic disease."
The system, according to the report, "is overly reliant on urban hospitals to provide even basic healthcare services," with hospitals accounting for just 3.5% of medical institutions in China and handling some 45% of all outpatient visits.
"Per capita healthcare spending in China is increasing, but it remains low compared with other major economies largely due to underfunding by the Chinese government," the report found. "Budget shortfalls in China's healthcare institutions are a major cause of widespread corruption in China's medical system."
But the report states that "Chinese policymakers have prioritized the improvement of healthcare outcomes," primarily by means of a comprehensive plan known as Healthy China 2030. The initiative, first released in 2016, establishes targets in several key areas of healthcare, including facility improvement, implementing new technologies, increasing average life expectancy and emphasizing health education.
Priority demographics include rural communities, women, children and the elderly. Some specific areas of desired improvement involve family management, mental health literacy and healthier lifestyle choices such as fitness routines, diet improvement and tobacco controls.
The U.S.-China Commission report also details another aspect of Chinese healthcare met with less certainty abroad: traditional Chinese medicine, sometimes referred to simply as TCM.
"As part of its broader efforts to gain soft power, the Chinese government has promoted traditional Chinese medicine (TCM) both domestically and abroad, despite a lack of evidence showing the efficacy of many TCM treatments," the report argued. "In the past several years, international organizations have begun incorporating TCM into medical standards amid China's push for greater recognition of TCM."
The World Health Organization has featured TCM in authoritative publications, as has the United States' own National Center for Complementary and Integrative Health.
"Some mind and body practices used in traditional Chinese medicine practices, such as acupuncture and tai chi, may help improve quality of life and certain pain conditions," the NCCIH states. "Studies of Chinese herbal products used in traditional Chinese medicine for a range of medical conditions have had mixed results."
Promoting TCM is seen by the U.S.-China Commission report as part of China's "Health Silk Road," a branch of the broader Belt and Road Initiative of global infrastructure projects established by President Xi Jinping.
The Chinese Foreign Ministry and National Administration of Traditional Chinese Medicine jointly held the "Forum on Traditional Chinese Medicine and International Cooperation to Fight Against COVID-19 Pandemic" on Tuesday. The event, held virtually, was attended by political leaders, senior health officials and experts from more than 20 countries and regions, according to Chinese Foreign Ministry spokesperson Zhao Lijian.
"After COVID-19 broke out, traditional Chinese medicine (TCM) has been playing an active role in the global fight," Zhao told a press briefing Monday. "Many countries have drawn upon and applied it in their anti-epidemic efforts, making TCM a highlight in China's solution to prevent and contain the pandemic."
He said China seeks to improve healthcare worldwide.
"China stands ready to advance international cooperation in fighting COVID-19," Zhao said, "and protecting the life and health of people all over the world."
Beijing has begun expanding its international health footprint by leading the world in COVID-19 vaccine production and distribution abroad, having pledged or sent millions of doses to countries across Africa, Asia, the Caribbean, Central and South America, Europe and Oceania—virtually all corners of the Earth. Chinese officials have called for the inoculation to be made "a global public good" available to all international populations.
Chinese Foreign Ministry spokesperson Hua Chunying emphasized this point during a press conference Thursday, arguing that vaccines "should be at the service of humanity all over the world." She listed some of her country's international vaccine-related accomplishments thus far.
"We have joined the WHO-initiated COVAX and pledged a first batch of 10 million doses to meet the urgent need of developing countries," Hua said. "We are providing vaccine assistance to 80 countries and 3 international organizations, exporting to 40-plus countries, and have entered into vaccine R&D and production cooperation with more than 10 countries."
She also made note of China's offers to donate vaccines to U.N. Peacekeeping personnel and members of the International Olympics Committee ahead of the summer games set to be held in Japan this summer.
"We hope these sincere efforts will bring more confidence and hope to the global fight against the virus," Hua added.
The U.S., by far the worst-hit nation in the world by a disease almost entirely under control now in China, has instead focused inward, with President Joe Biden racing against high infection rates to vaccinate the country's own population. The White House has said, however, it would devise a plan to send several million vaccines to neighboring Canada and Mexico.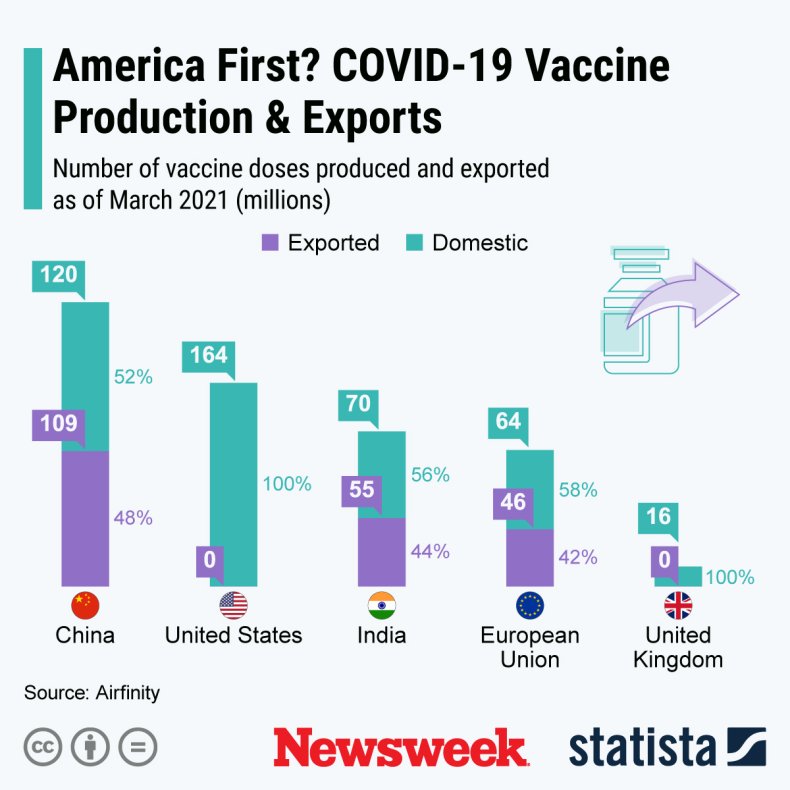 The above graphic was provided by Statista
The U.S.-China Commission report poses key questions to U.S. lawmakers on how to best react to China's intensified healthcare efforts, its leading vaccine distribution and their potential global ramifications. The first proposition explores areas in which the two countries could potentially cooperate.
"Can the United States reduce health risks in China and worldwide by cooperating with China to assist in improving China's healthcare system? Will the CCP allow open access and equitable cooperation to U.S. entities working to assist China?" the report asks. "What is the appropriate role of U.S. engagement in improving China's healthcare system? What should be the focus and priorities of such engagement?"
Another question hinted at possible "market opportunities" for U.S. firms should they choose to work with China's healthcare campaign. Another asked members of Congress to look into "restrictions and nonmarket barriers" potentially impeding U.S. access to China's healthcare markets, as "given the rising demand and aging population, U.S. companies have the expertise, technology, and capacity to support healthcare services in China."
At a time when Washington and Beijing see eye-to-eye on few issues, both governments have identified public health as a potential area of cooperation.
However, the Biden administration has also vowed to ensure China did not overtake the U.S. in global leadership, as Washington faces unprecedented international competition from a country whose growing economic, military, diplomatic and technological power was detailed in a previous U.S.-China Commission report obtained by Newsweek.
In an Interim National Security Strategic Guidance published earlier this month, the White House announced it would aim to "restore U.S. leadership on global health and health security, and build the world's collective preparedness and capacity to detect and rapidly contain infectious diseases and biological threats."
The question of how to ensure that leadership was presented to legislators in the new report as well.
"How can the U.S. government respond to the Chinese government's attempts to gain influence in international fora, including publicizing China's Health Silk Road initiative, promoting TCM, and providing medical supplies, vaccines, and assistance to countries in the wake of the COVID-19 pandemic?" the report asked.
Also included were inquiries on addressing potential safety and privacy concerns if China does achieve its healthcare goals.
Should things not go as planned, however, the report notes the stakes may be even higher, not only for China, but for the world.
"If efforts to improve healthcare do not succeed, the CCP runs the risk of an increasingly underserved and dissatisfied population questioning the legitimacy of CCP rule," the report stated. "Moreover, shortcomings in China's healthcare system can have effects outside of China, as the catastrophic worldwide health and economic consequences of the ongoing COVID-19 pandemic demonstrate."