Exclusive Clip: Paul Rudd's Hilarious Return to Conan O'Brien's Podcast
While Paul Rudd was being awarded the title of Sexiest Man Alive, People asked Conan O'Brien if he'd like to highlight his "dad bod."
O'Brien makes the revelation in the latest episode of his podcast Conan O'Brien Needs a Friend which features Rudd as a guest for the second time. Click the video above for an exclusive preview of the latest episode which also features Rudd explaining how a "lewd" email mishap got Michael Douglas in trouble.
While O'Brien's talk-show career has ended for now, he's become a thriving podcast host as he interviews comedians and celebrities every week in the hope of becoming their friend. He's joined by Sona Movsesian and producer Matt Gourley for each episode. Rudd first appeared on the podcast in November 2019 but he's back for more on Monday's latest episode on Conan O'Brien Needs a Friend.
Conan O'Brien and the Dad Bod
In the upcoming episode, O'Brien tells the true story about how he almost featured in the same edition of People where Rudd was featured as the Sexiest Man Alive. The writers called him and asked if he'd like to feature in a segment to represent men with "dad bods."
In the Newsweek exclusive clip, speaking to Rudd, O'Brien said, "That's what happened to me. You are on the cover as a Sexiest Man, this is not even made up. They were asking me to participate and I said 'I will not.' I inquired first if there was money and there was nothing. There was nothing."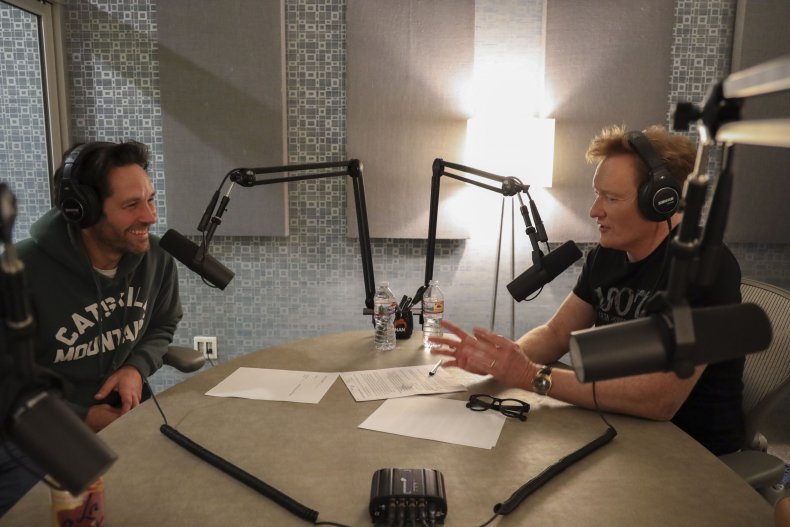 Setting O'Brien's mind at ease, Rudd reassured him that he didn't have a dad bod. "For me to be in that thing, it makes as much sense as it does for you to be in that thing. I have to believe there was a glitch in there. I think they were supposed to go to Paul Reiser," Rudd said.
Within Rudd's Sexiest Man Alive issue of People magazine in November 2021, there was an extended feature where celebrities like Ryan Phillippe, Jason Derulo and Steve Zahn redefined what a dad bod was.
Michael Douglas' Mistaken Identity
Bringing up Paul Reiser led Rudd to discuss a hilarious mistake made by his Ant-Man co-star Michael Douglas.
Rudd revealed that he and Douglas were shooting Ant-Man and the Wasp: Quantumania when he was named Sexiest Man Alive, which led Douglas to send a "lewd, hilarious" but "graphic" email to him.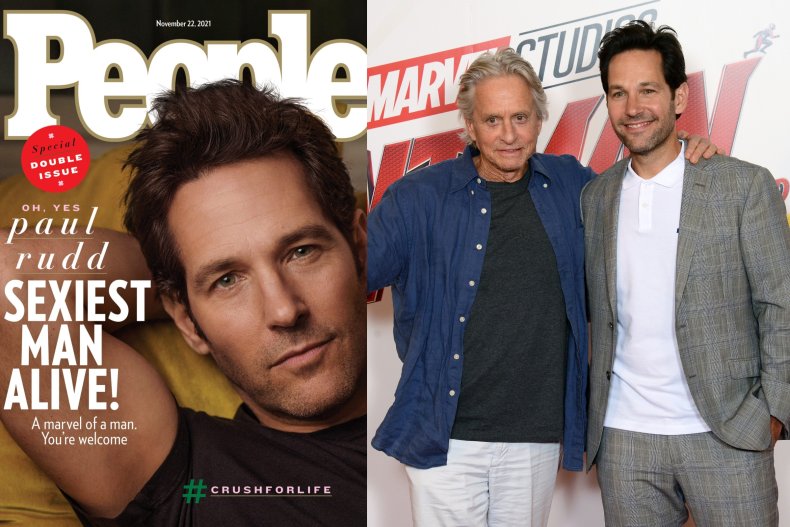 Rudd recalled speaking to Douglas about the email. "He sent it and he got a reply saying 'was this meant for me?' and he had sent it to Paul Reiser," he said. "Swear to God. He was like 'I saw Paul R on my [email].'"
The case of mistaken identity leads Rudd and O'Brien on a path of riffing on which other famous Paul R's may have gotten an inappropriate email from Douglas.
O'Brien signed a deal with HBO in 2020 to produce new content with their network, but there's yet to be any word on what the prospective show will be about.
Listen to the latest episode of Conan O'Brien Needs A Friend with Paul Rudd this Monday, March 28, wherever you get your podcasts.
CORRECTION 03/25/2022 5:20 a.m. ET. This article was updated to correct the release date of the latest episode of the podcast.