Exclusive First Look: 'Shahs of Sunset,' New Bravo Reality Show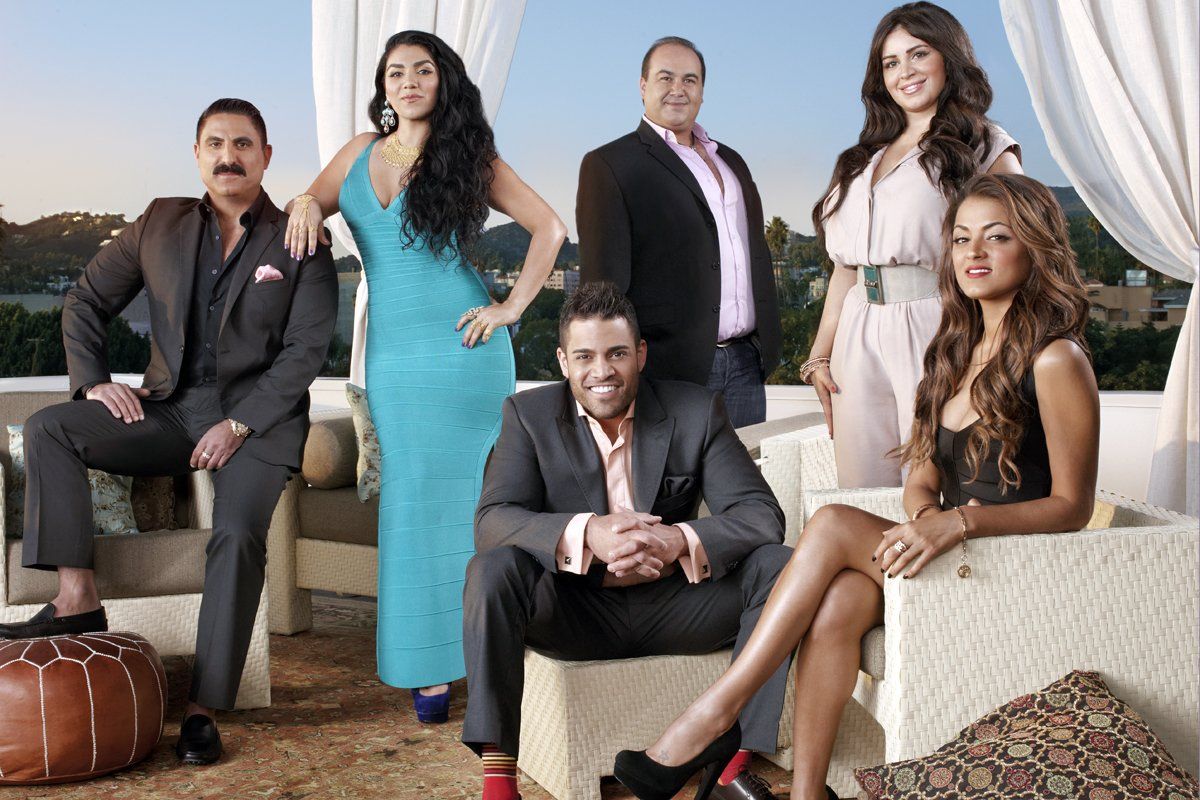 In 1984, when Asa Soltan Rahmati was 8, her parents decided to flee their war-torn home in Iran. They told her to pack her favorite toys, but she only remembers bringing a rock she had found near her grand-mother's house. Her family escaped to the slums of Hamburg, Germany, where she learned to speak English by listening to Michael Jackson and Public Enemy. When she was 15, her family immigrated to the United States and landed in a small one-bedroom apartment in Beverly Hills, so that Asa could attend a good high school. She went to class dressed like a teenage rock star, with gold hoop earrings, sneakers, and miniskirts.
Soltan Rahmati, now 35, calls herself a "conceptual artist." She uploads her music videos on YouTube; one of her hits, "FessenJoon," refers to a famous Persian stew made from pomegranate syrup and walnuts. "My videos get around," says Asa, who compares herself to Lady Gaga and M.I.A. "I get pulled over by Persian girls who want to take pictures of me. We don't have any people that are out in the public, that are living outside the box." Asa is among the six Persian-American stars of the new Bravo reality series Shahs of Sunset, one of spring's most buzzed-about TV shows. Shahs may have an odd title (none of its cast is actually royalty), but it possesses an even stranger TV lineage. Its producer is Ryan Seacrest, the same man who unleashed the Kardashians upon us.
Then again, maybe the concoction is so strange it's actually brilliant. Since the Islamic Revolution in 1979, hundreds of thousands of Iranians have immigrated to Los Angeles, giving the town the nickname "Teh-ran-geles." Many of them live in lavish apartments, drive fancy cars, and splurge on designer clothes. But Seacrest says he was less intrigued by Persian wealth than the community's close-knit ties. "The great thing about a show like this," he says, "is that it promotes something I believe in, which is friendship and family. We like shows about that."
The Shahs cast members have known each other since their days at Beverly Hills High School, and now that they are in their mid-30s, they still act like cliquish teenagers. GG, the girl who refers to herself as the Persian princess, nearly falls over in her Louboutins when she fires a gun at a shooting range. Mike (the guy with the abs) and Sammy (the guy with the belly) claim to be million-dollar real-estate moguls. MJ dotes on her two Chihuahuas—they have their own stroller and Facebook pages. Her gay best friend, Reza, loves Gucci, Prada, and the catchphrase "Hello, we're Persian!" Everybody picks on Asa. And yes, they scamper up and down Sunset Boulevard.
In other words, it's a lot like Bravo's hit reality franchise The Real Housewives. But as strange as this is to admit, it's also perhaps the most normal depiction of Iranian-Americans I've seen in mainstream entertainment. Growing up as the son of Iranian immigrants, the only time I glimpsed Iranians in pop culture was the abusive husband in Not Without My Daughter—or the Middle Eastern terrorists on 24. "We're still hooked on the terrorist Arab archetype or Persian archetype," says Thaddeus Russell, author of A Renegade History of the United States. "I think the problem is Iranians are generally perceived not to be assimilated. Whether or not that's true, the perception is that they haven't become American yet."
Can one reality show actually change all that? The cast met me recently for a leisurely dinner in West Hollywood. This is the first interview they've given, and we quickly slipped into Farsi (much to the chagrin of the network publicists, who tried to eavesdrop). None of the six Persians were as over the top as they seem on TV. Some were born in the United States, but they all shared the familiar children-of-immigrants experience of walking a tightrope between two cultures. "I was a month old when we moved here," says Mike, who frequently bares his chiseled chest. "I give my dad a lot of credit. He worked tirelessly to give us everything. They came with nothing."
Reza represents something else we've never seen on TV: a gay Iranian. He admits that his mother was worried about him coming out in such a public way. (If he did so in Iran, it could mean a death sentence.) "She thinks the crazy super-religious Muslim people will get upset," he says. "I'm wearing an Allah necklace and talking about dating guys." He convinced her by explaining he'd become a role model for other Iranians struggling with their sexual orientation.
While the cast members are excited about their newfound fame, they're not immune to controversy. Shahs hasn't even premiered yet, but in America, Farsi newspapers and radio stations are blasting the show's trailer for perpetuating stereotypes. To be fair, there are moments in the pilot that are incredibly tacky. The show could have done without the crass Iranian mom who hurls racial insults like a female Archie Bunker.
Some bloggers have compared it to Jersey Shore, but the cast denies any similarities. They point to their college educations. "We are much more sophisticated," says Reza. "We come from different backgrounds of lawyers and doctors. Those people on Jersey Shore are hooking up every night. They have a 'smoosh' room. They drink pickle juice. They have nothing. They are incredibly trashy. We are not like that."
But the show does hope to become a similar cultural phenomenon, and if it does, it could cause ripples around the world. Imagine the irony of the Iranian regime being forced to comment on a Bravo reality show. All this raises a larger question: can the host of American Idol change our perception of Iranians so much that U.S. relations with Iran are changed too? "Do I think people will see us in a different light? Yes, I do," says GG. "We are not terrorists. Our money isn't from oil. We're not related to Saddam Hussein or Osama bin Laden."
Got that? It's obviously safe to let these Iranians invade your home.