Exclusive: More Hong Kong Residents Say U.S. Is Bigger Threat Than China, Poll Shows
More people in Hong Kong see the United States—rather than mainland China—as a threat to the semi-autonomous territory, although residents still harbor deep uncertainties about the impact of a new national security law imposed by Beijing, an exclusive Newsweek poll conducted by London-based polling firm Redfield & Wilton Strategies has shown.
Asked whether they would consider the U.S. government to be "more of an ally or more of a threat to Hong Kong and its interests," 38 percent of respondents felt it was more of a threat, 29 percent chose it being more of an ally and 21 percent said it was neither. At 37 percent, slightly fewer chose the Chinese government as a threat and 34 percent called Beijing an ally, while 16 percent thought it was neither.
An additional 37 percent of Hong Kong residents said they believed closer relations with mainland China "will best serve Hong Kong's long-term strategic interests," outweighing the 30 percent that thought stronger ties with the United States would better benefit the territory. Looking to neither Beijing nor Washington for support from abroad, 9 percent chose to forge better bonds with another government.
The remaining respondents for these questions indicated that they did not know the answer. The poll looked at Hong Kong resident's attitudes about political preferences and health expectations amid the novel coronavirus pandemic and security in the wake of the Chinese government's national security law. It was conducted online for Newsweek with more than 1,000 Hong Kong adults from July 19-21.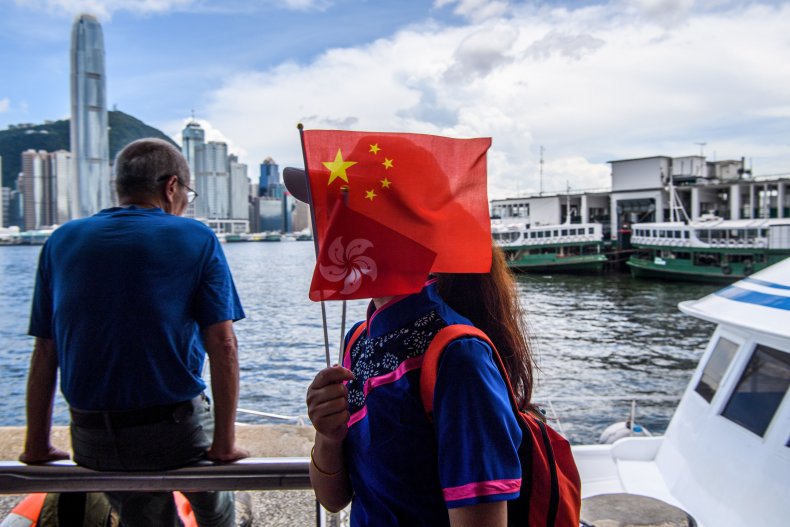 The beginning of July marked the 23rd anniversary of Hong Kong's handover to China from the United Kingdom, which 33 percent of respondents to Newsweek's survey described as an ally as opposed to 29 percent who said it was a threat. The transfer marked the beginning of the "One Country, Two Systems" framework that granted Hong Kong limited self-rule.
Today, 49 percent of residents said they continued to support this arrangement as their preferred system of governance, according to the poll, with 20 percent instead backing full independence and 12 percent seeking direct rule from Beijing. At the same time, as many as 55 percent of respondents said they believed the "One Country, Two Systems" structure is "at risk of being eroded"—32 percent do not.
As the new national security law begins its crackdown on separatist political forces blamed for sometimes violent rallies held for over a year around the city, 42 percent disagreed and 34 percent agreed that they felt safer after the legislation came into effect. As for freedoms and liberties, 34 percent said they agreed they were compromised by the new law and 31 percent disagreed.
In general, 58 percent said the level of freedom in Hong Kong was "under threat," a slight decline from 60 percent who said so during Newsweek's previous survey last month, which came ahead of the national security law's implementation.
A perceived repeal of the rights enfranchised in Hong Kong's de facto constitution has been among the prevailing points argued by the U.S. in the series of actions it has taken against both mainland China and Hong Kong itself. President Donald Trump has officially repealed the territory's special trade status as encoded in U.S. law and introduced new sanctions, while the U.K. ended an extradition treaty with Hong Kong and offered passports for those holding or eligible to obtain British National (Overseas) passports.
"The U.K. is really clear that we need to work with our American friends and also with other partners together in the international system to protect our freedoms and interests and—as we've shown, I think, on Hong Kong—stand up for our values," U.K. Foreign Secretary Dominic Raab said Tuesday in remarks alongside U.S. Secretary of State Mike Pompeo at Lancaster House in London.
Earlier that day, however, Chinese Foreign Ministry spokesperson Wang Wenbin criticized Western intervention in the Hong Kong issue, calling it part of "China's internal affairs that allow no foreign interference."
"The Chinese government is determined to defend national sovereignty, security and development interests, to implement 'One Country, Two Systems' comprehensively and faithfully, and to oppose foreign interference in Hong Kong affairs," Wang told reporters at a press conference in Beijing. "Intervening and pressuring tactics will never work on China."
Still, Pompeo met Wednesday in London with self-exiled Hong Kong opposition activist Nathan Law in the latest sign of U.S. support for political forces in support of the protests in the restive territory.
Newsweek's poll showed that 33 percent of those in Hong Kong had a positive view of the young leader, as opposed to 30 percent who were neutral and 26 percent who said they had a negative view of him. Polled on Law's decision to testify before U.S. Congress about the situation in Hong Kong, 36 percent of respondents approved of the move, 29 percent disapproved and 24 percent expressed neither opinion.
As Hong Kong braces for more retaliatory measures, however, 38 percent of residents said they agreed U.S. economic sanctions on China would have a negative impact on their economic wellbeing and quality of life as opposed to 24 percent who agreed and 29 percent who did not feel particularly either way. Regardless of how it may impact their life, however, 43 percent indicated they supported such measures, 28 percent disagreed with them and 22 percent neither agreed nor disagreed.
Still, residents were evenly split 40-40 about whether or economic sanctions against China by governments such as the U.S., U.K., Japan and South Korea would help the situation there.