Exclusive: Nikki Fried's Campaign Site Was Liberal in English, Moderate in Spanish Until She Was Questioned
Nikki Fried, Florida's agriculture commissioner, a rising star among state Democrats who hopes to defeat Governor Ron DeSantis next year if she wins the primary, sounds like a tried and true progressive on her English-language website.
She touts being an advocate for criminal justice reform, taking on the NRA, and fighting to protect the environment.
But as of Friday, all of that was missing from her Spanish-language website.
Asked about the discrepancy by Newsweek, Fried's team quickly added the language in Spanish and fleshed out her biography on the page within two hours of the initial request for comment.
According to a Newsweek archive of the website, the original Spanish-language page was only 95 words, and the only policy point it mentioned was Fried's support for legalizing marijuana, while the updated page is 202 words and closely mirrors the English-language site on Fried protecting the environment, being a criminal justice reform advocate, and how she "expelled the NRA out of weapons license permitting."
"Our website copy, now updated, was in the process of being properly and professionally translated," Max Flugrath, communications director for Fried's campaign told Newsweek.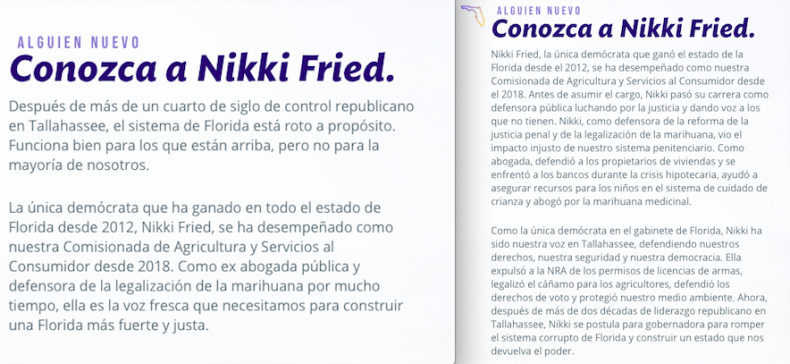 But the issue is how Fried—and Democrats in high-profile statewide races like Charlie Crist, who is also running for governor, and Representative Val Demings, who is taking on Senator Marco Rubio—present themselves to Latino voters in Florida. That could decide if the Democratic Party is able to bounce back from two devastating election cycles in 2018 and 2020, or if they have been permanently relegated to underdog status.
Nationally, Democrats wear being called 'progressive' as a badge of honor, and 'Democratic socialists' like Senator Bernie Sanders and Representative Alexandria Ocasio-Cortez have received great acclaim within the party. But in Florida, charges of socialism from Republicans fly at Democrats fast and hot like the Cuban cafecitos coming through order windows at ubiquitous Miami eateries.
It wouldn't matter if the accusations didn't hurt the candidates, but they do.
A long line of Democrats have felt the effects. Florida politicians, including former Senator Bill Nelson and former gubernatorial candidate Andrew Gillum, both lost in 2018. Joe Biden was dogged by accusations in Florida in 2020 that he was a socialist and communist, and performed badly among Latinos compared to Hillary Clinton in 2016, particularly in Miami-Dade.
Hoping to change her fortunes with Latinos, Fried who announced her campaign less than two weeks ago, on Monday announced that longtime Democratic strategist Evelyn Pérez-Verdía, who advised Pete Buttigieg's presidential campaign and is an expert on Spanish-language disinformation, was joining as senior advisor on Latino issues.
Pérez-Verdía told Newsweek the most likely explanation for the website discrepancy in Spanish was that the campaign likely forgot to add in the advocacy Fried touts in English.
"I don't think she's trying to be different in Spanish," Pérez-Verdía said.
She went on to explain that taking on the NRA is a good thing for Fried among Hispanics, for example, because the Parkland shooting had devastating effects on the hearts and minds of Latinas.
"As a mom myself, this is a conversation that I have with moms from different Latin American countries of origin," she said. "Violence is a big issue for us, Parkland changed a lot of our lives, where now we're in the super market and mindful of the exits."
But Republicans in the state said that Fried's team purposely wanted to downplay the liberal bonafides she listed in English before getting caught, and that Democrats will continue to come off as out of touch to Florida voters.
In a statement to Newsweek, the Republican Governor's Association (RGA) went at a line Fried debuted before announcing her bid for governor in which she said, "I'm a capitalist. Let me say that again. Yo soy capitalista."
"Nikki Fried tries to pander to Hispanic voters with poll-tested Spanish catch phrases about being a 'capitalista,' when in reality she's nothing but a mentirosa," said RGA spokesperson Joanna Rodriguez, calling Fried a liar. "Fried's intentional efforts to hide the most liberal parts of her biography from Hispanic voters aren't just misleading, they're hypocritical."
Ana Carbonell, a veteran Republican operative in Florida who has helped Rubio and Senator Rick Scott win races in the past, said Democrats are going to continue to misread Hispanics, and can't run away from "extremists policies" that don't reflect the aspirational goals of Hispanics in Florida. She warned that if Fried or any other Democrat plans to say one thing in English and another in Spanish, it won't work.
"One thing campaigns are clear on is the importance of conveying the same message in English and Spanish, especially since Hispanics in Florida are for the most part bilingual," Carbonell told Newsweek. "It's something that is easily detected, it makes no sense, and does a poor service to any candidate or campaign, because at the end of the day your message needs to be uniform."
Fried's spokesman said she has learned from the minefield that has doomed Democrats previously with Latinos in the state and knows how to win in Florida, since she is the only Democrat to win a statewide race since 2012.
"Our campaign will be active in reaching out to all communities, especially Florida's Latino communities, and aggressive in combatting disinformation used to manipulate voters," Flugrath said in a statement. "As a former small business owner, Commissioner Fried will be bold and forceful in pushing back against the false narrative of socialism parroted endlessly by the Republican Party."
Pérez-Verdía previewed how that approach is not just about what Fried says, like extolling capitalism and denouncing socialism, but also about what Fried doesn't say. 'Progressive' may be a word Democrats rally around nationally, but in Spanish 'progresista' has longstanding ties to socialists and figures like Hugo Chavez of Venezuela.
"If you call yourself a progressive in Hialeah, you're done," Pérez-Verdía said. "It's about understanding those are charged words, charged symbols that are painful to a lot of people."
The new senior advisor on Latino issues closed by saying Fried is genuine, and that Florida needs something new, which happens to be the hashtag the campaign is using calling for a fresh new approach after DeSantis.
But then Pérez-Verdía said what Florida Democrats are clamoring for, but may be easier said than done.
"As a party we have to define ourselves before they define us," she said. "It's that simple."