Exclusive: Potential Venezuela Swap Emerges to Free U.S. Citizens for Alex Saab
A potential deal has emerged to secure the freedom of U.S. citizens detained in Venezuela in exchange for the release of a Colombian national with longstanding ties to Caracas, Newsweek has learned based on a plea from one of the detained men.
Contacted by Newsweek, sources from both the U.S. and Venezuela did not rule out the possibility of pursuing such a swap.
Eyvin Hernandez, a Salvadoran American lawyer who came to the U.S. at a young age and found work at the Los Angeles Public Defender's Office, was arrested by Venezuelan authorities at the border between Colombia and Venezuela on March 31, 2022. He was accused of illegally entering Venezuela, though his family has maintained his innocence and the U.S. State Department declared him "wrongfully detained" in October.
As the White House presses forward with efforts to release U.S. citizens determined to be held wrongfully abroad, a source familiar with the case informed Newsweek of a recent letter by Hernandez addressed directly to President Joe Biden. In it, the U.S. detainee states that his family has been made aware of a potential deal that would see him and potentially other U.S. nationals freed in return for the release of Colombian businessman Alex Saab.
Saab was detained on June 12, 2020 by local authorities in Cape Verde at the request of the U.S. during a fuel stop as he was en route from Venezuela to Iran for what was said to be a diplomatic and humanitarian mission. He was extradited in October 2021 to the U.S., where he faces charges of money laundering tied to an alleged bribery scheme that has been denied by Saab.
The Venezuelan government has repeatedly called for the release of Saab, who was appointed a special envoy and therefore granted diplomatic immunity by President Nicolás Maduro's administration. The U.S. has refused to recognize Saab's diplomatic status as Washington cut ties with Maduro in January 2019, having accused the Venezuelan leader of election fraud and backing his opposition, which has proven unsuccessful in taking power.
In his letter, Hernandez suggests that not only would he be released in exchange for Saab, but that other U.S. nationals detained in Venezuela, including Jerrel Kenemore, Jason Saad and Joseph Cristella, could be let go as well.
While Newsweek was able to verify the authenticity of the letter, the circumstances of its writing were less clear, as Hernandez remains in Venezuelan custody.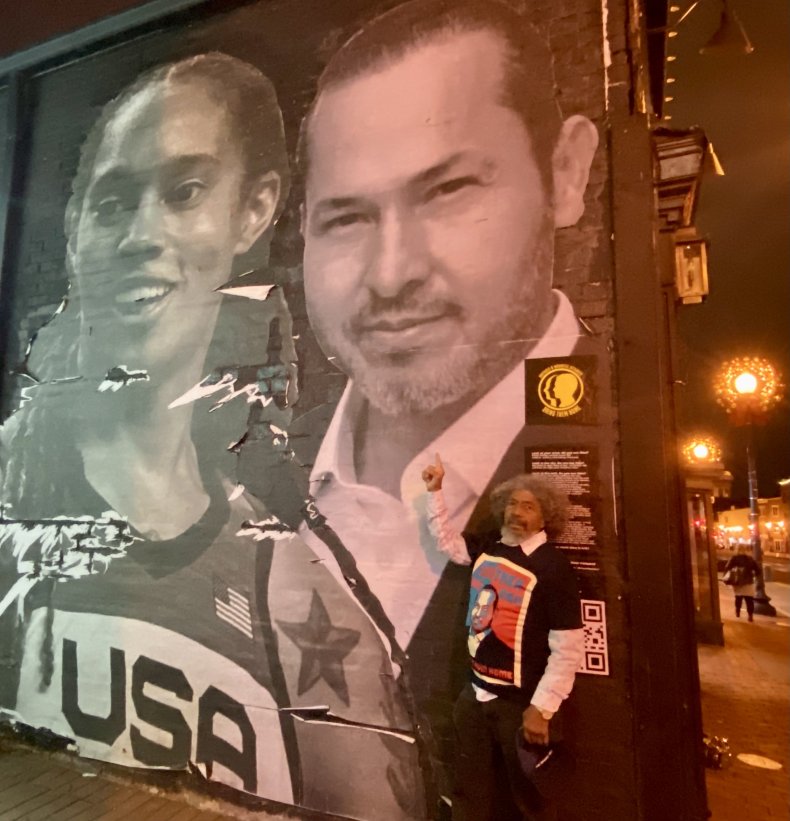 Although neither the U.S. nor Venezuela has confirmed the specifics of such an agreement, there is recent precedent for trading detainees in spite of the ongoing political feud. Last October, Biden confirmed that he had signed off on the biggest prisoner swap of his presidency in an arrangement with Maduro.
The deal saw seven U.S. citizens, including fuel industry giant Citgo employees Jose Pereira, Jorge Toledo, Tomeu Vadell, Alirio Zambrano and Jose Luis Zambrano, as well as former U.S. Marine corporal Matthew Heath and University of Central Florida graduate Osman Khan, released in exchange for Venezuelan nationals Efrain Antonio Campo Flores and Franqui Francisco Flores de Freitas, who are nephews of Maduro via his wife.
The five U.S. oil executives were part of a group commonly referred to as the "Citgo six," one of whom, Gustavo Cardenas, was released by Venezuela alongside Cuban American Jorge Alberto Fernandez, after a high-level U.S. delegation traveled to Caracas for rare talks in early March of last year. That visit came weeks before Hernandez's arrest.
Asked about whether the Maduro administration was interested in an exchange aimed at releasing Saab, a Venezuelan source speaking on the condition of anonymity because he is not authorized to speak to the media told Newsweek, "Yes, Venezuelan authorities have expressed the desire for the release of Special Envoy Alex Saab" and that "Venezuelan authorities have clearly indicated that they would like to see an exchange."
The Venezuelan source said that this desire has been communicated to the U.S. side in direct relation to the possibility of a trade involving U.S. citizens.
"The Bolivarian Republic of Venezuela has made it clear to relevant parties its desire to seek a peaceful resolution of issues with the United States including an exchange of U.S. nationals detained and Special Envoy Saab," the Venezuelan source said.
Reached for comment, a Biden administration official speaking on background told Newsweek that "the safety and security of the American people is our highest priority."
"The U.S. government continues to work aggressively—using every available means—to bring home all U.S. nationals wrongfully detained or held captive abroad while also preventing and deterring future hostage-takings and wrongful detentions," the Biden administration official said. "We are not going to discuss ongoing diplomatic conversations or negotiations."
A U.S. State Department spokesperson speaking on background also declined to "discuss ongoing diplomatic conversations," instead citing the stated position of U.S. Secretary Antony Blinken and saying the Biden administration was actively pushing for the release of U.S. citizens held in Venezuela.
"As Secretary Blinken has said, he is personally focused and prioritizes bringing home U.S. nationals held hostage or wrongfully detained abroad," the State Department spokesperson told Newsweek. "We continue to press for the immediate and unconditional release of all wrongfully detained U.S. nationals in Venezuela at every opportunity and will continue to do so."
"We take our commitment to assist U.S. citizens seriously, and we will continue to press for fair and transparent treatment and consular access for all detained U.S. citizens," the State Department spokesperson added. "If a U.S. citizen is detained abroad, the Department carefully monitors the case and provides consular assistance where possible."
The State Department spokesperson declined to comment further "due to privacy considerations."
On the matter of whether they would support such an exchange, representatives of the Bring Eyvin Home campaign organized by family and friends to secure Hernandez's release told Newsweek, "we believe all options leading to Eyvin's return home should be on the table and we continue to advocate our government to make the decisions that will bring him home as quickly as possible."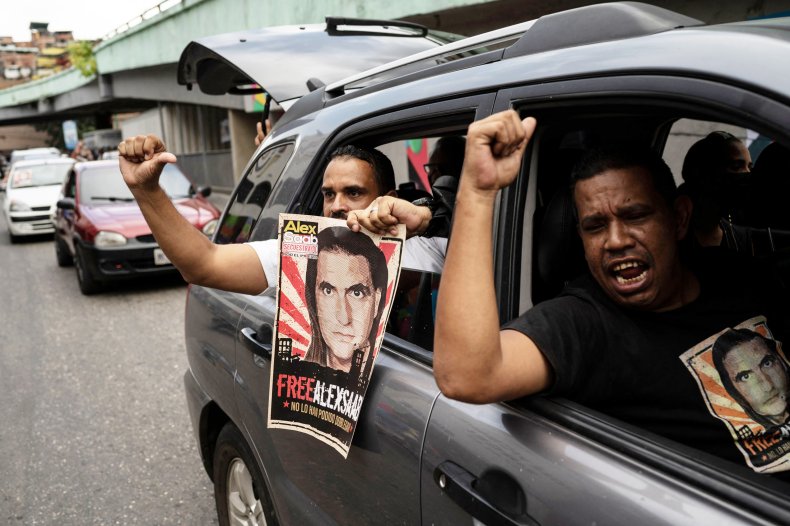 Hernandez's case has also received congressional attention. In November, a letter by California Senators Diane Feinstein and Alex Padilla urged Blinken to prioritize Hernandez's safe return, and the following month, a letter signed by 22 members of Congress and Los Angeles Mayor Karen Bass called on Biden to secure Hernandez's release.
Campaigns dedicated to Saab's release have also emerged in Venezuela and other countries, gaining attention in official and grassroots circles.
Now just over halfway into his presidential term, Biden has overseen several other high-profile prisoner swaps. These include the release of suspected Afghan drug lord Bashir Noorzai in exchange for U.S. contractor Mark Frerichs in September, and the release of suspected Russian arms dealer Viktor Bout in exchange for U.S. basketball star Brittney Griner in December.
In both cases, Newsweek had previously reported on the possibility of such swaps taking place.
In July, Biden signed an executive order boosting his administration's hostage prevention and recovery measures, including a new travel advisory indicator for nations where the U.S. identified a heightened risk for U.S. citizens being wrongfully detained. The six countries to receive this label were China, Iran, Myanmar, North Korea, Russia and Venezuela.
The Venezuelan Foreign Ministry has also warned its own citizens to avoid travel to the U.S. due to high crime rates since at least August 2019.
While Caracas and Washington remain at odds with one another, the Biden administration has eased some oil sanctions on Venezuela, most recently in November, as efforts emerged to restart talks hosted in Mexico between the Venezuelan government and the opposition. The U.S. move allowed Chevron to resume "limited" pumping activities in Venezuela under the expectation of progress in the political negotiations that were previously suspended as a result of Saab's extradition to the U.S.