Exclusive: Single Migrant Adults in CBP Detention Growing By 1,000 a Week, Documents Show
Internal Pentagon and Homeland Security documents obtained by Newsweek reveal the full scale of the border challenge facing the Trump administration as migrants continue to arrive at the U.S.-Mexico border to seek asylum. Among the most pressing issues: the number of single, adult migrants in U.S. Customs and Border Protection (CBP) custody is growing at a rate of 1,000 people per week.
In response, Department of Homeland security (DHS) officials have taken the unprecedented step of having industrial-style tents constructed to facilitate the transfer of migrants out of overcrowded facilities along the southern border.
In a previously undisclosed letter to the Pentagon, Department of Homeland Security (DHS) officials detail how their agencies have taken "extraordinary measures" to alleviate overcrowding in the detention system and are at "serious risk of exceeding safety standards on a regular basis," caused by growing numbers of arriving migrants, particularly families, and poor allocation of resources at the border.
When DHS, which oversees both CBP and Immigration and Customs Enforcement (ICE), sent the letter last month, CBP was detaining 8,000 single adult migrants in its facilities in addition to 9,000 unaccompanied migrant children and family members.
"As of today, CBP has over 8,000 single adults in custody," DHS wrote on May 9. "That number has been increasing by 1,000 per week."
Over the last three months, CBP apprehended at least 7,000 single adults every week at the U.S.-Mexico border, according to agency statistics. And the number of apprehensions in May was nearly double that in January. The discrepancy in the numbers of single adult migrants apprehended and detained each week is because CBP routinely transfers its detainees to other agencies, such as ICE.
But because CBP needs to expand capacity for growing arrivals of unaccompanied migrant children and families, DHS is working to move single adults, who are generally more vulnerable to deportation, out of screening facilities as quickly as possible.
The detention facilities holding migrants along the southern border are still overflowing even after expediting the release of some migrants from CBP custody, as "no detention space [is] left for single adults," according to the Homeland Security documents obtained by Newsweek.
As CBP faces a shortfall of available beds and migrant crossings reach their highest levels in more than a decade, Homeland Security officials have shifted their focus to temporary holding areas to help widen a bottleneck that has hindered the processing of migrant arrivals.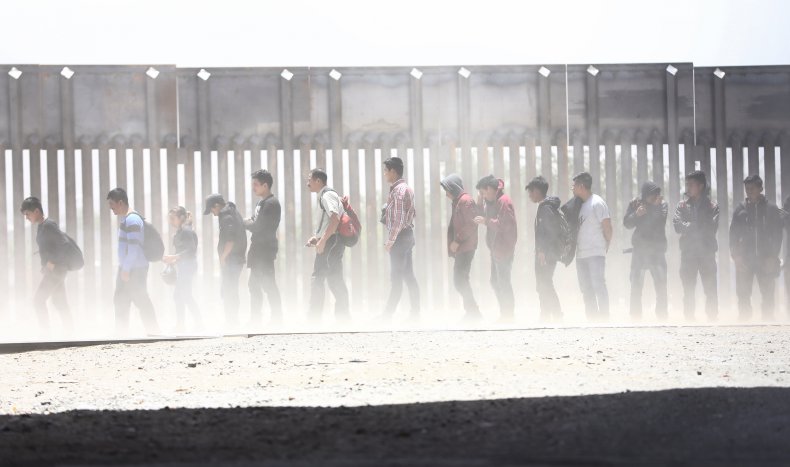 Last month, Colonel Cathy Wilkinson, a spokeswoman for U.S. Army North, told Newsweek the Defense Department was conducting site assessments to build six so-called "tent cities" to house 7,500 migrants in Arizona and Texas. ICE will be responsible for operating the facilities and have custody of the migrants detained there, not U.S. military personnel. NBC News first reported the request for new tents before the Pentagon had made a written determination.
In newPentagon documents obtained by Newsweek, Acting Defense Secretary Patrick Shanahan approved the request from DHS for the U.S. military to provide tents owned by the Pentagon. The action memo also directed the joint chiefs of staff to source military personnel to erect them "as close to CBP processing stations as possible" to expedite the transfer of single adults from CBP's custody to ICE.
The Homeland Security files provide a breakdown of 7,500 beds requested in numerous locations in Arizona and Texas.
"ICE is currently holding more than 50,000 aliens in custody and no longer has the capacity to intake any more single adults," the DHS wrote in its May request to the Pentagon for the six new facilities. "CBP facilities nationwide are outdated, overcrowded and suffering from a lack of sufficient investment."
The haste with which the plans have been executed, and the relative secrecy of their underlying preparation, has received heavy criticism from participants of the immigration system.
American Immigration Lawyers Association (AILA) president Anastasia Tonello told Newsweek that the tent cities represent, "a pattern of responding quickly with insufficiently thought out or planned facilities."
"My concern is that there's no real plan to fix or to address the real issue," she said.
Since October, CBP has apprehended nearly 600,000 migrants on the U.S. border with Mexico, far surpassing the nearly 400,000 apprehensions that took place during the entirety of fiscal year 2018, according to CBP data.
The number of individuals arriving as families has also skyrocketed, more than doubling in border apprehensions in the past two years. The number of unaccompanied children has likewise grown, from nearly 41,000 in 2017 to over 56,000 in just the last eight months.
The Washington Post reported last month that CBP has had to start using aircraft to relocate single adult migrants from one overcrowded processing facility in Texas' Rio Grande Valley to nearby facilities just to be able to start screening and processing them promptly.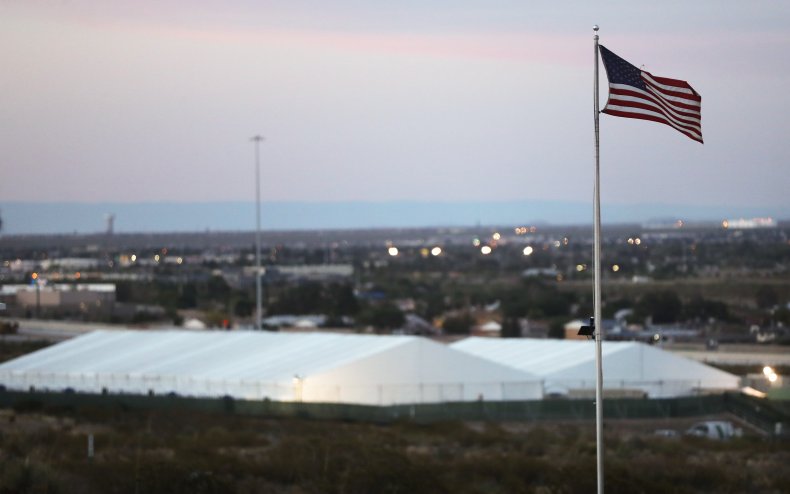 As the arrival of migrants has completely outpaced immigration officials' ability to respond, reports of abuse and neglect at overburdened facilities have begun to emerge with alarming frequency.
A report released by the DHS's watchdog last month found that overcrowding at an El Paso processing center required swift action to safeguard "the immediate health and safety needs of detainees." DHS's acting inspector general insisted that "immediate steps" be taken to address overcrowding.
Migrants in other facilities have reported cruel treatment from ICE and CBP agents.
Last September, The Guardian spoke with individuals released from DHS custody who told of scant access to medical assistance and verbal harassment from facility staff.
"Many of these agents were Latinos, like us, but they were people without morals," one former detainee, Rafael Martinez, told The Guardian at the time. "There we were, caged up like animals, and they were laughing at us."
A separate inspector general's report found that an ICE facility in New Jersey was serving expired and contaminated food, apparently contributing to several cases of food poisoning among detainees.
A scathing 2017 report from Human Rights Watch concluded that the U.S. immigration detention system is "ill-equipped to provide appropriate [medical] care" to detainees and lambasted the "poor system of oversight" that allows for these complaints to persist.
"ICE has been receiving reports of such substandard medical care for years but has failed to take meaningful action," the report alleged.
One analysis from this month identified 24 immigrants who have died in ICE custody since President Trump took office. Several migrant children have also died while in U.S. custody.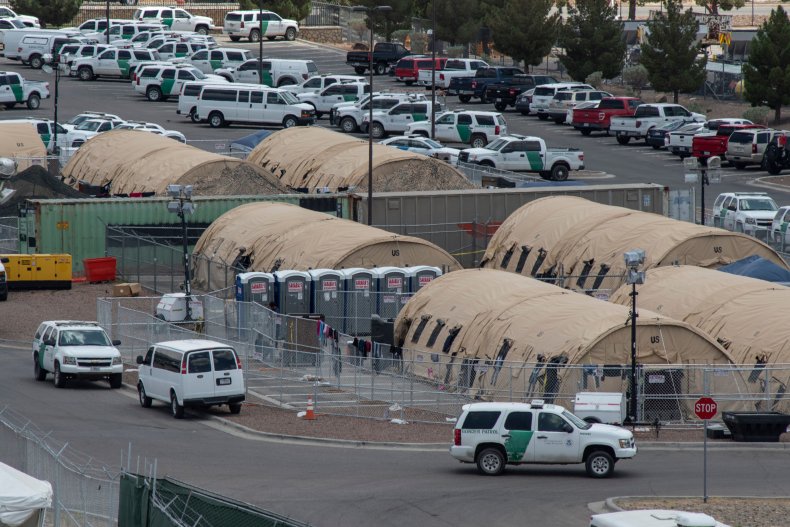 But the tent cities erected by DHS are a rare and provisional solution to a wider issue the department has indicated Congress must address. Tornillo, Texas, was recently home to one of the only other major tent cities, holding more than 2,500 unaccompanied migrant children before it was shuttered earlier this year.
"The administration's use of now billions of dollars for massive enforcement efforts, including the construction of tent facilities, is not a cost-effective way of addressing the migration and humanitarian situation at the U.S.-Mexico border in either an effective or orderly way," Gregory Chen, the director of government relations for AILA, told Newsweek. "What DHS should be doing is providing more robust attention from asylum officers and more attention from immigration courts to process migrants humanely and efficiently."
The request from DHS for tent constructionalso outlines a requirement that military personnel working on the project have no history of perpetrating sexual abuse. ICE is still reeling from a Justice Department report in February which revealed over 4,500 complaints of sexual abuse of immigrant children occurring at government detention centers over the past four years.
After an investigation from The Intercept uncovered 1,224 reports of sexual and physical abuse by immigrants primarily in ICE custody, an ICE official defended the agency's safety protocols, claiming that "detainees are protected and provided all required services."
Rick Morales, the mayor of Donna, Texas, which will become the site of one of ICE's tent cities, told Newsweek he welcomes the influx of new federal resources.
"There is a crisis and we need the help," he said.
But critics believe the facilities won't begin to unspool the humanitarian crisis at the border and largely serve a different purpose.
"The administration's overall goal in terms of its border policy favors deterrence through the use of detention and other methods," AILA's Chen told Newsweek. "It's essentially to push people back as quickly as possible and to show incredible enforcement emphasis to deter people from coming."
Editorial Note: The documents can be read below. To protect Newsweek sources, reporters recreated the Defense Department documents in the same format they were received. Important aspects of the files were highlighted by Newsweek reporters while other information was redacted by Newsweek to protect the privacy of U.S. service members and Pentagon employees.