The U.S. Intelligence Community is investigating a possible threat to Washington, D.C. broadcast during a commercial flight in apparent response to the killing of a leading Iranian general one year ago, Newsweek has learned.
"We are going to fly a plane into the capital on Wednesday to avenge Soleimani's death," the unidentified voice said as the airliner flew 36,000 feet over sea, according to the report. The flight was said to have continued without incident. The NCTC said it was currently working alongside the FAA, TSA and FBI and that the situation was being monitored.
Current and former officials were skeptical, however, that Iran was planning any sort of attack, and instead were looking toward a potential connection to domestic groups.
One report detailing the incident and seen partially by Newsweek was compiled by the National Counterterrorism Center (NCTC), which found that the flight deck of a passenger plane traveling from San Juan, Puerto Rico, to JFK Airport in New York heard a robotic voice over the aircraft's high-frequency radio threatening Washington, D.C. in response to President Donald Trump's killing in Iraq last January of Iranian Revolutionary Guard Quds Force commander Major General Qassem Soleimani.
A separate report issued by the Department of Homeland Security referenced an identical message and provided further details. This report identified the flight in question as JetBlue Airways Flight 2304 and said that the message repeated one time.
JetBlue did not immediately respond to Newsweek's request for comment.
The broadcast's origin was found to be within the United States itself, located somewhere within 20 nautical miles of a sleepy Long Island hamlet.
"It is assessed that the technician responsible has radio modifying experience and is transmitting somewhere within 20NM of the radio tower in North Sea, NY," the DHS report said.
While Iran has long promised "hard revenge" in response to Soleimani's killing, current and former officials who requested anonymity because they were not authorized to speak to the media were doubtful of Iran's involvement.
"My personal take is a non-credible threat, but Capitol police, DHS and FBI are acting on it," a senior intelligence official told Newsweek.
A former official specializing in Iran and its allied militias across the Middle East said the threat did not match up with behavior typically demonstrated by Tehran and its partners.
"Any advanced terror group or nation-state, whether Quds Force or Hezbollah, has demonstrated very professional operational security," a former Joint Terrorism Task Forces law enforcement member told Newsweek. "The Iranian regime and its proxies would not telegraph plans and intentions relative to an attack. The forecasting of such an event would serve to harm their intentions rather than to instill fear."
The former official said investigators would likely be focusing on U.S. soil.
"The proximity to the homeland would be an indication to investigators that the individual is someone associated with domestic groups trying to instill fear," the former official told Newsweek.
While the reports coincide closely with the one-year anniversary of Soleimani's slaying, instability also threatened the U.S. homeland, where Trump has refused to recognize his electoral loss to President-elect Joe Biden. The president has called on supporters to rally in the capital this Wednesday in protest of his rival's anticipated certification by lawmakers in Congress.
"This is an anti-Iran rhetoric and the Iranians are patient and they are not going to forecast," the former official told Newsweek. "The Iranians would never attack U.S. soil because it would certainly mean an overwhelming response by the U.S. It's more likely this is an act to benefit the protests scheduled for tomorrow in support of President Trump."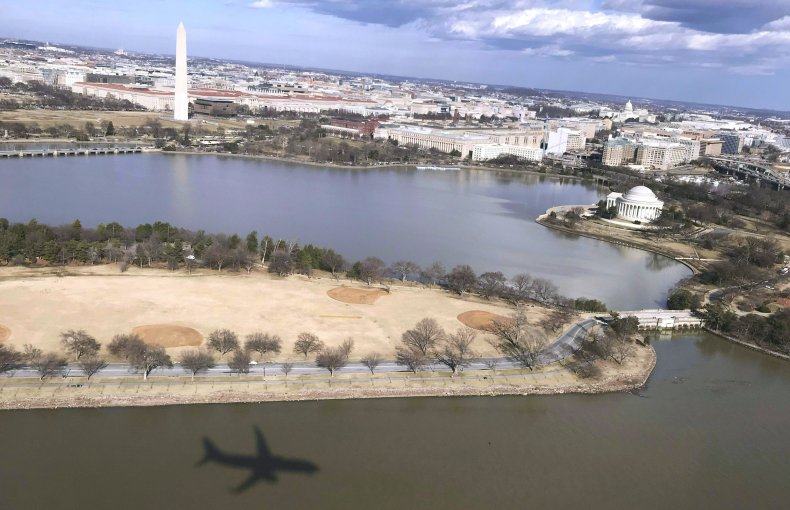 A third source, another senior U.S. intelligence official, said the threat level could not yet be established, but maintained that authorities would be on alert.
"After reviewing the initial reports, the credibility of such a threat cannot yet be determined," the official told Newsweek. "But certainly in an instance such as this, where national security is threatened, the intelligence community and law enforcement agencies take this very seriously and will investigate and act accordingly to protect the United States and its citizens."
"With heightened security in the nation's capital already, resources are available and being expended to ensure the safety of government officials, staff, and facilities," the official added.
No culprit for the rogue radio message has been identified, and those familiar with such technology behind the broadcast said it would be incredibly difficult to pinpoint the origin of the threat.
"How are you gonna trace this? It's like using Facebook Live with a burner phone," said an F-15 aviator who spoke to Newsweek on condition of anonymity, as they were not authorized to speak to the media.
The aviator also indicated their technique proved a certain degree of skill.
"The fact that this happened in the NY metropolitan area—holy sh**," the aviator said. "You need to have some level of sophistication."
Another source with aviation experience felt, however, that such a move could leave a trail.
"The minute they key that mic there is a non-zero chance of you getting caught," a former military pilot who also requested anonymity told Newsweek. "It's very overt and there are people who look for this all day everyday."
New York City was among the targets of the 2001 9/11 attacks, the deadliest in the nation's history. Two of the hijacked planes were flown into the World Trade Center's Twin Towers, while a third plane struck the Pentagon and a fourth crashed into a Pennsylvania field after passengers resisted.
2,997 people died in the attacks, which were claimed by Sunni Islamist group Al-Qaeda. No warning was given prior to the operation.
Today, the Trump administration considers Iran the "world's largest state sponsor of terrorism"—a label the revolutionary Shiite Islamic Republic vehemently denies.
Washington-Tehran tensions have flared since the White House left a 2015 nuclear deal two and a half years ago, a move followed by intensive U.S. sanctions against Iran and bouts of unrest in Iraq and the Persian Gulf, where the Revolutionary Guard seized a South Korean oil tanker accused of polluting the strategic waterway.
Iranian officials have also claimed pretexts were being fabricated for aggression against the Islamic Republic.
"While it is true that there is an appearance that the U.S. is setting traps or provocations to provide an excuse to initiate armed conflict in the last days of the administration," Iranian mission to the United Nations spokesperson Alireza Miryousefi told Newsweek over the weekend, "Iran is fully prepared to defend itself and will, if it comes to pass, react openly and decisively."
He condemned the influential and controversial Iranian military leader's killing at Baghdad International Airport as something that was "almost universally condemned as an illegal and terror act (by even US allies)." He said "it has not affected Iran's national security policy."
"What it has done is illustrate to the entire world the true nature of the Administration in flouting international law and norms, and the desperation it feels in its inability to bring Iran to its knees," Miryouseif said at the time. "Iran has endured Trump and his allies, and will continue its foreign and security policies as it always has."
He also referred to tweets by Iranian Foreign Minister Mohammad Javad Zarif, who said that "New intelligence from Iraq that Israeli agent-provocateurs are plotting attacks against Americans—putting an outgoing Trump in a bind with a fake casus belli."
"Be careful of a trap, @realDonaldTrump," Zarif warned. "Any fireworks will backfire badly, particularly against your same BFFs."