Exiled Russian Oligarch: Putin's Defeat 'Inevitable' if West Backs Ukraine
Exiled Russian oligarch Mikhail Khodorkovsky is advising that the West stick with Ukraine as the war continues to intensify, saying unwavering support will be the critical piece that will put an end to Russia's invasion.
"Right now, [Russian President Vladimir] Putin is clearly suffering a defeat, but he can, of course, still kill very many people," Khodorkovsky told CNN's Alex Marquardt on Friday. "If the West continues to support Ukraine, his own defeat is inevitable."
"Putin will always be the enemy of America, but since the start of the war, his stay, his term in power has been reduced significantly," the former CEO of Russia's largest private oil company Yukos, said.
Khodorkovsky's comments come as President Joe Biden announced that the U.S. will join the G7 and European Union in revoking Russia's "most favored nation" status on Friday. This allows countries to impose tariffs on Russian imports and further isolate Russia's economy from the rest of the world.
This action is the latest sanction that Biden has brought against Russia for its invasion of Ukraine. Earlier this week, the president also moved to ban all Russian energy imports, including oil and gas products, which sent prices of fuel skyrocketing around the globe.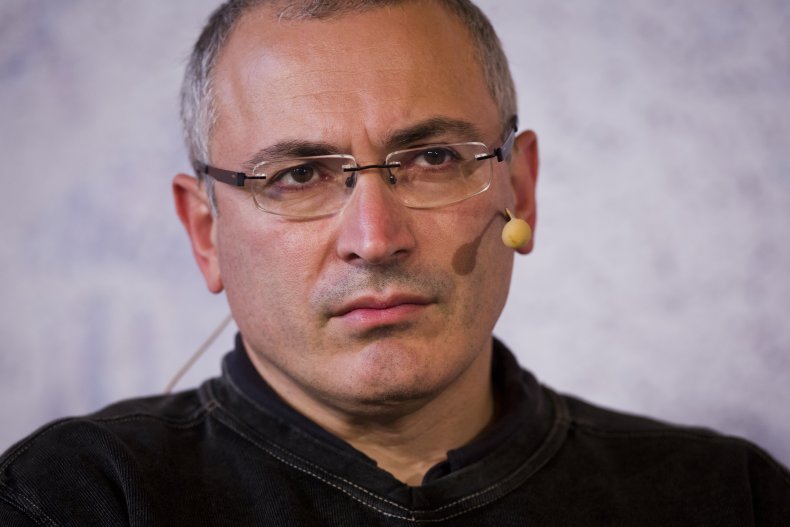 Khodorkovsky, who was Russia's richest man in the world back in 2003, said that while the blow to Russia's financial system has been "enormous," it has not completely blocked off its economy—which the exiled oligarch said will be necessary for the war to end.
"At the moment only 70 percent of the cash flows have been blocked. We need to block the remaining 30. If we want to stop Putin, there must be no exceptions," he said.
"If we want to stop the war, then all the bank accounts of Russia must be frozen. All of Putin's bankers must be blocked," he added. "I've never advocated sanctions against Russia as a whole, but the financial flows need to stop. Yes, people will have problems, we will have problems. But these problems are incomparable to the problems of the people who are being killed and wounded."
Khodorkovsky was sentenced to nine years in prison in 2005 for fraud and tax evasion. Although he was later pardoned by Putin and released a year early in 2013, Khodorkovsky has said his imprisonment was politically motivated by his funding of the opposition party.
He now lives in London and is among one of Putin's most vocal critics.
In some of the first measures used to retaliate against Russia, Biden imposed sanctions on a number of families close to Putin.
On Friday, Khodorkovsky said while those actions can be useful, those oligarchs have little power in changing Putin's mind.
"They are just Putin's footmen—they cannot influence him," he said. "However, he can use them as a tool of influence to influence the West. Therefore, it is absolutely important to stop all of these purse holders of Putin's until the war ends. They all must be blocked and that's the only thing that will stop the war."