Exotic Wild Cat Escapes Petting Zoo With Help From Potbelly Pig
This big cat is not the only mischievous animal cared for at a North Carolina petting zoo.
An African cat managed to sneak out of an exotic animal exhibit earlier this week and was caught in a viral video roaming a nearby stretch of highway after a potbelly pig aided in his escape.
According to a report form WRAL, an African serval escaped from its petting zoo enclosure in Edgecombe County, North Carolina, on Tuesday.
Footage of the serval's escape was captured by Candid Cobb, who shared the brief clip to her Facebook page. "Y'all be on ya toes outchea in Pinetops‼️" she joked in the caption.
Now viewed nearly 40,000 times, the video shows the serval walking calmly alongside a North Carolina highway. Cobb told WRAL that she initially mistook the large spotted wild cat native to sub-Saharan Africa for a leopard while driving her daughter home from softball practice.
"We saw that it was like a leopard or whatever it is that was on the side of the road," she told the outlet. "At the moment, it was very weird. Like, why's this animal here?"
Bobbie Joe Abrams, the owner of the It's a Zoo Life petting zoo, later got wind from a friend that a spotted cat was on the loose, and it may belong to her exhibit of wild animals.
"He comes and he was like, 'This has got to be your cat down here,'" Abrams said in a statement with KVOA. She reportedly grabbed some raw meat and raced to grab the cat, named King Sparta, as he had made his way toward a woman's residence near the highway.
"He comes right out, he smells the meat. I put it in the kennel and he walked right in and we brought him home," she added.
Abrams also confirmed with KVOA that King Sparta is believed to have gotten out of his enclosure with the help of a potbelly pig named Oliver in the pen next door.
"And so he routed and rooted," she explained to the outlet. "That rooter is a solid muscle. He kept on and he pushed the door open. And so the pig was inside and the cat was gone."
According to Big Cat Rescue, in North Carolina where King Sparta and the It's a Zoo World are located, possession of large cats is legal and there are no existing laws preventing the ownership of wild animals.
"However, every county in the state sets its own ordinances dealing with exotic animal rules," the animal sanctuary notes on its website, citing the specific "grandiose" guidelines for natural habitats for those interested in owning a wild cat.
Abrams did note in her statement to KVOA that King Sparta has been domesticated and posed little to no danger on his trip out of the petting zoo.
However, 21 states have banned all dangerous exotic pets and 35 specifically prohibit keeping big cats. In Georgia, for instance, most exotic cat hybrids are illegal for personal possession, and only accredited universities and government agencies may have wild cats for medical, research or exhibition purposes, according to Big Cat Rescue.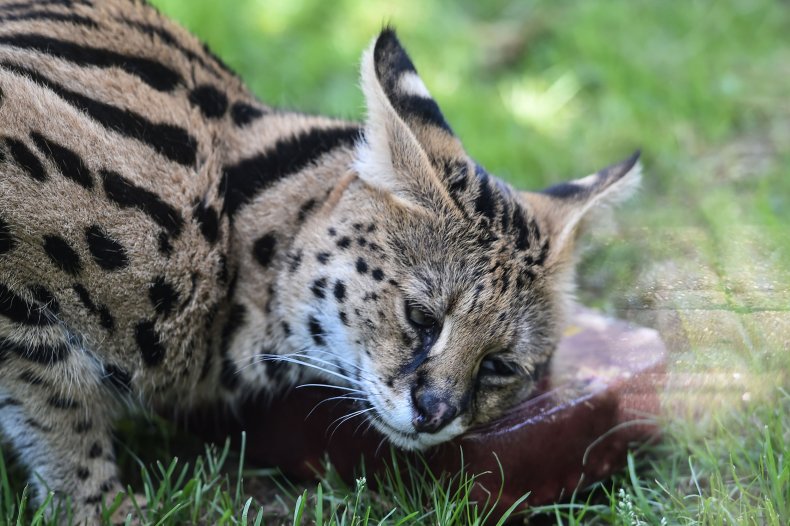 In late June, a woman in Atlanta, Georgia, reported to the authorities that she woke up to a wild serval in her bed after she broke into their house. "I'm laying in bed and I hear a thump on my bed," she said at the time. "It was big. It was scary."
Later identified as resident Anna Fyfe's illegal pet cat Nala, the Georgia Department of Natural Resources determined that Fyfe cannot keep the animal. Fyfe is fighting the decision, claiming that she originally came into possession of the cat while living in South Carolina, where servals are legal to own.
Nala is currently in the custody of authorities, who hope to eventually place her in an accredited animal sanctuary.
"Serval cats are not the same as domesticated house cats; they are wild animals who do not belong in private homes. In their natural environments, they have vast territories in which they climb, run, jump, and hunt on a daily basis. In private homes, they will inherently be denied opportunities to exhibit these natural behaviors – thus impacting their physical and psychological needs and result in diminished welfare," Animal Legal Defense Fund Senior Legislative Affairs Manager Alicia Prygoski noted in a statement to Newsweek.
Newsweek reached out to Cobb, Abrams and the It's a Zoo World petting zoo for additional comment on the situation but did not immediately hear back in time for publication.