Myanmar: Who Are the Rohingya?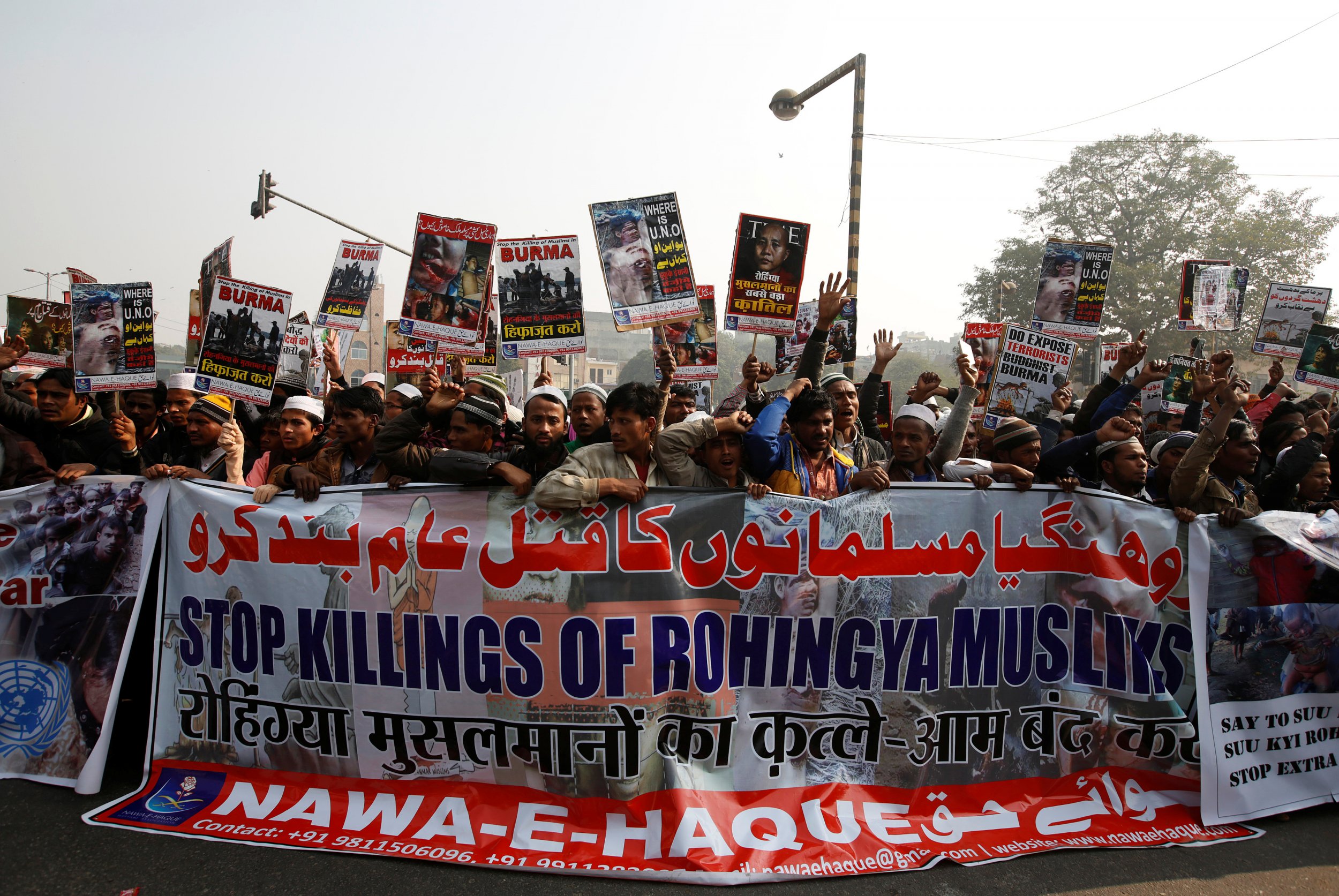 More than 65,000 Rohingya have fled to Bangladesh from Myanmar since a bloody military campaign against purported militants began in October, according to a U.N. report. Most are living in makeshift camps and refugee centers.
The Rohingya have endured a decades-long plight and are routinely described by human rights organizations as the "most oppressed people in the world" and a "minority that continues to face statelessness and persecution."
But who are the Rohingya, and why are they being persecuted?
Who are the Rohingya?
The Rohingya are a predominantly Muslim ethnic group concentrated in Myanmar, with smaller communities in Bangladesh, Thailand and Malaysia.
An estimated 1.1 million Rohingya live in Myanmar's western Rakhine State, where up to 78 percent of people live in poverty, according to the World Bank.
Muslims have lived in Myanmar since the 11th century, though most Rohingya in the country today are descended from Bengali Muslim farm workers brought to Rakhine after it was annexed by the British in 1826.
The ethnic origins of the Rohingya have been a source of contention for Myanmar's Buddhist majority ever since hundreds of thousands of Bangladeshi Muslims fled their country during the Bangladeshi war of independence in 1971. In 1978, Myanmar's ruling military junta tried to force them out.
The Rohingya were conflated with those fleeing conflict, meaning that the authorities and much of the Buddhist community (which makes up 80 percent of the population) viewed them as illegal immigrants. Bangladesh does not consider them citizens either, and forcibly repatriate those that cross the border.
In 1982, the government passed a citizenship law that prevented Rohingya from becoming Myanmar citizens by stipulating that their ancestors must have settled in the country before 1823. In 1994, General Than Shew's government stopped issuing Rohingya children with birth certificates.
The 2014 census, the first to be conducted in Myanmar for 30 years, excluded Rohingya from the list of 135 officially recognized ethnic groups. The government denies the Rohingya official documents that would allow them to move, study, work, marry or access healthcare. As a result, they are effectively stateless.
Why are they being persecuted?
In the decades a military junta ruled Myanmar, violent attacks against Rohingya were commonplace as leaders fused authoritarianism and Buddhist nationalism.
The latest army crackdown came after Rohingya insurgents allegedly carried out attacks on border checkpoints last October. Though Myanmar authorities have not found the culprits that left nine officers dead, the army started what it called "clearance operations" to "restore the rule of law" in Rakhine villages near the border with Bangladesh.
How are they being persecuted?
The military assault has been bloody. At least 86 people have been killed and 65,000 Rohingya have fled across the Bangladeshi border since the crackdown started in October. Roughly 22,000—more than a third—have done so in the past week alone, according to the U.N.
Human Rights Watch said more than 1,500 buildings were destroyed in Maungdaw Township during October and November. Amnesty International alleged that the military killed civilians, raped women and razed villages to the ground. A video emerged January 2 showing police officers beating Rohingya civilians, sparking outrage.
Human rights groups have described the military's behavior as crimes against humanity.
Myanmar's constitution prohibits Suu Kyi from becoming president as her children are British, but she has been de facto leader of Myanmar since her National League for Democracy won a landslide in elections in March 2016. Suu Kyi previously spent 15 years under house arrest for her political activities and was awarded the Nobel Peace Prize in 1991 for "striving to attain democracy, human rights and ethnic conciliation by peaceful means."
There has been great international disappointment that she has failed to rein in the army's excesses. A host of Nobel laureates—including Malala Yousafzai and Desmond Tutu—wrote an open letter to Suu Kyi urging her to intervene on behalf of the Rohingya.
However, the army still has a great deal of autonomous power and retains a quarter of parliamentary seats. Suu Kyi, like many in Myanmar, refuses to use the term "Rohingya." Her government has not taken a stand against the army, but did appoint former U.N. Secretary-General Kofi Annan to assess claims of abuse against the Rohingya.
What will happen now?
U.N. human rights envoy for Myanmar, Yanghee Lee, is currently on a fact-finding visit to Kachin State and plans to visit Rakhine before she leaves Myanmar on January 20. Malaysia and Indonesia—countries with Muslim majorities—have voiced their concern about the allegations of abuse.
For now, the Rohingya remain in a position where, as a former U.N. High Commissioner for Refugees put it, "no country has really taken up their cause… [and] do not have any friends in the world."