Extended Tucker Carlson 'End of Men' Clip Has JFK Lamenting 'Chubby' Kids
An extended trailer for Tucker Carlson Originals: The End of Men heavily features late President John F. Kennedy discussing the need for fitness.
Fox News host Carlson's new documentary has attracted much attention, thanks to a suggestion that men should tan their testicles as a way to combat declining testosterone levels.
The trailer has also been branded homoerotic by Twitter users.
Fitness professional Andrew McGovern, who has been shown discussing testicle tanning as a solution for men, took to his Instagram account over the weekend to share an extended trailer featuring an archived speech made by Kennedy.
"I welcome this opportunity to speak to the people of America about a subject which I believe to be most important, and that is the subject of physical fitness," Democrat Kennedy, who was assassinated in 1963, said in the clip.
"A country is as strong really as its citizens, and I think that mental and physical health go hand in hand," the late president continued.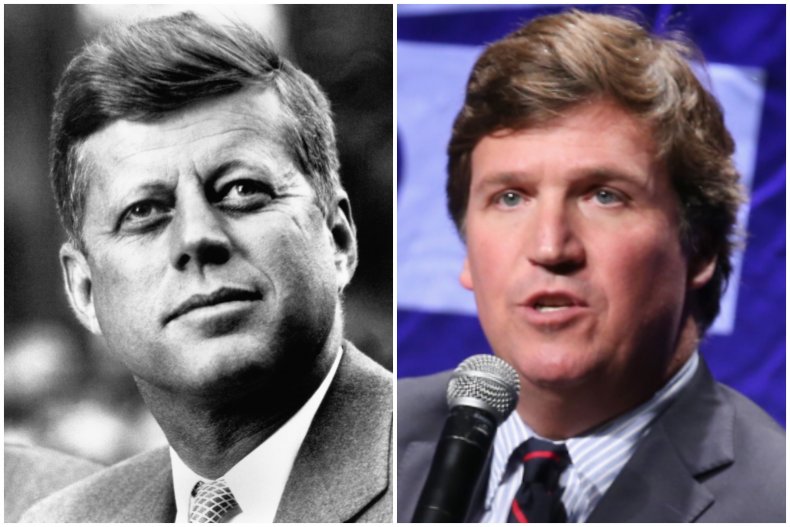 In a segment of his speech from the 50th anniversary of charity the Children's Bureau, which took place on April 9, 1962, Kennedy said: "There is nothing, I think, more unfortunate than to have soft, chubby, fat-looking children."
While the trailer cut off Kennedy's sentence at that point, he added that he lamented such children "who go to watch their school play basketball every Saturday and regard that as their week's exercise."
"I hope that all of you will join—and everybody in the United States—to make sure that our children participate fully in a vigorous and adventurous life, which is possible for them in this very rich country of ours," Kennedy went on.
Throughout imagery showing overweight children and polluted water, captioning read: "In ages past a cycle began. Hard times made strong men. Strong men made good times. Good times made weak men."
The words "weak men" were flashed up at the same time that footage showed President Joe Biden stumbling and falling as he made his way up the stairs to Air Force One.
In a voiceover, which appears to be spoken by Robert F. Kennedy Jr., it was stated that there has been "a 50 percent decline in sperm counts in the last 40 years, along with a precipitous decline in testosterone production. We're headed for a calamity. And that's not hyperbole, it's not exaggeration, it's just a mathematical fact."
A male sexual health and fertility urologist was also shown on the screen, as an off-screen interviewer asked him: "Would you recommend young men to tan their balls?"
"To what?" Dr. Turek asked, appearing confused by the very suggestion.
"Once a society collapses then, you're in hard times," a voiceover said. "Well, 'iron sharpens iron,' as they say. And those hard times inevitably produce men who are tough, men who are resourceful, men who are strong enough to survive. Then they go on to re-establish order, and so the cycle begins again."
The trailer featured several shots of shirtless, muscly men engaging in a range of activities, including wrestling, chopping wood and firing guns. Another man was shown naked with his arms outstretched while his genitals underwent infrared tanning.
When Kid Rock sat down with conservative commentator Carlson for an interview that aired during the Easter Holiday, he appeared amused by the suggestion of men tanning their testicles.
"I'm don't know what the hell is going on in this world," Kid Rock said after Carlson asked why "open-minded people" wouldn't "seek new solutions."
"I'm not even sure if I understood that question," the musician went on. "But sometimes, some days I just want to stop this planet and let me off."
Correction 19/04/2022, 12:15 p.m. EST: This article was corrected as the original referred to Tucker Carlson Specials. The correct name is Tucker Carlson Originals.