A Timeline of Ezra Miller Controversies as 'Flash' Star Is Arrested Again
Just one month after the actor Ezra Miller hit the headlines with charges of harassment and disorderly conduct following an altercation at a Hawaiian karaoke bar, The Flash actor has found themselves at the center of another controversy in the same U.S. state.
On Tuesday, April 19, 2022, Miller was arrested by the Hawaii Police Department in Pahoa for second-degree assault after allegedly launching a chair at a 26-year-old woman, hitting her on the head. The investigation is still ongoing.
This is not the first time Miller has been in trouble. Newsweek has taken a look back at their past controversies following their latest arrest below.
A Timeline of Ezra Miller Controversies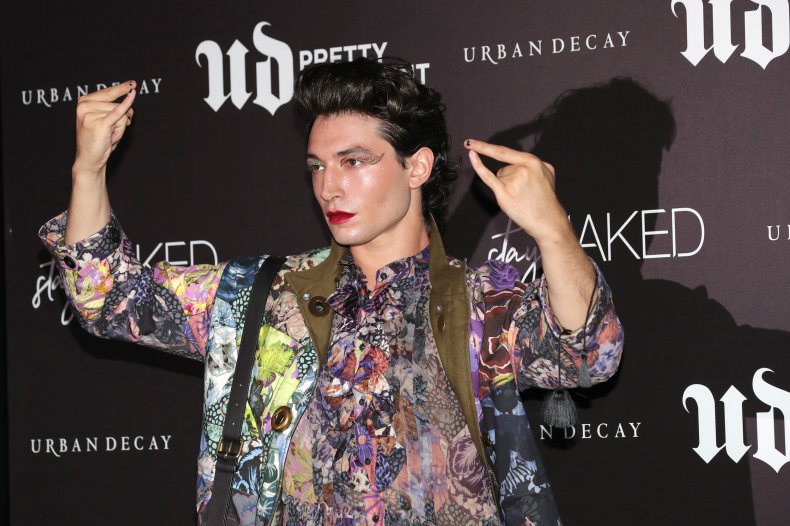 2011
In June 2011, while shooting The Perks of Being a Wallflower, where they played the role of Patrick, Miller was the passenger in a car that was pulled over in Pittsburgh.
Initially, the car was pulled for a broken brake light but police found 20g of marijuana in Miller's possession, reported the Pittsburgh Post-Gazette at the time.
Miller was initially charged with drug possession but this was dropped by a judge.
Instead, they faced a penalty of $600 for two citations of disorderly conduct.
Speaking to New York Magazine in 2012, Miller reflected on the incident, sharing: "I don't feel like there's any need to hide the fact that I smoke pot. It's a harmless herbal substance that increases sensory appreciation."
They added they received a "lengthy lecture regarding my influence on the young extras of our film, one of whom he later revealed was his daughter" from a "kindly magistrate."
2020
Almost a decade later, Miller found themselves embroiled in a big controversy, that went viral online.
On April 6, 2020, a video appeared in a now-deleted tweet, appearing to show Miller chocking a woman and wrestling her to the ground at Prikið Kaffihús, a bar in Reykjavik, Iceland. The video was verified by Newsweek, Variety and other news outlets.
In the seven-second video, Miller can be heard saying "Oh, you wanna fight? That's what you wanna do?" to a woman who is jokingly preparing herself for a fight.
Moments later, Miller was seen grabbing the woman by the throat and throwing her to the ground, the video then stops suddenly.
Miller was not arrested but was removed from the bar by staff, according to Variety.
2022
March
Two years later, Miller found themselves in trouble again, this time with the law.
On March 28, they were arrested in Hawaii following a confrontation at a karaoke bar between a woman singing karaoke and a man playing darts.
They were charged with harassment and disorderly conduct. They paid $500 in bail and were released from custody.
The police statement issued at the time of Miller's arrest read: "On Sunday, March 27, at 11:30 p.m., South Hilo patrol officers responded to a report of a disorderly patron at a bar on Silva Street. During the course of their investigation, police determined that the man, later identified as Ezra Miller, became agitated while patrons at the bar began singing karaoke.
"Miller began yelling obscenities and at one point grabbed the microphone from a 23-year-old woman singing karaoke (disorderly conduct offense) and later lunged at a 32-year-old man playing darts (harassment offense). The bar owner asked Miller to calm down several times to no avail.
"Miller was arrested and charged on both offenses and total bail was set at $500. He provided the bail and was released."
A couple, filed a restraining order from Miller the day after their arrest, claiming they had burst into their bedroom at a Hilo hostel, threatened them, and stole some of their belongings, reported NBC News but their petition was dropped on April 12, 2022.
April
Just one week after the restraining order request against Miller was dropped, the actor was arrested again in Hawaii on April 19, 2022.
This time, the Fantastic Beasts actor was in trouble with the law for allegedly throwing a chair at a 26-year-old female, leaving her with a half-inch cut to the forehead.
They were arrested in the early hours for second-degree assault at a private property in Pāhoa, Hawaii's Big Island.
In a statement, the Hawaii Police Department detailed: "Shortly after 01:00 HST (12:00 GMT) Tuesday, April 19, 2022, a 29-year-old visitor from Vermont was arrested for second-degree assault after an incident at a residence in Pāhoa.
"During the course of their investigation, police determined that the individual, later identified as Ezra Miller, became irate after being asked to leave and reportedly threw a chair, striking a 26-year-old female on the forehead, resulting in an approximate half-inch cut."
Miller was released pending further investigation.