Fact Check: Did Rerun of 'Young Sheldon' Beat Jan. 6 Hearing in TV Ratings?
As the January 6 House Select Committee hearings kick into gear, networks are competing to attract the biggest viewership figures, fueling attempts to gauge just how much public interest there is in the topic.
Media outlets have also attempted to compare and contrast viewership data for the hearings with other prominent TV events, such as the Superbowl or the Presidential debates, with some of the comparisons drawing skepticism.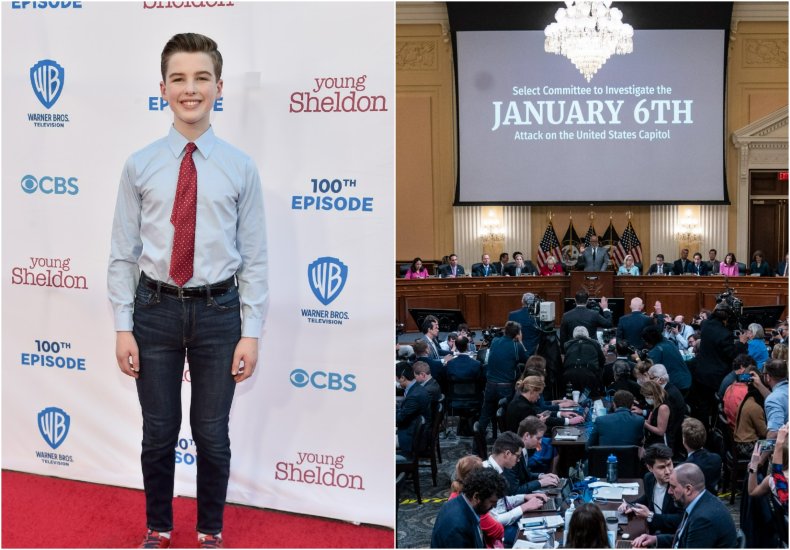 The Claim
Fox News' Sean Hannity dismissed the viewing figures of the January 6 Hearing on Thursday June 9, claiming during his show on Monday that it's TV viewing figures were beaten by Young Sheldon reruns.
Hannity also insisted that all of former President Donald Trump's State of the Union speeches got more views than the hearing on Thursday.
A clip of Hannity making these statements, from his show on Monday, has also started to circulate on social media.
Other conservative-leaning social media accounts also repeated the claim, gathering thousands of interactions.
The Facts
As other social media users and political commentators have pointed out, the claim is somewhat misleading because of how it is framed.
Firstly, the hearing actually was aired in place of a scheduled rerun of Young Sheldon (comfortably the most watched comedy series on U.S. television this year), so no direct comparison can be drawn here.
Comedian and activist Patton Oswalt shared the clip of Hannity, while also attaching an image from the website TV Everyday, to point out the inaccuracy.
"On Thursday, June 9 2022, CBS is not broadcasting an episode of 'Young Sheldon'. It has been pre-empted by 'CBS News: Capitol Assault Hearings,'" the caption stated.
The source of the claim made by the Fox News host and others appears to be a report published by The Washington Free Beacon, which assessed CBS viewership numbers.
"Just 3.24 million people watched [CBS] 'Capitol Assault Hearings' coverage Thursday night, according to the TV Ratings Guide," the report said.
"Exactly one week prior, 3.86 million people tuned into CBS to watch a Young Sheldon rerun, meaning an old episode of the coming-of-age sitcom garnered roughly 600,000 more viewers than the inaugural hearing."
However, that fails to present the full picture, as TV Ratings Guide report also reflected on the ratings across multiple networks for the hearing on June 9.
"The January 6th Committee Hearings got under way on Thursday evening, with three of the five networks broadcasting the investigation live," the ratings analysis said.
"ABC's telecast, entitled 'Attack on the Capital: The Investigation', garnered the most attention by mustering up a strong 0.66 rating in the Adults 18-49 demographic and crossing the 5 million mark in total viewers.
"NBC trailed the alphabet network by a wide margin when using both metrics, managing a softer 0.48 rating and 3.7 million viewers.
"CBS settled for last place in both the 18-49 demo (0.38) and total viewers (3.49 million) but was very close to the Peacock network when it came to viewership."
So while it may be true that Young Sheldon, based on the previous week's numbers, could have beaten CBS' coverage of the hearing in comparative viewing figures, the fact is millions more had watched the hearing on other networks.
According to a Los Angeles Times report, the first hearing last week was viewed by at least 20 million people, based on data gathered by marketing research company Nielsen.
ABC had the most viewers Thursday with 4.9 million, followed by MSNBC (4.2 million), NBC (3.6 million), CBS (3.7 million), CNN (2.6 million), Fox Business Network (223,000), CNBC (158,000), Newsmax (137,000) and NewsNation (125,000).
In addition to this, millions are known to have watched the trial through streaming platforms, such as YouTube, or via other online and mobile services that are not be tallied in TV ratings.
The second hearing was held on Monday and focused on Trump's unproven claims of fraud in the 2020 presidential election.
Republican Representative and Vice-Chair of the Jan 6 Committee Liz Cheney said Wednesday Day 3 will focus on Trump's Jan 6 planning.
Newsweek has contacted Fox News for comment.
The Ruling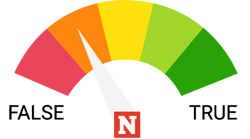 Mostly False.
While it is true that some of the previous reruns of CBS audience favorite series Young Sheldon drew a bigger audience than its coverage of the first day of January 6 hearings, no direct comparison can be drawn as it was aired in place of the TV show episode. Additionally, millions more viewers had watched the hearing elsewhere other than on CBS, which trailed its competitors' broadcasts in terms of viewership.
FACT CHECK BY NEWSWEEK