Facebook issued an apology on Tuesday for mistakenly deleting the Instagram account of the mother of a Marine who was killed in last week's airport attack in Kabul, Afghanistan after she posted several sharp criticisms against President Joe Biden.
Shana Chappell, the mother of 20-year-old Marine Corps Lance Corporal Kareem Nikoui, had her account "incorrectly" removed from the Facebook-owned social media platform last week after she made multiple posts blaming Biden for her son's death.
In a statement given to Newsweek, a Facebook spokesperson said Tuesday that the account has since been restored.
"We express our deepest condolences to Ms. Chappell and her family. Her tribute to her heroic son does not violate any of our policies. While the post was not removed, her account was incorrectly deleted and we have since restored it," the company said in a statement Tuesday.
Facebook did not offer a statement as to why the account was incorrectly flagged and deleted, but Chappell on Monday said she believed it was due to her comments against Biden.
"It seems Instagram took it upon themselves to delete my account because i am assuming it was because i gained so many followers over my sons death due to Biden's negligence, ignorance and him being a traitor," Chappell wrote in a Facebook post, while sharing screenshots of her disabled Instagram account. "I'm gonna assume that Facebook is gonna delete me next! Funny how these leftist one sided pieces of crap don't want the truth to come out!"
Chappell has repeatedly been a vocal critic of the president in the aftermath of her son's death, writing on Facebook that Biden has "blood on his hands."
"You turned your back on my son, on all of our Heros!!! [sic] you are leaving the White House one way or another because you do not belong there!MY SONS BLOOD IS ON YOUR HANDS!!! All 13 of them, their blood is on your hands!!!! If my president Trump was in his rightful seat then my son and the other Heros would still be alive!!!! You will be seeing me again very soon!!!," she wrote.
Chappell also accused Biden of disrespecting her during a private meeting on Sunday, when the president visited the families of those who were killed and attended the dignified transfer of bodies at the Dover Air Force Base.
"[You] turned to walk away and i let you know my sons blood was on your hands and you threw your hand up behind you as you walked away from me like you were saying " ok whatever!!!" she wrote on Facebook.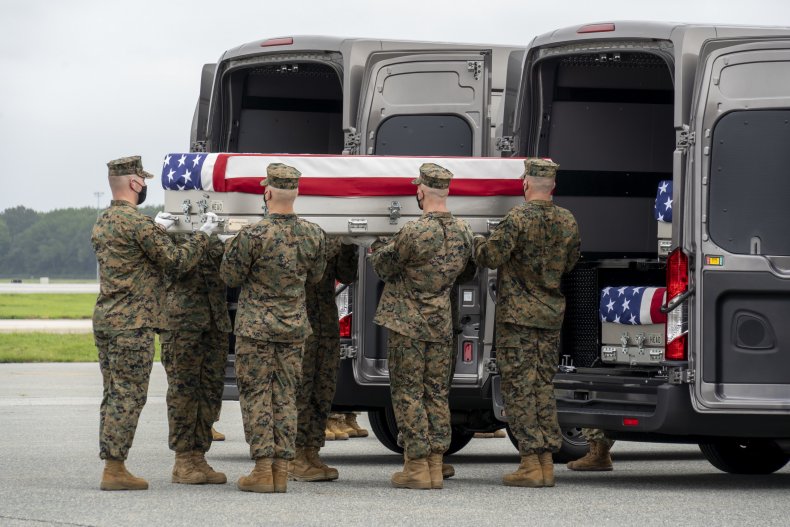 Chappell's son, Nikoui, was one of 13 U.S. service members killed in a suicide bombing attack led by the Islamic State (ISIS-K) outside of the Kabul international airport on Thursday. The blast took place as military personnel were processing individuals for evacuation in the aftermath of the Taliban's rapid takeover of the country.
The soldiers who were killed included 11 members of the U.S Marine Corps, one member of the Army, and one member of the Navy. They spanned from across the country—from California to Wyoming to Tennessee—and had an average age of just over 22 years old, with several as young as 20.
On Saturday, Biden said each of the 13 service members "were heroes who made the ultimate sacrifice" while helping to save the lives of others who were evacuating the country. "Their bravery and selflessness has enabled more than 117,000 people at risk to reach safety thus far."