Facebook COO Sheryl Sandberg Steps Down, Meta Stock Sharply Drops
Facebook parent company Meta's stock price fell on Wednesday after Chief Operating Officer Sheryl Sandberg announced her exit.
Sandberg, who was instrumental in building the once-fledgling social media platform into a tech giant, said in a lengthy Facebook post that she would soon be leaving the company after 14 years. Meta shares dropped by as much as 3 percent after news of Sandberg's departure emerged, before rebounding slightly to end 2.58 percent down at the close of trading. Sandberg said that she hoped to shift her focus to philanthropy but would remain on the company's board of directors after leaving.
"When I took this job in 2008, I hoped I would be in this role for five years," Sandberg wrote on Facebook. "Fourteen years later, it is time for me to write the next chapter of my life. I am not entirely sure what the future will bring – I have learned no one ever is. But I know it will include focusing more on my foundation and philanthropic work, which is more important to me than ever given how critical this moment is for women."
"Over the next few months, [Facebook founder and CEO Mark Zuckerberg] and I will transition my direct reports and I will leave the company this fall," she added. "I still believe as strongly as ever in our mission, and I am honored that I will continue to serve on Meta's board of directors."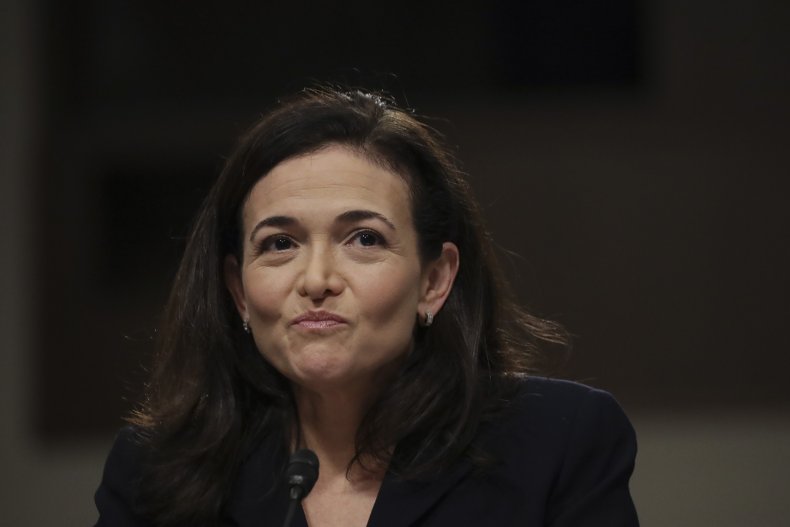 Meta's Chief Growth Officer Javier Olivan is expected to take over the chief operating officer role after Sandberg's exit is completed.
When contacted for comment, Facebook directed Newsweek to Zuckerberg's post praising his "good friend and partner" for helping his company and "the world."
"I'm going to miss running this company with Sheryl," Zuckerberg wrote. "But I'm glad that she'll continue to serve on our board of directors so we can benefit from her wisdom and experience even after she transitions out of her day-to-day management role in the coming months."
"I'm grateful for everything she has done to build Meta," he added. "She has done so much for me, for our community, and for the world -- and we're all better off for it."
Prior to working for Facebook, Sandberg was an executive at Google, where she helped to build the company's advertising business. She became a celebrity author in 2013, penning the somewhat controversial bestseller Lean In, which focused on women in business leadership positions.
Meta has been under increasing fire over the past year amid mounting criticism of Big Tech companies, as well as its own moderation policies and falling user numbers. Meta's share price has fallen sharply since last September, with the company losing roughly half of its value since then.