Facebook Leaves Trump's 'Racist Baby' Video on Platform after Twitter Flag
Update 6/20/20: The video has now been removed by Facebook following a copyright complaint from one of the children's parents. "We received a copyright complaint from the rights holder of this video under the Digital Millennium Copyright Act and have removed the post," a Facebook spokesperson said. Twitter has also deleted the footage.
Original story follows:
---
A doctored news clip shared to social media by president Donald Trump remains active and unlabeled on Facebook today, after rival platform Twitter slapped the content with a warning telling users the video was "manipulated media."
Posting to millions of followers on Thursday across both social networks, Trump pushed out a fake CNN segment with a mis-spelled banner reading: "Terrified todler runs from racist baby." It changes to say: "Racist baby probably a Trump voter."
The footage was altered from a legitimate viral story published by the outlet in 2019 that showed a black toddler and a white toddler embracing on a New York street.
The video posted by the president showed the CNN-like chyron over a clip of one child chasing the other, seemingly an example of how the media spins stories.
Trump's post, which has since been seen more than 12 million times on Twitter alone, concludes with the slogan: "America is not the problem. Fake news is."
On Facebook, the clip has more than 17,000 comments, and has been circulated more than 54,000 times. The social network has been contacted for comment.
The altered video of the children has the watermark "CarpeDonktum," an unidentified person who describes themselves on Twitter as an "eternally sarcastic memesmith specializing in the creation of memes to support President Donald J. Trump."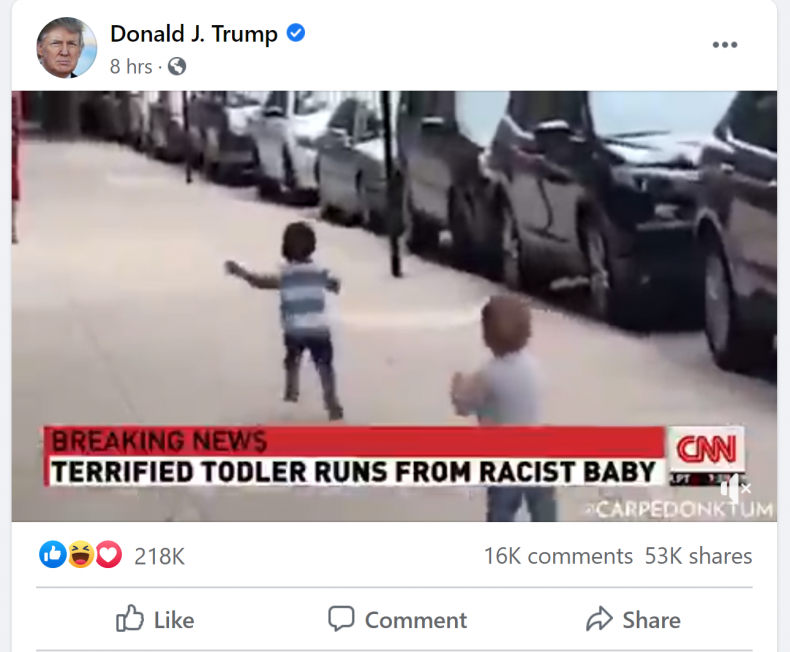 It remains unclear if Facebook will take action on the video, which remains available on Trump's official account at the time of writing, without a label or warning.
Currently, the social network's official policy on manipulated media forbids video "that has been edited or synthesized, beyond adjustments for clarity or quality, in ways that are not apparent to an average person, and would likely mislead an average person to believe that a subject of the video said words that they did not say."
But the policy "does not extend to content that is parody or satire or is edited to omit words that were said or change the order of words... said," the guidelines add.
Monika Bickert, VP of Facebook's Global Policy Management, wrote in January that the platform would "remove misleading manipulated media" if it met the above criteria.
"If a photo or video is rated false or partly false by a fact-checker, we significantly reduce its distribution in News Feed and reject it if it's being run as an ad," Bickert said.
The executive continued: "Critically, people who see it, try to share it, or have already shared it, will see warnings alerting them that it's false. This approach is critical to our strategy and one we heard specifically from our conversations with expert."
"If we simply removed all manipulated videos flagged by fact-checkers as false, the videos would still be available elsewhere on the internet or social media ecosystem.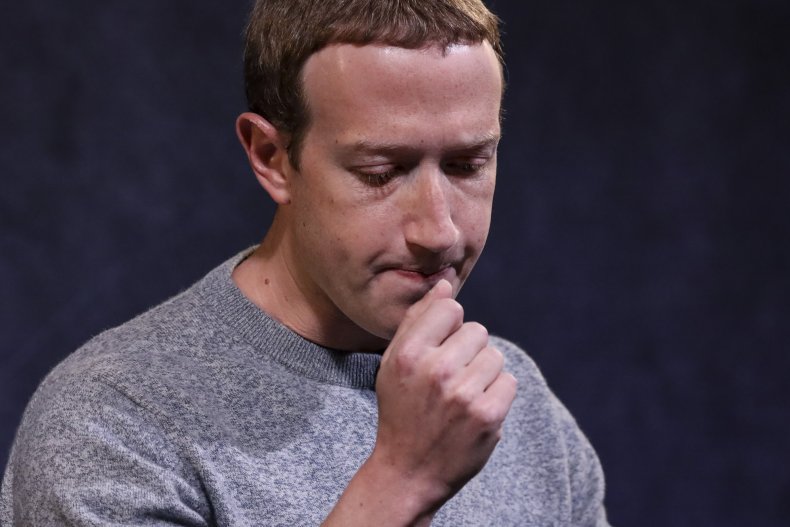 "By leaving them up and labeling them as false, we're providing people with important information and context." For now, no label has been added to the post.
The Mark Zuckerberg-led platform has recently faced widespread criticism, including rare displays of internal employee revolt, after failing to remove or label a post by Trump that included the loaded phrase "when the looting starts, the shooting starts."
Ultimately, the site rejected the accusation that the post was an incitement of violence on protesters who took to the streets following the killing of George Floyd on May 25.
Zuckerberg later said he would review policies on "discussion and threats of state use of force," conceding some employees were left "angry, disappointed and hurt."
Pressure on Zuckerberg mounted as Twitter flagged and hid a tweet containing the same language for "glorifying violence." This week, Facebook confirmed it had removed Trump re-election advertising that contained a symbol once used by the Nazis.
Reacting to the doctored footage, the CNN communications team replied in a comment under Trump's tweet, writing: "We'll continue working with facts rather than tweeting fake videos that exploit innocent children. We invite you to do the same. Be better."
The person behind the Carpe Donktum account appeared to enjoy the reaction to the altered clip, thanking the news outlet for publicizing their content.
"Thanks CNN, you gave my video three top 20 (two top 5) trending spots, I haven't had this much fun since you freaked out about the Time Magazine Cover!" they wrote.
In June last year, Trump tweeted a video of a fake Time magazine cover that ended with an image of the president standing behind a sign reading "Trump 4EVA."
Carpe Donktum, listed as being located in Maga City, Kekistan, tweeted about the online outrage today, writing: "Goodnight everyone except the racist todlers at CNN."