Facebook Prevents Sharing New York Post Story on Black Lives Matter Founder Patrisse Cullors' Real Estate
Facebook has blocked its users from sharing a New York Post article about the real estate purchases of Black Lives Matter (BLM) co-founder Patrisse Cullors.
The article mentioned that Cullors had purchased "four high-end homes for $3.2 million" in the United States. It also said that she was seeking real estate in the Bahamas. It contrasted the purchases with Cullors' self-identification as a Marxist as well as criticisms from others about the alleged lack of financial transparency from the national BLM organization.
When Newsweek reporters attempted to post a link to the Post's story, the action couldn't be completed. The following message also appeared: "Your post couldn't be shared, because this link goes against our Community Standards. If you think this doesn't go against our Community Standards let us know."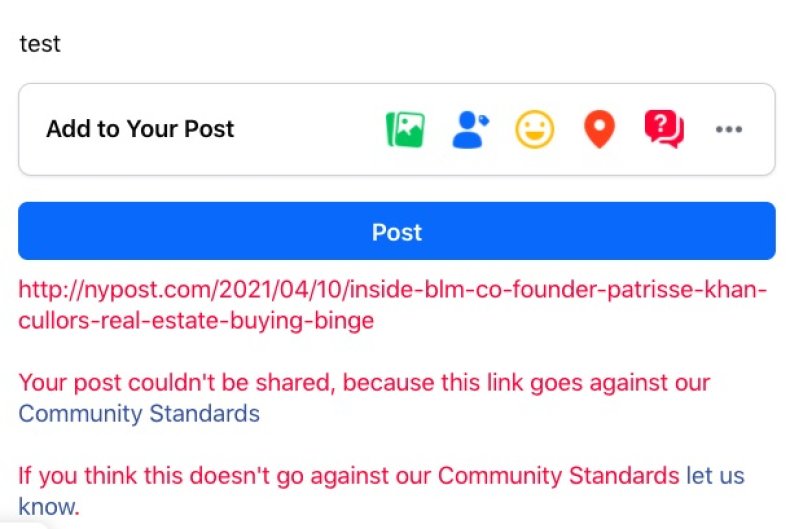 A Facebook spokesperson told Newsweek, "This content was removed for violating our privacy and personal information policy." The policy forbids articles that share details that could identify a person's financial and residential information, thus violating their privacy rights.
However, it was possible to post a link to the article on Facebook using the URL-shortening service, TinyURL. Links to a summary of the article published by Fox Business and an opinion column defending Cullors' right to own such property that ran in The Chicago Tribune were also not blocked.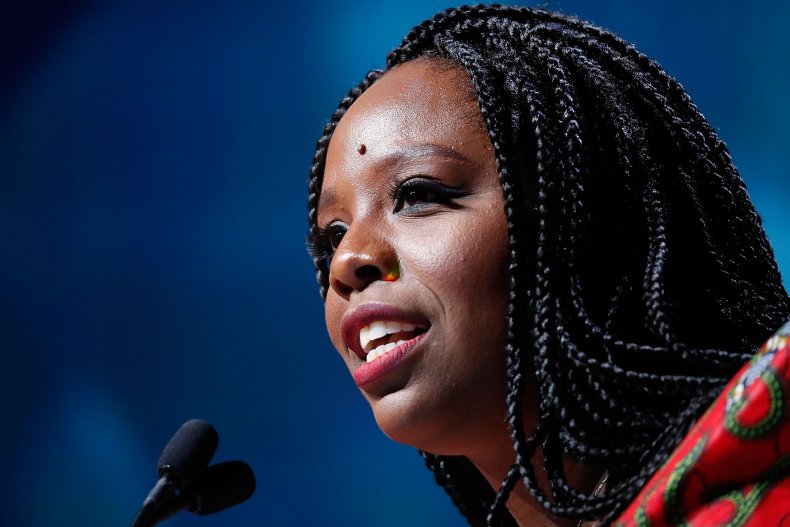 The celebrity real estate blog, Dirt, first disclosed details of the Cullors' real estate purchases.
In October 2020, Twitter blocked users from posting a New York Post story about emails found on a laptop that allegedly belonged to Hunter Biden, the son of then-presidential nominee Joe Biden. The emails, the Post reported, insinuated that Hunter had used his father's role as vice president to aid his business deals.
Twitter said it blocked the article because it contained phone numbers and emails that violated Twitter's private information policy. The company also said the story contained additional materials that violated its Hacked Materials Policy.
After receiving backlash for its decision, Twitter CEO Jack Dorsey called the company's response "wrong." In the future, Dorsey said, the social platform would add labels to provide additional context to such stories rather than forbidding users from sharing the link outright.
Conservatives such as Republican Senators Lindsey Graham, Ted Cruz and Josh Hawley, three members of the Senate Judiciary Committee, have criticized Facebook and Twitter for allegedly censoring content critical of Democrats and social progressives. Former President Donald Trump also urged a repeal of Section 230 of the Communications Decency Act which protects social media platforms from liability for "any action voluntarily taken in good faith to restrict access to or availability of material that the provider or user considers to be obscene, lewd, lascivious, filthy, excessively violent, harassing, or otherwise objectionable, whether or not such material is constitutionally protected."