Facebook has reportedly decided to scale back the use of advertising inside its widely-used service WhatsApp—but how will it impact the future of the company?
A team set up inside Facebook to explore ways to put ads into the app was disbanded "in recent months" and their code removed from the software, however plans to bring advertising into WhatsApp's "Status" feature are still brewing, The Wall Street Journal has reported.
The most-recent strategy revolves around business-focused features that let users communicate directly with companies, according to the newspaper.
WhatsApp is the only app in Facebook's suite of products free from ads, which make up a vast amount of the parent company's revenue, bringing in the majority of its $17.65 billion during Q3 last year.
Like rival apps Snapchat or TikTok, advertising features prominently in Messenger and Instagram.
But what does it mean for Facebook? The impact of a delayed WhatsApp ad roll-out will not only mean a financial hit, but may also disrupt how much ad data Facebook can possibly extract from users of the app's desktop and web versions.
Currently, Facebook does not charge people for access to its products. Instead, it monetizes personal information by selling details about user preferences to companies for use in targeted ads. And there is clearly money to be made via mobile-based ads, which brought in about 94 percent of Facebook's total ad revenue during the third quarter of last year.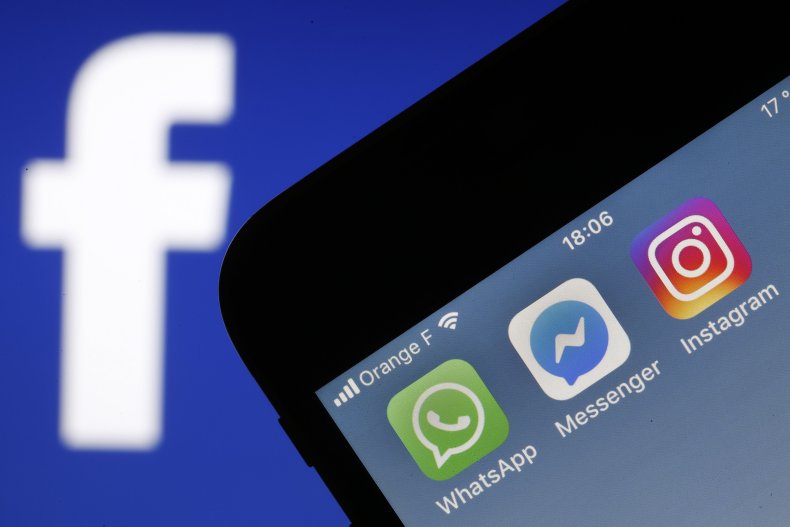 Based on the WSJ report, the strategy will potentially aim to expand "money-making features" of WhatsApp Business, which launched in January 2018. Last year, WhatsApp said over five million firms were using the app to talk to customers and showcase products.
It was not immediately clear if Facebook is planning to bulk up ways of letting businesses push ads to the platform, but the report suggested this app will be the focus in the immediate future.
"My assessment of this is it will be a delayed introduction of ads," social media consultant and commentator Matt Navarra told Newsweek today.
"I'd imagine they are keen to monetize WhatsApp as it could drive a huge boost in revenue, with the scale of usage," Navarra added. "But the typical WhatsApp user may well be more sensitive to seeing ads within the app. Brands may be disappointed they are still not able to tap into WhatsApp's user base to sell products or promote their business, but they aren't short of options when it comes to reaching audiences at scale through a Facebook-owned channel."
Indeed, a Facebook spokesperson told Bloomberg reporter Kurt Wagner after the WSJ report that WhatsApp ads "remains a long-term opportunity" but are no longer a priority.
In the past, Facebook has made no secret of its monetization hopes.
"We are going to be putting ads in Status," ex-WhatsApp VP Chris Daniels was quoted as saying last year, as reported by India's The Economic Times. "That is going to be primary monetization mode for the company as well as an opportunity for businesses to reach people on WhatsApp."
Seemingly planned for a 2020 release, photos of full-screen WhatsApp advertising emerged from a Facebook business summit last year, first uploaded to Twitter by marketeer Olivier Ponteville.
"With the current climate of unrest surrounding data privacy and Facebook's plans to integrate its messaging apps backend, as well as the many legal battles they are facing, I suspect they are being cautious with yet more activity that could ruffle feathers at this time," Navarra told Newsweek. "But it's a case of when they do launch ads in WhatsApp, not if," he predicted.
The ad strategy sparked clashes between Facebook executives and WhatsApp founders Jan Koum and Brian Acton, and became a factor in their departures from the firm. Koum and Acton, pro-privacy technologists, reportedly feared the app's encryption could be put at risk.
"The capitalistic profit motive... is what's driving the expansion of invasion of data privacy," Acton said during an event at Stanford University last March, Buzzfeed reported. The co-founder, who has become a critic of Facebook since leaving, to the point of joining in on the #DeleteFacebook movement in 2018, later told Forbes: "Targeted advertising is what makes me unhappy."
The WhatsApp creators' vision has been consistent for years.
In a scathing blog in 2012: they wrote: "No one wakes up excited to see more advertising, no one goes to sleep thinking about the ads they'll see tomorrow... Advertising isn't just the disruption of aesthetics, the insults to your intelligence and the interruption of your train of thought."
It added: "At every company that sells ads, a significant portion of their engineering team spends their day tuning data mining, writing better code to collect all your personal data, upgrading the servers that hold all the data and making sure it's all being logged and collated... and at the end of the day the result of it all is a slightly different advertising banner in your browser or on your mobile screen. Remember, when advertising is involved you the user are the product."
WhatsApp was founded in 2009 and acquired by Facebook in 2014 for approximately $22 billion in cash and shares. Facebook and WhatsApp have been contacted for comment.
In its latest earnings report, Facebook said about 2.2 billion people use Facebook, Instagram, WhatsApp, or Messenger every day on average. It said about 2.8 billion people use at least one of its apps every month. WhatsApp alone is used by 1.5 billion people across the world.