Facing a Historic Heat Wave, Migrants at the Border at Greater Risk Than Ever
A heat wave headed for America's west could send Arizona into record highs, while temperatures in the California and Texas deserts will exceed 100 degrees over the next two weeks.
Despite the incoming heat, the border remains a hotbed of activity as migrants from Mexico and Central America continue to head north in search of economic opportunity and asylum.
The latest data on Southwest land encounters issued by U.S. Customs and Border Protection (CBP) reported crossings to be at a new high of more than 180,000 for the month of May. As more single adults start the journey, routes through the desert are becoming more common and more dangerous.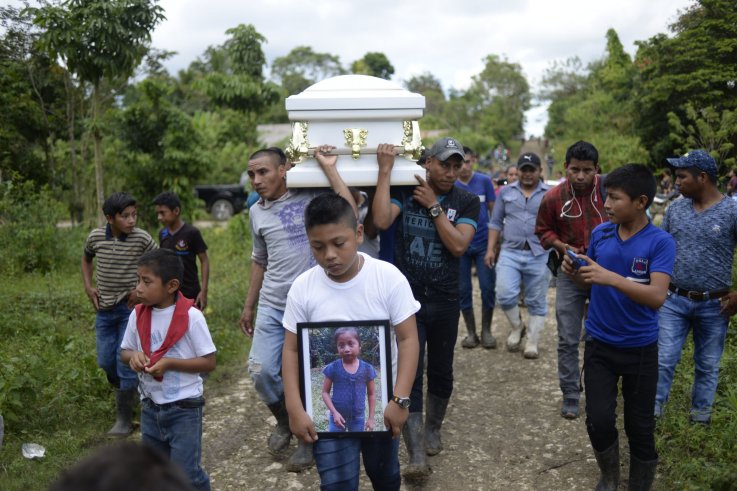 "People are literally dying (at the border) from lack of medical attention from months and even years of waiting for their asylum cases," Dulce Garcia told Newsweek. Here, a boy carries a picture of Guatemalan Jakelin Caal, age 7, who died in a Texas hospital two days after she was taken into custody by U.S. Border Patrol agents in a remote stretch of the New Mexico desert, as her coffin is taken from Raxruha to the cemetery in San Antonio Secortez, north of Guatemala City, on December 25.
JOHAN ORDONEZ/AFP/Getty
"We're seeing a strong reduction in the number of new arrivals that we see in shelters and other public spaces," Marcos Tamariz, deputy head of mission for Doctors Without Borders in Mexico and Central America, told Newsweek. "What we are actually seeing now is an increase in the use of informal guides."
Newsweek previously reported that under the Title 42 policy, whereby apprehended migrants are expelled back to Mexico based on pandemic control, more individuals are taking extreme routes to avoid contact with CBP. The heavy presence of Border Patrol in easier routes of passage and its lighter presence in extreme routes act as part of the agency's Prevention Through Deterrence policy, a policy which attempts to curb crossings by directing migration routes across some of the most dangerous segments of the American landscape.
The movement toward these routes and use of informal guides makes it difficult for Doctors Without Borders to access migrants and respond to their medical needs, Tamariz said. Many migrants making the journey north spend days walking through extreme environmental conditions. Tamariz said the organization often encounters individuals with infections, respiratory issues and severe muscular pain.
For migrants venturing through Central America and southern Mexico, the rainy wet season that begins in June plays a role in washing away campsites and making paths increasingly treacherous. However, for those who do make it north, Tariz said the heat brings increased rates of dehydration and infectious disease, as microbes reproduce rapidly under the intense heat.
These extreme conditions impact not only individuals making the journey, but also those waiting to enter.
Dulce Garcia, executive director of Border Angels in San Diego, told Newsweek that individuals living in the El Chaparral encampment in Tijuana face worsening conditions as the government cracks down on the camp and the heat wave draws near.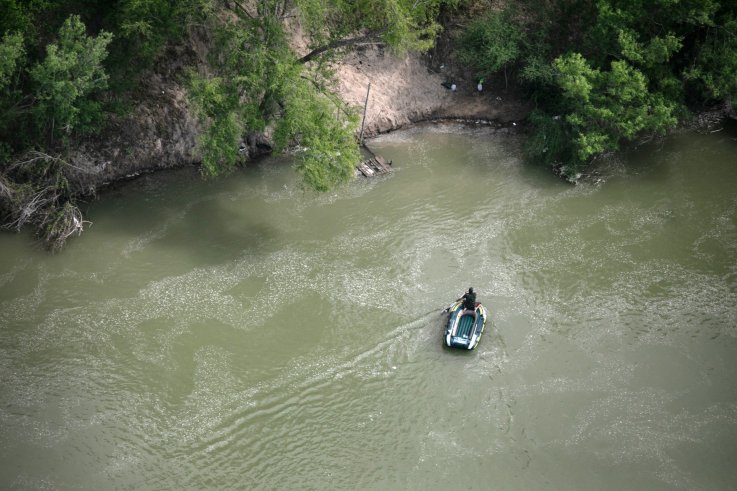 "What we are actually seeing now is an increase in the use of informal guides," Marcos Tamariz told Newsweek. Here, a smuggler crosses the Rio Grande back into Mexico after delivering asylum seekers to the Texas side of the river on March 23, 2021 in McAllen, Texas.
John Moore/Getty Images
Garcia told Newsweek that bathrooms were removed from the encampment last weekend. Access to food, water, and medical supplies remain limited. She said Border Angels consistently encounters babies with hernias, women with vaginal bleeding as a result of rape, and individuals with head injuries resulting from beatings.
With the heat wave, Garcia fears more children will suffer from epileptic episodes.
Processing of asylum cases remains limited to 250 individuals a day, meaning thousands of individuals may find themselves awaiting processing at the border for some time to come. As wait times continue to lengthen, Garcia said migration routes through the California desert where Border Angels drops off supplies saw a 100% consumption of dropped-off water. Garcia hopes the Biden administration responds to the crisis before it's too late.
Vice President Kamala Harris made a recent trip to Guatemala and Mexico to respond to the migration crisis, but was criticized during the trip for her failure to visit the southern border.
"If Kamala Harris had actually stepped into these spaces, like the encampment, and had seen for herself how people are literally dying in that space from lack of medical attention from months and even years of waiting for their asylum cases to be heard," Garcia told Newsweek, "I think the doors would have been made open to asylum seekers."