Migrant Border Deaths Surge with 'Increased Enforcement and Militarization,' Expert Says
In southern Arizona's Sonoran Desert, where temperatures can get as high as 125, the Tucson-based nonprofit No More Deaths operates a humanitarian aid camp for migrants making their way north through the barren, sun-bleached landscape.
At a minimum, almost everyone who comes to the camp suffers from exposure and dehydration, Sammy Rovner, a volunteer with the agency's media team, said. In the winter months, some suffer from hypothermia, having made the trip through the nearby mountains. Many migrants show up with knee injuries, scrapes, and blisters across the bottoms of their feet.
They are the lucky ones.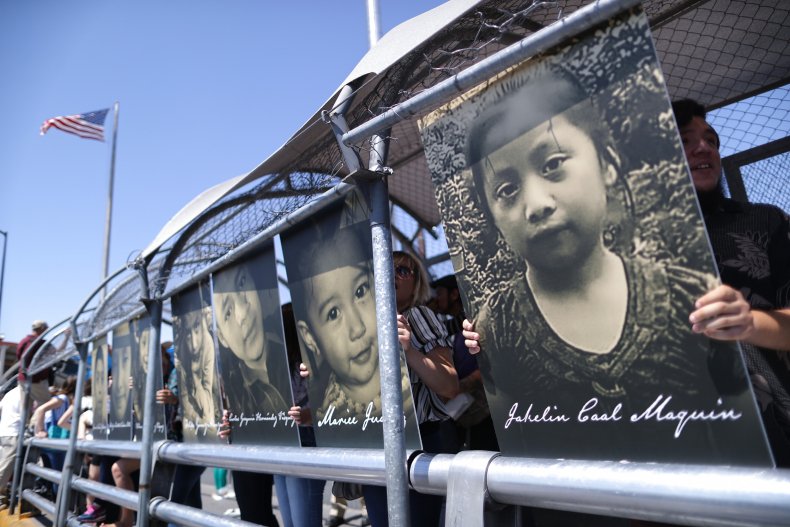 Many volunteers come across the bodies of those who did not make it.
"It's definitely not infrequent," Rovner told Newsweek. "Things that are small and very treatable in a remote part of the desert can be life-threatening."
A report by the University of Arizona's Binational Migration Institute (BMI) published in April found that despite an overall decrease in apprehensions by U.S. Customs and Border Protection (CBP), the rate of discovery of the remains of undocumented border crossers has increased.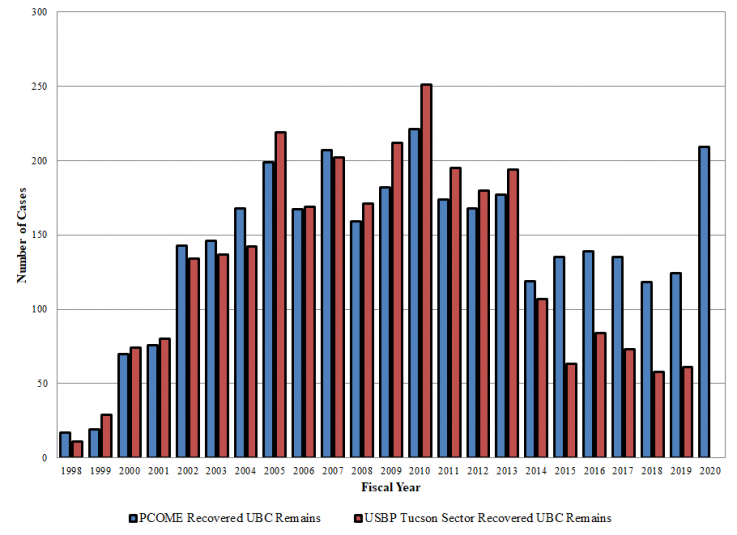 Chart of recovered remains at the Arizona Border, 1998-2020.
Courtesy of Binational Migration Institute University of Arizona/Pima County Office of the Medical Examiner
Conducted as part of a study in conjunction with the Pima County Office of the Medical Examiner (PCOME) going back to 1990, the remains of at least 3,356 undocumented border crossers were recovered in the region, an average of more than 100 deaths a year.
In summarizing key takeaways of the study, BMI Director Daniel Martínez said the findings show these deaths to be directly related to the nation's militarization of portions of the southern border. The remains recovered by the PCOME were found in some of the most uninhabitable portions of the desert where people did not cross 10 to 15 years ago.
"We've seen more and more undocumented border crossers being pushed into particularly remote and dangerous areas of southern Arizona." Martínez told Newsweek. "This is a direct consequence of increased border enforcement and border militarization."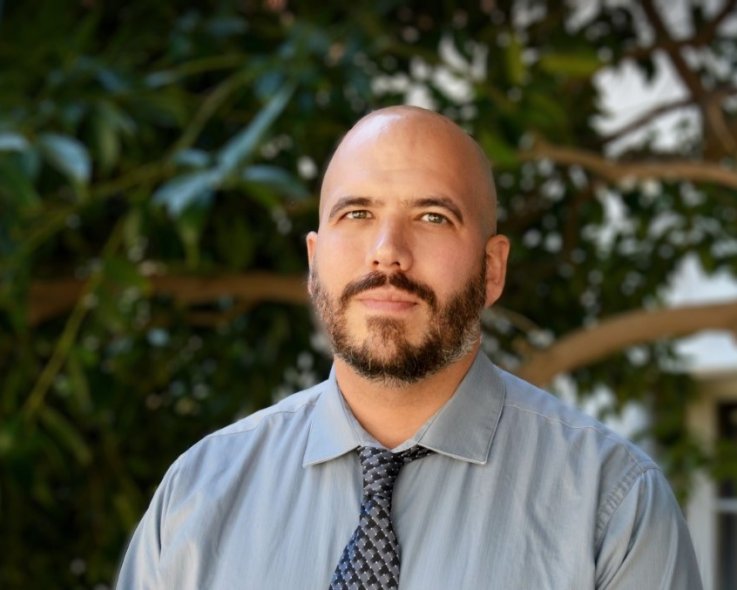 Daniel Martinez, Director of the Binational Migration Institute at the University of Arizona
Photo Provided
Over the 30 years of the study, CBP's operation budget has grown. Martínez said this growth started in the early 1990s during the implementation of its Prevention Through Deterrence policies, policies which intend to limit migration through directing migration routes through some of the most dangerous portions of the nation's landscape. It again jumped in 2001 following 9/11, and once again in 2011 during the rollout of the Consequence Delivery System which made legal penalties harsher.
The role of the The Prevention Through Deterrence program in pushing migration routes to the desert led to the creation of a number of nonprofits, such as No More Deaths, dedicated to reducing migrant fatalities. As part of their efforts, No More Deaths leaves supplies including water, cans of beans, cans of tuna, and blankets in the most remote parts of the desert.
However, they soon met obstacles to these efforts.
Rovner told Newsweek CBP has cut apart water drops in front of volunteers. A report entitled Interference with Humanitarian Aid as part of the agency's wider Disappeared project found that between 2012 and 2015, at least 3,586 gallon-jugs of water were destroyed in an approximately 800-square mile desert corridor near Arivaca, Arizona.
In addition to thwarting these efforts, Rovner said CBP's recent work regarding Title 42 has added to the vulnerability of migrants. As previously told to Newsweek by Josiah Heyman, director of the Center for Inter-American and Border Studies at the University of Texas at El Paso, Title 42 has had the "effect of encouraging people to enter, be apprehended, be expelled, and try again until they succeed in entering."
Rovner said individuals apprehended in the desert find themselves dropped off in nearby, often small, towns on the desert side where they often know no one. With few options for shelter, these individuals find themselves living in the desert for sometimes weeks at a time, and many decide to attempt crossing the desert again, although now in a weaker physical condition.
As the United States grapples with its next steps toward immigration reform, Martínez stresses that throughout the past 30 years of changing border enforcement people have continued to cross, no matter how perilous the journey. While this study was focused on the southern Arizona desert, he expects this phenomenon extends to other border areas of the country, with the overall situation being worse than the data currently shows.
While in Arizona PCOME can readily track the deaths of undocumented crossers, in Southern Texas where the counties are smaller, less wealthy, and larger portions of the land is under private ownership, no central government agency is tasked with tracking comprehensive data.
The University of Texas at Austin's Strauss Center tracked 2,655 cases of migrant deaths in South Texas from 1990 to 2020. In its conclusion, the report recommends "streamlining migrant death processing through improved record keeping, mandated investigative testing and DNA samples, and increased state funding."
As data continues to reflect the extent of the crisis, Martínez urges those processing the information to look past the figures and to see then humanity in the situation.
"What I want to emphasize is oftentimes it's easy to get lost in these numbers," he told Newsweek. "But we need to keep in mind is that there have been remains of over 3,350 border crossers recovered from Southern Arizona desert, and each one of these individuals is a person, a person with family, somebody's mom, somebody's dad, somebody's brother, somebody's sister, somebody with loved ones who had hopes and dreams they wanted something better for themselves and their family members."