A video of a man shouting "they kicked me off a flight, they call me a f***ing terrorist," and another video showing some passengers allegedly "put on the no fly list" disembarking a plane have gone viral on social media.
There has been debate on social media over the reasons why these passengers were removed from their flights. Some users claim the passengers were among the rioters who stormed the U.S. Capitol last week and have been banned from traveling.
The man in the video posted by a TikTok user can be heard shouting: "This is what they do to us, they kicked me off a flight, they call me a f***ing terrorist and they want to rule my life." The video has received at least 52,500 likes on TikTok since it was posted.
The TikTok video received over 15 million views since it was shared on Twitter by user @RayRedacted, a researcher and host of the Tribe of Hackers Podcast.
A woman in the video was seen approaching the man and can be heard saying: "Sir, please calm down. I was kicked off Delta [Delta Air Lines] earlier," before the video ends.
The same woman was spotted in another viral TikTok video, also shared by Twitter users including political satirist John Holland, in which she is seen exiting a plane, along with other passengers.
The Claim
User @RayRedacted tweeted: "People who broke into the Capitol Wednesday are now learning they are on No-Fly lists pending the full investigation. They are not happy about this." At the time of reporting, the post received at least 393,200 likes and 84,500 retweets.
However, a tweet by Yashar Ali, a writer for New York Magazine and The Huffington Post, noted: "Just like the other TikTok I just quote tweeted, this has nothing to do with the US Capitol Building or no-fly lists as it relates to domestic terrorism.
"This man, according to the woman who filmed it, was kicked off the flight for not wearing a mask," Ali added in the post. The tweet has received 3,800 likes and 1,200 retweets since it was posted at the time of reporting.
A tweet by David Slotnick, senior airline reporter at Business Insider, sharing a screenshot of the video screen on TikTok, also noted: "The caption on the original post says it's mask related."
The caption of the video shared by TikTok user @heartlessbeech (who was previously known as @heartlessputa, the username credited in the video) reads: "Homeboy had a full toddler level meltdown bc [because] he was told to wear a mask 🥱#fyp."
Holland noted: "Hahaha. #Republican terrorist put on the no fly list," in a Twitter post sharing the video of the passengers getting off the plane, which received at least a million views, 5,300 likes and 1,300 retweets at the time of reporting.
A video shared by Twitter user @AKA_RealDirty, which had at least 739,900 views, 16,000 likes and 12,100 retweets at the time of reporting, also claimed: "Delta airline landed a plane to remove these people because they was having a private conversation about supporting President Trump."
According to a report by Gary Leff, the author of the blog View from the Wing, the woman seen in the aforementioned videos was reportedly among a group of passengers kicked off a flight for "supporting Trump."
Leff referred to atweet by Mike Yoder, an attorney, who wrote: "They were removed from a @Delta flight for supporting Trump." That tweet received at least 695 likes and 622 retweets at the time of reporting.
The Facts
Speaking to Newsweek, a spokesperson for the Transportation Security Administration (TSA) said: "For security reasons we do not discuss the details other than to confirm that there are always multiple layers of security in place and that travelers may notice additional law enforcement and canine presence, especially when events justify an increased security posture.
"What I can tell you is that TSA is always on high alert. We prepare for all contingencies.
"As it relates to the No Fly list, we will accommodate FBI [Federal Bureau of Investigation] requests and congressional authorizations related to no fly lists," the TSA spokesperson added.
Speaking to Newsweek, a spokesperson for Delta said in a statement: "Nothing is more important than the safety and security of our people and customers. Decisions made to remove unruly customers on flights are based solely on behavior that affects the safety and security of our operation including noncompliance with instruction from flight crews."
Last week, Delta removed two "unruly'' passengers traveling from Ronald Reagan Washington National Airport to Minneapolis on Friday, a spokesperson for the airline, Morgan Durrant, told USA Today.
The flight departed for Minneapolis following a short delay, according to Durrant. The company did not disclose any details about the incident, which took place on Flight 3765.
Durrant said in a statement: "As a values-led company, we expect our people and customers to treat one another with dignity and respect as we safely fly them to their destinations, including wearing masks and following all instructions from Delta people at the airport and on-board."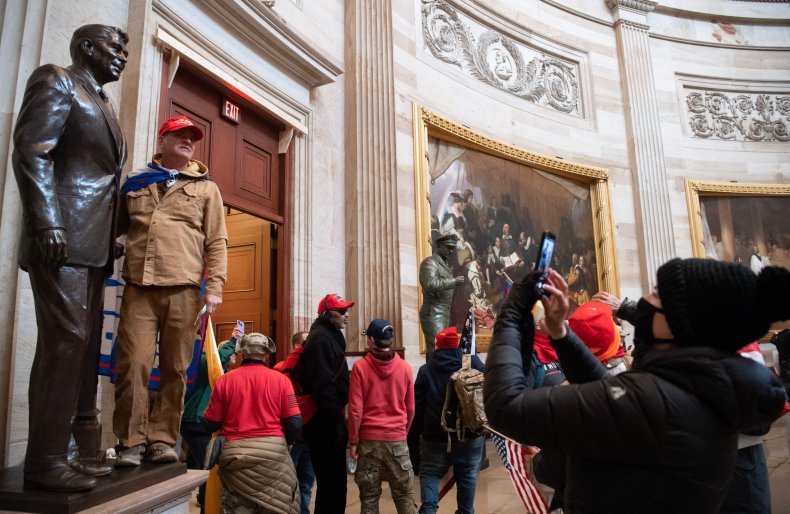 The Ruling
Unknown.
It has yet to be confirmed whether the passengers in the videos shared on social media were on flights with Delta and why they were kicked off the plane.