Fact Check: Are Donald Trump's California Gas Price Claims Accurate?
Rising fuel costs have become a major talking point for Republicans, who blame the Biden administration's energy policies. Donald Trump has weighed in on the debate, contending that under President Joe Biden California has seen gas prices surge to $7.50 a gallon, noting that people are paying four times more than when he was president.
The Claim
That's up from "$1.87 a year ago," Trump told Fox News on Sunday. "[People] knew they got gasoline for X dollars a tank, and now they can multiply it times four."
The Facts
Gas prices have indeed been rising at a fast pace in recent weeks, driven by resurging demand as the U.S. economy recovers from the pandemic, supply-side constraints due to OPEC production cuts and lower domestic production in America.
While Trump did not specify the type of gasoline or the location where $7.50 prices were allegedly seen, the claim appears to hark back to a late-October photo of a gas pump in Gorda, California, showing regular unleaded gas at $7.599 a gallon. The photo, shared widely on social media and conservative media outlets, was confirmed as genuine.
Official data from the U.S. Energy Information Administration puts the regular gas price average in California at $4.532 per gallon as of November 15, while the national average was at $3.399 on the same date.
According to AAA Gas Prices, a public service webpage updated daily by the Oil Price Information Service, California saw its average price hit $4.706 for regular unleaded on Monday, with diesel averaging $4.833 and premium grade reaching $5.017—record levels for the state.
All of these figures, while indeed very high from the consumer's perspective, are significantly lower than what the former president said, regardless of which type of gasoline he may have been referring to.
Furthermore, Trump's claim that "just a year ago gas was at $1.87" does not stand up to scrutiny. On November 23, 2020, the national average—which tends to be significantly lower than California's—bottomed out at $2.102, while in California it stood at $3.025.
Beyond the state averages, it is true that in individual counties or towns gas prices can be as much as double the national figure.
Last month's $7.599 price in Gorda, a small community in California's Monterey County, fueled outrage on social media.
But as several news outlets clarified at the time, the town has only one gas station, which has a sign noting that the next nearest station is 40 miles away to the north and 12 miles to the south. The town therefore typically sees a significant "scarcity premium," with gas prices reaching $11.750 in April 2019, according to KSBW, an NBC-affiliated TV station in the Monterey Bay area. Monterey County was averaging $4.590 per gallon at the time, KSBW added.
While this price was extremely high, it was driven up by idiosyncratic factors—in this case, the town's remote location—and comparing outlier figures with national or state averages creates a very misleading picture.
The Ruling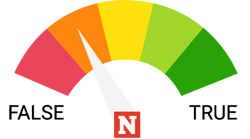 Mostly False.
While individual towns and communities can see gas prices go as high as double the national average, this is not a recent phenomenon and tends to be confined to individual counties. The claim that gas prices have reached $7.50 in California is inaccurate, as the state average is currently between $4.500 and $4.800, depending on the data source and chosen date. Finally, neither the national nor California's state average was as low as $1.870 a year ago, as Trump claimed in the Fox interview. Instead, they were $2.102 and $3.025, respectively.
FACT CHECK BY NEWSWEEK