As Gas Prices Continue to Rise, These States Have the Highest Prices Per Gallon Nationwide
Gasoline prices across the country have surged in recent weeks, with the cost at the pump varying widely from state to state.
The national average price for regular gas is $3.411 per gallon, but in many states—most on the West Coast—the figure has soared past that average, according to AAA.
The nation's most populated state, California, tops the list of states where gas costs the most. On Tuesday, a gallon averaged $4.687 in the Golden State, setting a new record price for the third day in a row. On Monday, gas averaged $4.682 in California, up from Sunday's $4.676—which broke a record set in October 2012, according to AAA.
Prices in some parts of the state are nearing $5 per gallon. Jeffrey Spring, corporate communications manager at the Automobile Club of Southern California, told CNN on Monday that a "supply crunch" in the state is causing the high prices. AAA noted on Monday that heavy rainstorms in Northern California have hindered oil production.
Hawaii has the second-highest average price, at $4.352 per gallon, according to AAA.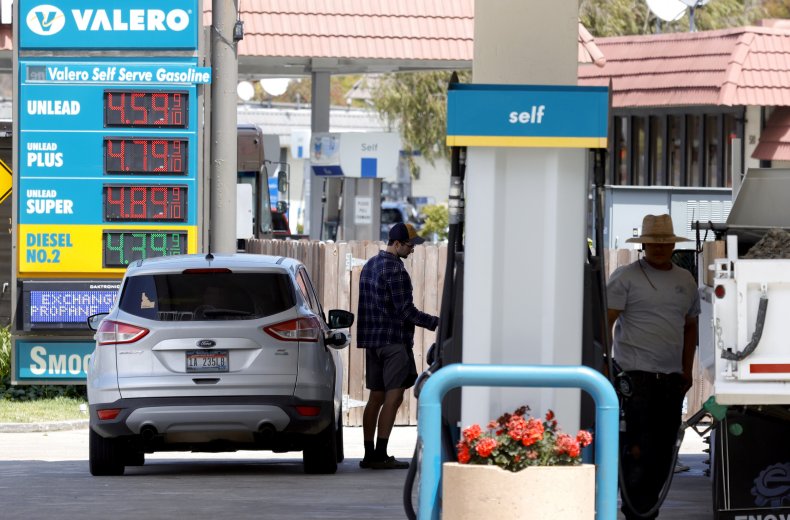 Several other Western states have reported significantly high gas prices. In Nevada, gas costs an average of $3.978 per gallon, while it's $3.874 in Washington, $3.782 in Oregon, $3.708 in Utah, $3.692 in Idaho and $3.696 in Arizona, according to AAA. In Alaska, the price is $3.710.
Rounding out the top 10 was the District of Columbia, where gas averages $3.616, according to AAA.
The average price of regular gas in Alaska, Utah and Washington, D.C., has dropped since Sunday, while prices in California, Nevada, Washington, Oregon and Arizona have gone up, according to AAA.
Other states with higher than average prices are Colorado, Connecticut, Illinois, Maine, New Jersey, New York, Pennsylvania, Rhode Island, Vermont and Wyoming, according to AAA.
In the past week, gas prices have declined slightly because of a drop in demand and an increase in the domestic crude oil supply, according to AAA. The average cost a week ago was $3.419—meaning it has dropped by $0.008 in the past week.
"A slight dip in gas demand, possibly due to seasonal driving habit changes, is contributing to some price relief at the pump," Andrew Gross, a AAA spokesman, said Monday in a statement. "Unfortunately, the ongoing tight supply of crude oil will likely keep gas prices fluctuating, instead of dropping, for some time."
In the past few months, U.S. gas prices rose to their highest levels in years as consumers have seen the steepest inflation since 1990 as well as pandemic-related supply shortages.
As gas prices have risen, the Biden administration has pressured the Organization of the Petroleum Exporting Countries to produce more oil to offset the higher costs. But OPEC has resisted these calls.
Saudi Energy Minister Abdulaziz bin Salman last month defended the decision, telling Bloomberg that high gas prices in the U.S. were due to low inventories, refinery outages from Hurricane Ida and high ethanol prices.
Some lawmakers have called on the Biden administration to take actions to try to lower gas prices, including the release of barrels from the emergency stockpile known as the Strategic Petroleum Reserve or even banning oil exports.