Can Joe Biden Control Gas Prices? Here's What the President Can Do
President Joe Biden is facing growing pressure to do something about the soaring prices Americans are paying at the pump.
In a week when it was announced that consumer price inflation for October had hit 6.2 percent, the American Automobile Association (AAA) said the national average price of gasoline had risen to $3.42 a gallon—up 62 percent from a year ago.
In enlisting the National Economic Council (NEC) to tackle the highest inflation spike since November 1990, Biden said on Wednesday that lowering consumer price rises was his "top priority."
However, he has far fewer options when it comes to curbing the cost of gas, which is at its highest level in seven years.
"Unfortunately, U.S. presidents do not have good options to lower domestic fuel prices in the near term," said Bob McNally, president of Rapidan Energy Group and the former White House senior director for international energy.
"Domestic gasoline and diesel prices are driven by global crude oil prices, which in turn are shaped by global supply, demand, and OPEC+ decisions," he told Newsweek.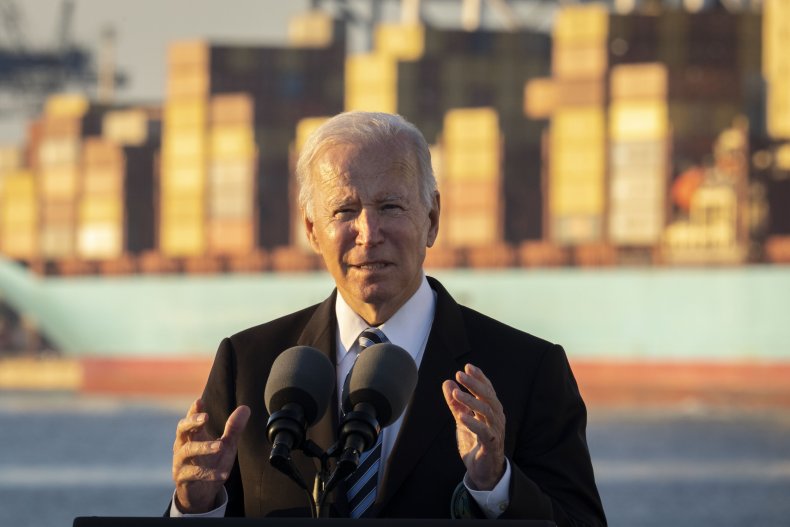 "The most potent option would be to convince Saudi Arabia and OPEC+ to increase production faster, but that is not working out well so far," he added.
The Organization of the Petroleum Exporting Countries and allied producers batted away pressure from Biden for higher production, confirming last week its plans to not add any more than 400,000 barrels per day to the market each month.
Last month, Saudi Energy Minister Abdulaziz bin Salman defended OPEC+'s decisions, telling Bloomberg that high U.S. gas prices were due to low inventories, refinery outages from Hurricane Ida, and high ethanol prices.
Lawmakers are calling on Biden to take action. In a letter on Tuesday, they said gas prices were putting an "undue burden on families and small businesses trying to make ends meet."
They called on Biden to consider releasing barrels from the emergency stockpile known as the Strategic Petroleum Reserve (SPR) or even to take the more drastic measure of banning oil exports.
"The most important thing is not to take action that will have negative impacts and some of the actions on the table definitely could backfire," said Ben Cahill, a senior fellow at the Energy Security and Climate Change Program at the Center for Strategic and International Studies (CSIS).
"Reimposing a crude export ban would be an extremely bad policy," he said.
In a memo this month, Cahill said that banning exports could potentially help U.S. refiners get cheaper domestic crude, but there would be a mismatch with refineries that use heavier rather than light, sweet crude.
East Coast refineries also price petroleum products based on Brent, and higher input prices would see them pass on costs to consumers.
"It could have some pretty negative impacts politically of course but it could also have the opposite effect in terms of gasoline prices—it could drive prices up in some parts of the country," Cahill told Newsweek.
Looking at the Strategic Petroleum Reserve
But Biden will need to be seen taking action to curb the cost of filling up. Energy Secretary Jennifer Granholm told CNN that the White House was considering an SPR sale.
This measure "would be less risky," Cahill said, although it would only provide a short-term benefit and it would be accompanied by concerns over dropping inventories.
A release of strategic oil reserves currently standing at 612.5 million barrels would only have a modest price impact, according to Platts Analytics, which noted that regular-grade gasoline would stay above $3 a gallon for the rest of the year.
Cahill said: "Because they have been talking about an SPR sale for weeks now and it has been such a topic of public debate it has lost the impact, there is no element of surprise, so I am not sure it would be much more than a blip."
As if to emphasize his relative powerlessness to impact prices at the pump, Biden told a CNN Town Hall last month, "I don't have a near-term answer" while his spokesperson Jen Psaki referred to the "limitations" of what he can do.
"Since at least the days of Nixon, U.S. presidents have been blamed when fuel prices are high," said Pavel Molchanov, a director and equity research analyst at Raymond James & Associates.
"But the general rule is that prices fluctuate on ordinary supply and demand," he told Newsweek.
"The U.S. president, Chinese president, British prime minister, or German chancellor have virtually zero sway over how oil prices move from day to day and even year to year."
Biden Is Not to Blame
Meanwhile, Cahill said Biden was not to blame for rising gas prices, but he believed his administration needed a "recalibration" that includes continued investment in oil and gas to work alongside his stated climate change goals focused on energy transition.
"I think the challenge for Biden is that he has articulated a very ambitious long-term climate goal which is important," he said, "but it is running into the short-term reality of increasing energy costs and a lot of concerns about inflation.
"I think it is time to recalibrate to soften some of the messages on energy and to acknowledge the reality that we can't flip the switch overnight and change the energy system. This is going to take time."