Fact Check: Did Biden Say Sending Tanks to Ukraine Would Cause World War 3?
NATO countries, including the U.S. and Germany, have recently announced the arrival of their tanks in Ukraine in a bid to push Russia further back in the conflict.
On January 25, 2023, President Joe Biden announced that the U.S. would deliver 31 M1 Abrams tanks to Ukraine, which he said was enough to equip a Ukrainian tank battalion.
However, the provision of this new machinery has led some of the president's opponents to search back through his history of comments on U.S. cooperation with Ukraine to claim he'd previously said it would lead to global war.
The Claim
A newsletter sent by the Donald Trump campaign team on Wednesday, February 1, 2023, claimed that Biden warned sending tanks to Ukraine would lead to World War 3.
The newsletter said: "Biden is now sending tanks to Ukraine despite saying last year that sending tanks to Ukraine would start World War 3."
Referring to a video address posted online, Trump was quoted as saying: "It's far past the time for all parties involved to pursue a peaceful end to the war in Ukraine before this already horrific catastrophe spirals out of control and ends up leading indeed to World War 3."
This was also picked up by Rep. Lauren Boebert (R-CO) who, on February 2, 2023, tweeted: "Does anyone remember when Joe Biden said that sending tanks to Ukraine would be tantamount to World War Three? That was less than a year ago. Now he's sending tanks to Ukraine."
Boebert's tweet was viewed more than 340,000 times.
The Facts
The arrival of Western tanks in Ukraine has triggered a war of words with the Kremlin, which condemned the move while also playing down the impact it would have on Russia's invasion.
Kremlin spokesman Dmitry Peskov told reporters the plan was "a failure in terms of technological aspects," as well as "a clear overestimation of the potential that this will add to the Armed Forces of Ukraine," state news agency Tass reported.
However, the Trump campaign team's claim that Biden said tanks arriving in Ukraine would mean World War 3 is missing important context.
Biden's comments were made back in March 2022 at the House Democratic Caucus Issues Conference meeting in Philadelphia.
Crucially, what Biden said was that the arrival of tanks, among other equipment including trains, and—most importantly—U.S. forces is what he believed would cause global conflict.
Biden said: "The idea that we're going to send in offensive equipment and have planes and tanks and trains going in with American pilots and American crews, just understand, that's called World War III, okay?"

Despite including the video in their tweets, some conservative commentators made similar claims to that said in the Trump newsletter.
One tweet, posted by Jack Posobiec on January 29, 2023, which has been viewed more than a million times, attached a video of Biden's previous comments and said: "FLASHBCK: Last year Biden said the US sending tanks to Ukraine would be World War 3, This year, he's sending tanks to Ukraine."
The U.S. has already made efforts to supply tanks to the frontline of Ukraine. An April 2022 report by The New York Times said that the Biden Administration was working with allies to provide Soviet-made tanks to Kyiv.
In November 2022, the U.S. also announced that it was paying the Czech Republic to upgrade 45 Soviet-era T-72 tanks for use in Ukraine.
Deputy Pentagon Press Secretary Sabrina Singh said at a November 2022 conference that: "Introducing a new main battle tank ... would be a huge undertaking for the Ukrainian forces.
"We do continue to consult with our allies and partners to assess our ability on what we can provide in terms of western armored platforms but these [T-72] tanks we will believe will make a difference on the battlefield."
One might argue that the arrival of U.S. tanks to Ukraine could serve as a precursor to wider conflict.
However, as is clear from Biden's statement, it would be the arrival of tanks alongside American soldiers and other equipment which the president felt would precipitate an event like World War 3.
Newsweek has contacted the White House and Donald Trump for comment.
The Ruling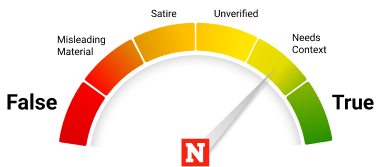 Needs Context.
The Trump campaign team's summary of Biden's comments is misleading in isolation and therefore needs context.
In March 2022, Biden said the supply of tanks and other equipment with—crucially— American troops on the ground would amount to what he described as "World War 3".
While the arrival of M1-Abrams tanks to Ukraine is new, the U.S. has funded the upgrade and supply of Soviet-era tanks to Kyiv.
FACT CHECK BY Newsweek Fact Check team