Russian Tanks 'Going to Get Smoked' by U.S. Abrams—Retired Major
Russian main battle tanks deployed in Ukraine "are going to get smoked" by Ukrainian forces operating U.S.-supplied M1 Abrams tanks and Bradley Fighting Vehicles, according to a retired U.S. Army major.
Richard N. Ojeda, writing on Twitter, said the Bradleys and M1 Abrams could be a "game changer" for Kyiv's resistance forces "if utilized properly."
On January 25, President Joe Biden announced that the U.S. would send 31 M1 Abrams tanks to Ukraine as part of another tranche of military aid.
The Ukrainian armed forces "need to be to counter Russia's evolving tactics and strategy on the battlefield in the very near term," Biden said.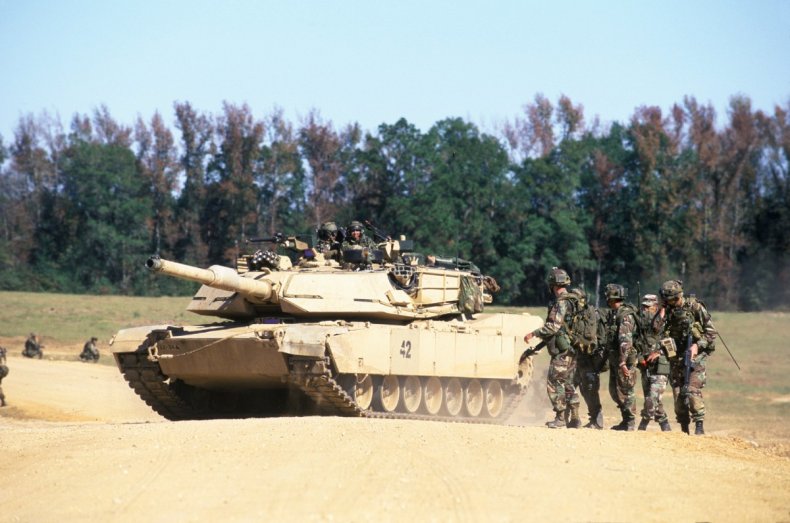 The tanks would help Ukraine's forces maneuver on open terrain, Biden said, and the tanks would support their ability to "deter and defend against Russian aggression over the long term."
On January 6, the State Department announced a further $3.75 billion in new military assistance for Ukraine in a package including Bradley Fighting Vehicles. On January 19, the Defense Department confirmed that 59 Bradley Fighting Vehicles were heading for Ukraine, along with 90 Stryker Armored Personnel Carriers.
As Biden pledged enough Abrams tanks for a Ukrainian tank battalion, German Chancellor Olaf Scholz authorized 14 Leopard 2 main battle tanks for Kyiv. Germany also sanctioned the third-party transfer of the tanks from several other nations holding stocks of Leopard 2 tanks.
The British government had previously confirmed it would send 14 Challenger 2 main battle tanks.
It is not yet known when the M1 Abrams will arrive, but a senior White House official said the deliveries will take "months, as opposed to weeks."
The Kremlin's spokesperson, Dmitry Peskov, responded to the pledges from Washington and Berlin by commenting that the Abrams and the Leopard 2 tanks would "burn up just like all the others" on Ukraine's front lines.
The M1 Abrams tank "sends a message to those who would oppose the United States," according to a summary penned by the U.S. Army Acquisition Center.
There are several variants of the M1 Abrams, which can be fitted with 105mm or 120mm armaments. Depending on the model, it can weigh between 67.6 and 73.6 tons.
The M1 Abrams have a maximum speed of 42 mph, with a top speed of 30 mph in cross-country terrain. Biden called the M1 Abrams tanks "the most capable tanks in the world," but they are "extremely complex to operate and maintain."
The Abrams run on jet fuel, and National Security Council spokesperson John Kirby said the U.S. needed to ensure fuel supplies could be maintained for the Ukrainian forces to operate the Abrams.