Fact Check: Did Chinese Media Depict Joe Biden as 'Loser' Soldier Captured by Taliban?
A cartoon of President Joe Biden surrendering to Taliban militants appeared on popular social media sites in the final days of the U.S. military withdrawal from Afghanistan.
The Claim
An illustration showing a giant figure of Biden—in military fatigues and kneeling on the ground while surrounded by smaller Taliban fighters—was said to have been produced by China's state-owned media to mock America.
The drawing, which depicts the president wearing the word "loser" on his chest, continues to be shared in conservative circles on mainstream social media services such as Facebook, Twitter and Reddit.
The cartoon in question, which is dated August 26, was shared more than 1,300 times from one Facebook post, but it also found its way into more than half a dozen Reddit groups, including the largest conservative subreddit with more than 850,000 members.
The Facts
Contrary to the claims on social media, the cartoon was not produced by a Chinese state news outlet as part of any propaganda campaign targeting the United States.
Rather, it was made by a Chinese illustrator calling himself "Cian Ci," who currently resides in the United Kingdom.
For reasons that become clearer upon closer inspection of the artist's work on Twitter, the image featuring a surrendering President Biden does not appear widely on China's main social media platform Weibo and could not be found on the country's popular search engines Baidu and Sogou.
While Cian Ci's depiction of Biden giving up to the Taliban would fit China's narrative of a defeated America, his satire targeting Chinese President Xi Jinping would seem to be less palatable to the Chinese Communist Party.
Incidentally, this does make Cian Ci, who has more than 30,000 followers, particularly popular among conservative circles. The artist's work has been reposted by the likes of Sebastian Gorka. His account also features retweets of largely pro-Trump and anti-CCP content.
Reached by Newsweek, Cian Ci described himself as having a "dislike for some of the political ideals of the American Left."
"American politics has been seriously eroded by the the Chinese Communist Party," the illustrator said, lamenting the lack of "radical, right wing" China hawks in the country.
Cian Ci said it was "difficult to explain" and "strange" that his work had been described as originating in Chinese media.
"Someone must have got the wrong message. I'm just one person," he said.
The illustrator's depictions of Chinese leader Xi include drawing of him as a shirtless thug wielding a machete, as well as a dictator exploiting the Chinese people.
Asked whether he feared the work could lead to retribution by the one-party state, Cian Ci said he was not afraid as long as he remained outside the country. As for what will happen when he returns to China, he said: "We'll see when I get back."
While this particular cartoon was not created by China's media organizations, the country's propaganda organs have been publishing daily comics disparaging American foreign policy, among them satirical works of President Biden.
The illustrations are rarely seen outside of China's domestic readership, which analysts say is the intended target audience.
The Ruling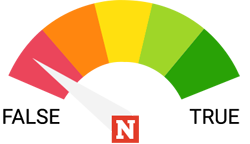 False.
FACT CHECK BY NEWSWEEK
Claims by social media users that a cartoon showing Biden surrendering to the Taliban was created by China's state-run media were false.
The illustration was made by a Chinese artist who resides outside of China, and who also creates satirical images of Chinese President Xi Jinping.