Fact Check: Did Missile Hit Poland Instead of Kyiv After Coordinates Typo?
The U.S. and Ukraine were at odds over a missile strike that killed two people in Poland, with Kyiv initially claiming the explosion was caused by Russia despite NATO's assertion it was an accident.
Ukraine's President Volodymyr Zelensky said at a press conference he had "no doubt that it was not our missile," a message later contradicted by U.S. President Joe Biden, who told reporters at the White House "that's not the evidence," per CNN.
Amid the confusion and fingerpointing, however, posts have appeared on social media which allege that the cause of the attack may have been a typing error by artillery target coordinators.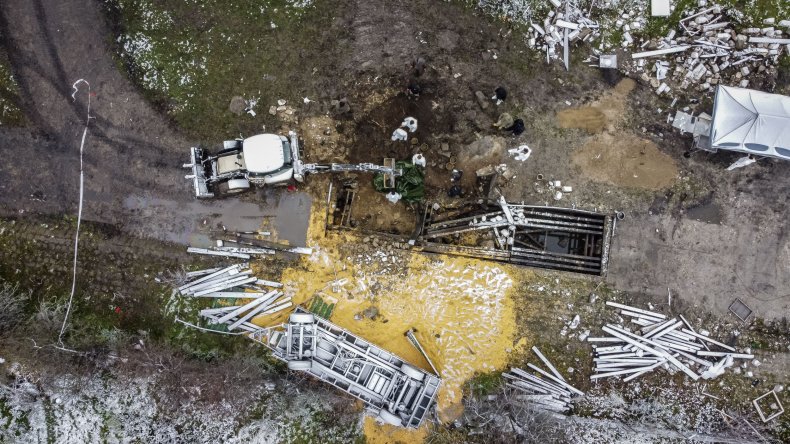 The Claim
A number of social media posts from November 16 to 18, 2022, suggest that the map coordinates of Przewodów, the Polish village where a missile hit, have the same longitude as Kyiv and the latitude of Lviv.
Eastern European news account Visegrád 24 tweeted: "The missile which killed 2 Poles landed in Przewodów, Poland: 50.47099 lat, 23.93432 lon. The location has the latitude of Kyiv and longitude of Lviv. It's possible someone might have entered the wrong coordinates in a case of erroneous targeting."
The tweet generated more than 5,000 engagements.
The Facts
Newsweek Fact Check was able to independently verify that Przewodów, Kyiv, and Lviv share similar coordinates on their x and y-axis.
According to latlong.net, an online geographic tool that can be used to lookup latitude and longitude of a place, and source its map coordinates, central Kyiv's GPS coordinates are 50.4501 and 30.5234, while Lviv's are 49.8397, 24.0297. The location of the missile strike in Przewodów was around 50.474582, 23.923020, next to a farm in the village.
Changing the latitude in Lviv or the longitude in Kyiv with the corresponding Przewodów coordinates does indeed support the possibility of a coordinates mix-up, as the posts suggest.
However, the conclusion derived from this observation appears to be entirely speculative.
It's true that Russia targeted Ukrainian cities, including Kyiv and Lviv recently, and hypothetically could have mistakenly targeted Przewodów in the barrage.
A Reuters report from March, citing U.S. officials, suggested that Russia has suffered failure rates of up to 60 percent, while some of its more recent attacks were described by CNN as a "hit-and-miss missile blitz."
In a similar vein, investigators from Bellingcat, an investigative journalism group based in the Netherlands and founded by a British journalist in 2014, recently claimed to have uncovered a network of Russian military operatives, who they say are responsible for planning and laying out flight paths for high-precision cruise missiles targeting Ukrainian cities and infrastructure.
Referencing Russia's latest series of missile strikes, Christo Grozev, the author of the report, tweeted on November 15: "Russia fired 100 missiles at Ukraine today, hitting a residential building in Kyiv and leaving whole cities without electricity. These young men and women were inputting the missile flight paths, again."
However, even as Russia appears to have a track record of faulty missile navigation, there is little evidence to suggest that was the case in Poland. While the investigation into the strike continues, the current consensus appears to be that it was not a Russian missile.
As Polish President Andrzej Duda and other officials have said, the explosion was likely an accident resulting from a Ukraine air defense missile being used against Russian rockets.
NATO Secretary General Jens Stoltenberg echoed this sentiment.
"Our preliminary analysis suggests that the incident was likely caused by the Ukrainian air defense missile fired to defend Ukrainian territory against Russian cruise missile attacks," Stoltenberg said in a statement on November 16.
"But let me be clear, this is not Ukraine's fault. Russia bears ultimate responsibility, as it continues its illegal war against Ukraine."
Proving whether Russian operatives could have made a "typo" in inputting coordinates intended for either Kyiv or Lviv would be extremely difficult. Not only would Russia have to admit fault in the incident (which the Russian foreign ministry has blamed on Ukraine), but it would separately also have to confirm that faulty navigation was behind it.
Newsweek was unable to find any other evidence to support the theory on social media. While the partial match of coordinates does seem to be a surprising coincidence, in the absence of substantive proof it remains just that—a coincidence.
Whatever may have caused the missile strike in Przewodów, there is not, at present, enough publicly-available evidence to determine that the strike was the result of a typographical error, nor that Russia was behind it.
The investigation into the incident is ongoing, with reports from the local media indicating that Ukrainian authorities and experts will not be allowed to take part.
"The information we have received from the Ukrainian side is of very significant importance to us. However, it is certain that Ukraine, just like any other country, will not be the co-host of the investigation, because this is our, Polish investigation," Paweł Soloch, an adviser to Polish President Andrzej Duda, told local broadcaster Radio Plus in an interview.
Newsweek has contacted the Kremlin and the Ukrainian government for comment.
The Ruling
Unverified.
Kyiv and Lviv have similar map coordinates with Przewodów, which, in theory, could have been the basis for the missile strike on the Polish village near the border of Ukraine.
However, there is no further evidence available to support this claim.
While the Ukrainian president initially blamed Russia for the strike, NATO and Poland appear to have formed a consensus that it was likely an accident caused by Ukraine's anti-air missile defenses.
FACT CHECK BY Newsweek's Fact Check team