Fact Check: Did Twitter Violate President Trump's First Amendment Rights?
After last week's storming of the Capitol building, Twitter permanently banned President Donald Trump's account from the app, citing the "risk of further incitement of violence."
The decision has sent a wave of mixed reactions. Some people applauded the company for holding Trump accountable, while the president's supporters were outraged by Twitter's alleged censorship and violation of free speech.
German Chancellor Angela Merkel criticized Twitter's move, calling it "problematic" because freedom of opinion is a fundamental right of "elementary significance."
"This fundamental right can be intervened in, but according to the law and within the framework defined by legislators—not according to a decision by the management of social media platforms," said a spokesman on behalf of Merkel.
"Seen from this angle, the chancellor considers it problematic that the accounts of the U.S. president have now been permanently blocked."
This has caused many conservatives to leave the app in search of spaces in which they feel their ideas and speech won't be censored because of a political bias.
The Claim
After his personal account, @RealDonaldTrump, was banned, the president took to the @POTUS account to share his thoughts.
"As I have been saying for a long time, Twitter has gone further and further in banning free speech, and tonight, Twitter employees have coordinated with the Democrats and Radical Left in removing my account from their platform, to silence me — and YOU, the 75,000,000 great patriots who voted for me."
The tweets disappeared from the @POTUS account almost immediately.
Representative Matt Gaetz (R-Fla.) claimed that Twitter's company policies were at odds with the Constitution, insinuating that banning Trump's account violated his First Amendment rights.
The Facts
In cases like this, it is imperative to make a distinction between the First Amendment and the more general concept of free, unregulated speech.
Twitter banning Trump's account does not violate the First Amendment. Nor does it remove the right to the freedom of speech from the Constitution. The amendment states:
"Congress shall make no law respecting an establishment of religion, or prohibiting the free exercise thereof; or abridging the freedom of speech, or of the press; or the right of the people peaceably to assemble, and to petition the Government for a redress of grievances."
As civil rights lawyer Nora Benavidez wrote in a tweet, the amendment prohibits the government from restricting speech based on the viewpoint expressed in that speech. Twitter is a private company, not the government, and therefore is not subject to the First Amendment.
"The First Amendment protects freedom of religion, speech, press, assembly, & the right to petition the government for redress," she wrote. "It prohibits gov't restrictions on speech based on the viewpoint of that speech. Twitter is not the government. This is not a First Amendment violation."
There are exceptions to the First Amendment's free speech protections. In the 1919 Supreme Court case Schenck v. United States, Justice Oliver Wendell Holmes concluded that the Frist Amendment does not protect against speech that creates a "clear and present danger of a significant evil." If people promote violence or harm against others, that speech is exempt from First Amendment protections.
The 1969 case Brandenburg v. Ohio expanded the clear and present danger test by stating speech that "is directed at inciting or producing imminent lawless action" and is "likely to incite or produce such action" is not protected in the Constitution.
So what power does Twitter, and social media companies like it, have over regulating speech on their site?
According to Twitter's own company rules, their purpose is "to serve the public conversation" so that all people can participate in that conversation "freely and safely." Therefore, "violence, harassment and other similar types of behavior discourage people from expressing themselves, and ultimately diminish the value of global public conversation."
Twitter says users may not "threaten violence against an individual or a group of people" or promote the "glorification of violence."
That means users cannot threaten to kill, sexually assault, seriously hurt someone or ask or offer financial reward in exchange for inflicting violence on a specific person or group of people. This does not include hyperbolic speech where there is no intent to harm. If a tweet violates this policy, the account will be suspended immediately and permanently.
Additionally, users cannot glorify, celebrate, praise or condone violent crimes or events where people were targeted because of their membership in a protected group, like race, gender, ethnicity or sexual orientation. This includes events like terrorist attacks and events like the Holocaust or other genocides.
The groundbreaking Section 230 of the 1996 Communications Decency Act allows internet companies to regulate themselves, limiting government control over content posted on the sites. It protects social media companies and other websites from liability for content their users post. Companies cannot be treated as publishers, only hosts who can act as moderators "in good faith."
Trump has called to repeal the law because he believes it allows social media companies to censor speech on their platforms and eliminating it would garner more free speech on the internet.
Last May, an executive order about preventing online censorship was issued, which stated, "section 230 was not intended to allow a handful of companies to grow into titans controlling vital avenues for our national discourse under the guise of promoting open forums for debate, and then to provide those behemoths blanket immunity when they use their power to censor content and silence viewpoints that they dislike."
The executive order specifically called out Twitter for "selectively decid[ing] to place a warning label on certain tweets in a manner that clearly reflects political bias."
Others have been critical of social media platforms for not doing enough to punish abusive behavior on their apps.
Facebook CEO Mark Zuckerberg testified before the Senate Commerce Committee in October.
"Without Section 230, platforms could potentially be held liable for everything people say," he said. "Platforms would likely censor more content to avoid legal risk and would be less likely to invest in technologies that enable people to express themselves in new ways."
Twitter CEO Jack Dorsey also spoke in front of the Senate Judiciary Committee in November.
"Completely eliminating Section 230 or prescribing reactionary government speech mandates will neither address concerns nor align with the First Amendment," he said. "Indeed, such actions could have the opposite effect, likely resulting in increased removal of speech, the proliferation of frivolous lawsuits, and severe limitations on our collective ability to address harmful content and protect people online."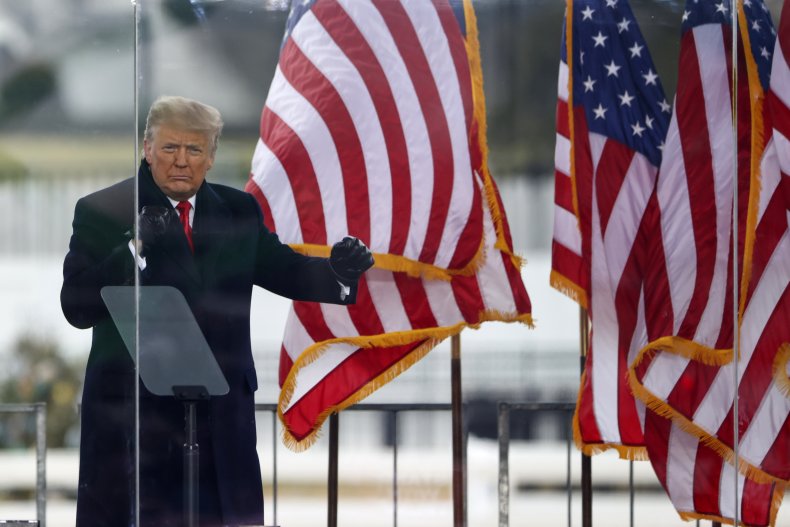 Earlier last year, Twitter added fact-checking labels after receiving criticism of its role in allowing Russian misinformation during the 2016 presidential election. Unlike Facebook, which uses a third-party fact-check partner and exempts politicians' posts from review, Twitter issues labels from an in-house department.
This drew criticism about transparency, to which Dorsey responded that fact checking "should be open source and thus verifiable by everyone." When Twitter began flagging Trump's tweets for being false, misleading or otherwise violating their terms, the president also called it an infringement on his rights.
While Twitter is within its power to suspend accounts that violate its terms of service, some free speech advocates believe companies have no place intervening in the free exchange of ideas on their platform, even to combat disinformation.
"This is akin to the telephone company saying that we've been listening to a conversation and we're not going to allow conversations that we consider to be misinformation or threatening," said Jonathan Turley, a law professor at George Washington University and longtime free speech advocate.
"I would prefer an open and free internet, to the rising levels of censorship and speech controls. Once you get into the business, of regulating disinformation, you find yourself on a slippery slope that is fraught with subjectivity."
Additionally, after receiving criticism for not doing enough to eliminate hate speech from its platform, Twitter introduced new policies to protect marginalized and historically underrepresented communities.
In addition to violent threats, inciting fear or spreading fearful stereotypes about a protected category, using slurs and dehumanizing tropes, or using hateful imagery or symbols to promote hostility and malice against others based on race, religion, disability, sexual orientation, gender identity, ethnicity or national origin are not tolerated.
On December 24, 2020, Trump tweeted: "Twitter is going wild with their flags, trying hard to suppress even the truth. Just shows how dangerous they are, purposely stifling free speech. Very dangerous for our Country. Does Congress know that this is how Communism starts? Cancel Culture at its worst. End Section 230!"
While Trump has not been officially charged with inciting the violence that occurred during the January 6 raid of the Capitol, many pundits and politicians have labeled it as such. Twitter said it banned Trump's personal account because it believed he repeatedly violated rules about inciting violence.
"If it is clear that another account is being used for the purposes of evading a ban, it is also subject to suspension," Twitter said in a statement to CNN. "For government accounts, such as @POTUS and @WhiteHouse, we will not suspend those accounts but will take action to limit their use. However, these accounts will be transitioned over to the new administration in due course and will not be suspended by Twitter unless absolutely necessary to alleviate real-world harm."
Twitter's policy prohibits Trump from directing a third party to operate a Twitter account on his behalf.
The Ruling
False.
Twitter is not a government entity and therefore is not subject to the restrictions outlined in the Constitution. It cannot violate anyone's First Amendment rights. The company is able to moderate the platform to ensure users are following its policies.
However, the debate continues among free speech advocates as to the scope of power social media companies should have in regulating the content on their platforms.
Donald Trump Jr. called the move Orwellian and claimed that "Free-speech no longer exists in America."