With less than one month until the November 3 election, President Donald Trump is encouraging his supporters to vote by labeling his Democratic rival Joe Biden as a proponent of late-term abortion.
"Biden and Democrats just clarified the fact that they are fully in favor of (very) LATE TERM ABORTION, right up until the time of birth, and beyond - which would be execution," Trump tweeted early Tuesday morning. "Biden even endorsed the Governor of Virginia, who stated this clearly for all to hear. GET OUT & VOTE!!!"
Trump's tweet comes the morning after Biden said during an NBC News town hall in Miami that if Roe v. Wade, a 1973 Supreme Court ruling that legalized abortion nationwide, were overturned, his "only response to that is pass legislation making Roe the law of the land. That's what I would do."
Trump repeated his claim against Biden while speaking at the Republican National Convention in August, accusing Biden and the Democratic Party of supporting the "late-term abortion of defenseless babies right up until the moment of birth."
The real answer, however, is much more complicated than Trump claims. Biden has maintained throughout his campaign for president that he would codify Roe into federal law if elected.
Biden "firmly believes that Roe v. Wade is the law of the land and should not be overturned," his press secretary told NBC last year.
While the Democratic Party states it believes every woman should have access to safe and legal abortion, it does not specify its stance on how long into a pregnancy an abortion should be performed, leading some conservative politicians to maintain that Democrats must therefore support late-term abortion.
The Supreme Court's rulings in Roe and in Planned Parenthood v. Casey say that states may ban abortion after the fetus reaches viability, which typically occurs near the end of the second trimester, according to the fact-checking service Logically. The cases mandate that states with such bans must allow an exception if it's necessary to preserve the life or health of the mother—which some conservatives interpret as the law allowing for late-term abortions.
When The Washington Post asked whether Biden supported restrictions, a campaign representative said that Biden believes in the terms laid out by Roe and Casey.
One such state is Virginia, where current law says that third-trimester abortions are permitted only if the risk to the mother's life is "substantial and irremediable." Last year, state Democrats proposed legislation that would allow for late-term abortions if the mother's physical or mental safety were at risk.
Although the bill ultimately stalled in a committee, Virginia Governor Ralph Northam, a Democrat, defended it during an interview with radio station WTOP. Northam, a pediatric neurosurgeon, explained what could happen in the case of a third trimester abortion if the bill was passed.
"[Third trimester abortions are] done in cases where there may be severe deformities. There may be a fetus that's nonviable. So in this particular example, if a mother is in labor, I can tell you exactly what would happen," he said. "The infant would be delivered. The infant would be kept comfortable. The infant would be resuscitated if that's what the mother and the family desired. And then a discussion would ensue between the physicians and the mother."
Northam's comments sparked immediate outrage among prominent Republican figures, accusing the governor of favoring infanticide. Even Trump weighed in, falsely claiming in his 2019 State of the Union address that Northam had "stated he would execute a baby after birth."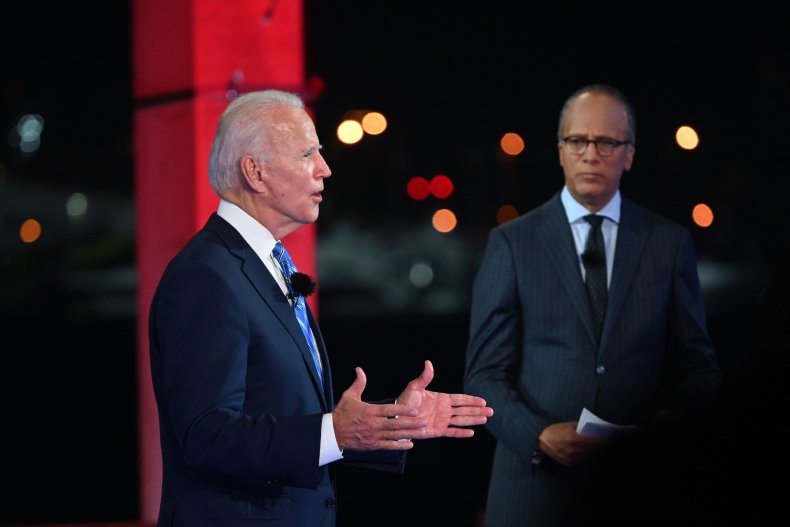 The president was likely referring to Northam's comments in his tweet Wednesday, moving to equate Biden with the governor. While Biden previously endorsed Northam during his 2017 campaign for governor, Biden was among those calling for his resignation last year after a racist photo from Northam's 1984 medical school yearbook resurfaced.
Appearing at a September 25 campaign rally in Newport News, Virginia, Trump doubled down on his criticism of Northam, telling the crowd they have a "crazy governor" who is "so far left" and constantly attacks the right to life.
"As you know, sleepy Joe Biden endorsed your governor, so that means he endorsed the policy of your governor," Trump said.
Biden, a practicing Roman Catholic, has flip-flopped throughout his career on his stance toward abortion. In a 1974 interview with Washingtonian, the former vice president criticized Roe: "I don't like the Supreme Court decision on abortion. I think it went too far. I don't think that a woman has the sole right to say what should happen to her body," Biden said during the interview.
By the time of a 2006 interview with Texas Monthly, his views on the subject seem to have evolved.
"I'm a little bit of an odd man out in my party," Biden said. "I made the right-to-life people angry because I won't support a constitutional amendment or limitations on a woman's right to exercise her constitutional right as defined by Roe v. Wade. And I've made the groups—the women's groups and others—very angry because I won't support public funding and I won't support partial birth abortion."
And one year later, while speaking on Meet the Press, Biden was asked whether he supported a ban on partial-birth abortions or late-term abortions. "I did and I do," he responded.
Newsweek contacted Biden's campaign for comment but did not hear back in time for publication.