Joe Biden's Views on Abortion and Roe vs. Wade in His Own Words
Ahead of the November election and presidential debates, Democratic candidate Joe Biden has spoken extensively about his views on abortion and the Roe v. Wade Supreme Court decision in 1973.
Biden and Trump will face off on Tuesday during the first presidential debate of the election. Abortion and Roe v. Wade are likely to be discussed, given Trump's recent nomination of Amy Coney Barrett to the Supreme Court after Ruth Bader Ginsburg's death.
Here's what Biden has said over the years about the issues.
1974 interview with Washingtonian:

"I don't like the Supreme Court decision on abortion. I think it went too far. I don't think that a woman has the sole right to say what should happen to her body," Biden said during the interview.
1977 letter to Delaware citizens after voting against a compromise that allowed Medicaid-funded abortions:
"As you probably already know, the Senate and the House of Representatives finally agreed on language dealing with the problem of Medicaid-covered abortions December 15," Biden wrote. "The 1977 fiscal year appropriations bill prohibits the use of federal funds to pay for abortions '...unless the life of the mother is in danger.' This is the position which I have consisted supported. During considerations of the 1978 fiscal year appropriation bill for the Department of Health, Education and Welfare, the House again passed the same language. The Senate, however, passed a broader definition of the circumstances under which Medicaid funds could be used to pay for an abortion. I did not support this version."
2006 interview with Texas Monthly:
"I'm a little bit of an odd man out in my party," Biden said. "I do not vote for funding for abortion. I voted against partial birth abortion—to limit it—and I vote for no restrictions on a woman's right to be able to have an abortion under Roe v. Wade. And, so I am—I made everybody angry. I made the right-to-life people angry because I won't support a constitutional amendment or limitations on a woman's right to exercise her constitutional right as defined by Roe v. Wade. And I've made the groups—the women's groups and others—very angry because I won't support public funding and I won't support partial birth abortion."
He continued, "I do not view abortion as a choice and a right. I think it's always a tragedy, and I think that it should be rare and safe, and I think we should be focusing on how to limit the number of abortions. There ought to be able to have a common ground and consensus as to do that."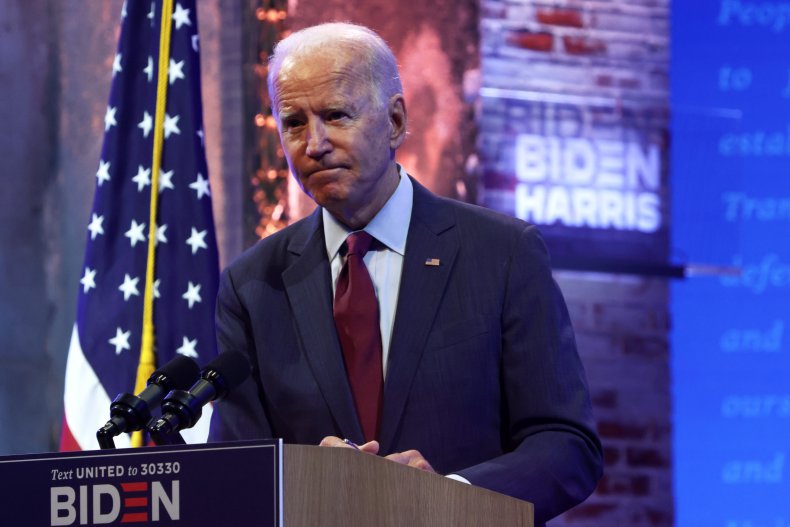 2007 "Meet the Candidates" Series on Meet the Press:
When Biden was asked if he supports a ban on partial-birth abortions or late-term abortions, he said "I did and I do."
Biden was also asked about why he criticized the Supreme Court for upholding the ban, to which he said, "They upheld the ban, and then they engaged in what we lawyers call dicta that is frightening. You had an intellectually dishonest rationale for an honest justification for upholding the ban. I know this is going to sound arcane—they blurred the distinction between the government's role in being involved in the first day and the ninth month. They became paternalistic, talking about the court could consider the impact on the mother and keeping her from making a mistake."
"This is all code for saying, 'Here we come to undo Roe v. Wade.' What they did is not so much the decision, the actual outcome of the decision, it's what attended the decision that portends for a real hard move on the court to undo the right of privacy. That's what I'm criticizing about the court's decision," Biden said.
2007 South Carolina Democratic primary debate on MSNBC:
During the debate Biden was asked if he would have a specific litmus test question on Roe v. Wade that he would ask his nominees for the high court.
"I strongly support Roe v. Wade. I wouldn't have a specific question, but I would make sure that the people I sent to be nominated for the Supreme Court shared my values and understood that there is a right to privacy in the United States Constitution," Biden replied.
In his 2007 book Promises to Keep:
"I've stuck to my middle-of-the-road position on abortion for more than 30 years," he wrote. ″I still vote against partial birth abortion and federal funding, and I'd like to make it easier for scared young mothers to choose not to have an abortion, but I will also vote against a constitutional amendment that strips a woman of her right to make her own choice."
2008 CBS News interview with Katie Couric:
When asked why he thinks Roe v. Wade was a good decision, Biden said, "Because it's as close to a consensus that can exist in a society as heterogeneous as ours."
"What does it say? It says in the first three months that decision should be left to the woman. And the second three months, where Roe v. Wade says, well then the state, the government has a role, along with the women's health, they have a right to have some impact on that. And the third three months they say the weight of the government's input is on the fetus being carried," Biden said. "And so that's sort of reflected as close as anybody is ever going to get in this heterogeneous, this multicultural society of religious people as to some sort of, not consensus, but as close it gets."
2019 Planned Parenthood Speech:
"It should be the law," Biden said, in regard to the Roe v. Wade decision.
2019 Democratic National Committee gala in Atlanta:
"I support Roe. I support a woman's right to choose under that Constitutional guaranteed provision," Biden said. "And quite frankly, I always will."
"I can't justify leaving millions of women without access to the care they need and the ability to...exercise their constitutionally protected right," Biden said. "If I believe health care is a right, as I do, I can no longer support an amendment that makes that right dependent on someone's ZIP code."
Newsweek reached out to Biden's campaign for comment.