President Donald Trump said during the final presidential debate on Thursday that Democratic candidate Joe Biden wants to eliminate private health insurance and is a proponent of socialized medicine.
The Claim
Trump repeatedly has accused Biden of embracing a single-payer system endorsed by the likes of Senator Bernie Sanders, an Independent from Vermont, in which essential health care is covered for all Americans by only one public option.
Health care is a particularly relevant issue ahead of the November 3 election, as the U.S. Supreme Court is scheduled to vote on the constitutionality of former President Barack Obama's Affordable Care Act (ACA) just one week later.
The ACA, dubbed Obamacare, focuses largely on protecting those with pre-existing health conditions, such as diabetes or mental illness. Under the ACA, people with those chronic conditions cannot be denied coverage, and the coverage is more affordable because more people are contributing to insurance policies, The Washington Post reported.
If the court votes to overturn the legislation, the more than 20 million Americans who get their health insurance through the ACA could be left without another alternative.
The Facts
During Thursday's debate, Trump and Biden sparred at length on the subject of health care. While delivering his initial two-minute remark, Trump said he'd "like to terminate Obamacare, come up with a brand new, beautiful health care."
The president has been repeating versions of this statement since before he was elected in 2016, first campaigning on the premise of repealing the ACA, then promising to replace it with something better.
But, in the nearly four years that Trump has held office, he has introduced no such plan, something Biden was quick to point out. "He keeps talking about it, he hasn't done a thing for anybody on health care," Biden said.
Trump then accused the former vice president of pushing for socialized medicine.
"We have 180 million people out there that have great private health care, far more than we're talking about with Obamacare," Trump said. "Joe Biden is going to terminate all of those policies.
"Under what he wants to do—which will basically be socialized medicine, he won't even have a choice—they want to terminate 180 million plans. We have done an incredible job on health care, and we're going to do even better," Trump added.
According to a report by the nonpartisan Kaiser Family Foundation, nearly 177 million Americans had private health insurance in 2018.
Biden immediately shot down Trump's claim, asserting that the reason he secured the Democratic Party's nomination was because "I support private insurance."
"Not one single person with private insurance would lose their insurance under my plan, nor did they under Obamacare," Biden said. "They did not lose their insurance, unless they chose they wanted to go to something else."
Instead, Biden's proposed health care plan would expand protections under the ACA, giving them a choice to purchase a public health insurance option similar to Medicare, a national health insurance program, according to his campaign website.
"What I'm gonna do is pass Obamacare with a public option, become Bidencare," Biden said during the debate. He dismissed concerns that his plan is one step closer to a health care system run entirely be the government.
"I say it's ridiculous...the fact that there's a public option that people can choose, that makes it a socialist plan?" Biden said. "Look, the difference between the president and I, I think health care is not a privilege, it's a right."
Trump later backed down from his initial claim that Biden is a proponent of the single-payer system, arguing instead that Biden will be influenced by his more liberal colleagues until one is passed.
"He wants socialized medicine, and it's not that he wants it, his vice president—I mean, she is more liberal than Bernie Sanders and wants it even more," Trump said, referring to Biden's running mate, Senator Kamala Harris of California. "Bernie Sanders wants it, the Democrats want it, you're going to have socialized medicine."
While Harris was a co-sponsor of Sanders's Medicare for All Act in 2019, the Biden-Harris ticket maintains its support of private insurance, according to its messaging.
"Instead of starting from scratch and getting rid of private insurance, he has a plan to build on the Affordable Care Act by giving Americans more choice, reducing health care costs, and making our health care system less complex to navigate," Biden's campaign website reads.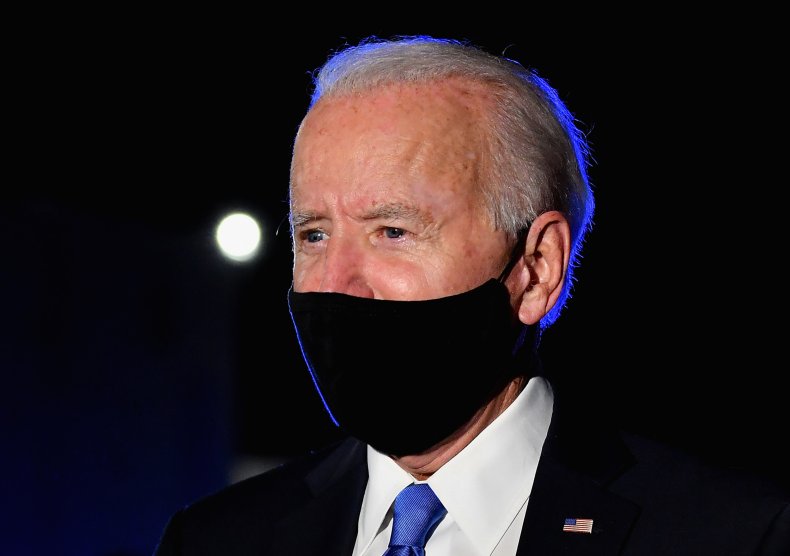 The Ruling
False.
Despite Trump's claims, Biden has stated multiple times that under his proposed health care plan, private health insurance will not be eliminated.
Newsweek contacted the Trump and Biden campaigns for comment but did not hear back in time for publication.